Anggun Across America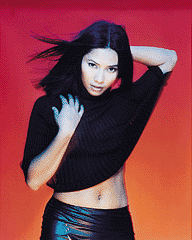 What is Anggun Across America??? This website is an attempt to get Anggun's music released into the United States. Her sophomore album Chrysalis was a huge hit overseas, yet was never released here. I'll be updating this site a little more later on. In the meantime, complain to Sony/Epic about Anggun's lack of recognition in what is supposed to be the most civilized country in the world. Anggun's not getting heard! How civil is that???
Sign an official online petition to Sony Music to have Chrysalis released in the United States!!!
Welcome to my homepage dedicated to the most wonderful (and beautiful) singer from the Eastern Hemisphere, Anggun!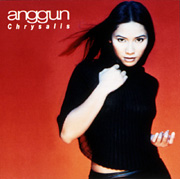 Read news on International Anggun CD's.

April 29: Happy Birthday Anggun!!!
First of all, I must say that I am not Anggun, or anybody that has any connections with her, her manager, or her record company. I am just a diehard fan who wants to show the rest of the world what a great singer Anggun is, and hopefully get others to fall in love with her too.
Anggun Cipta Sasmi, who's name means "a grace created in a dream," was born in Djakarta Indonesia on April 29, 1974. At age 6, while other children were playing, her father was teaching her how to sing. At age 9, she recorded her first album. It was an album for children.
5 albums later, at the age of 18, she founded her own record company to produce and release her best-selling albums.
Anggun always wanted to sing in the US & Europe, but she knew that no one would come to Indonesia looking for new music acts. So, she moved to France. Some friends gave her the address for songwriter/producer Erick Benzi. She went to his home, and the two began to write songs together.
In early 1998, Anggun recorded her first American album, "Snow on the Sahara." Her personal favorite song on the CD is "A Rose in the Wind." This is her first English recording CD, which features the David Bowie song "Life on Mars." The album also includes her first big hit "Snow on the Sahara." Also semi-known songs Valparaiso, Dream of Me, and On the Breath of An Angel.
In 1998, Anggun toured with the Lilith Fair, and the US got some of their first taste of her music.
After 5 years of waiting, American fans will get their 2nd taste of Anggun on February 18, 2003 when the "Open Hearts" soundtrack featuring 9 Anggun songs is released.
Last updated 11/20/04 at 12:18pm EST
Updated:
index
links
anggun00


Some links

MUSICDAYS
Upcoming Anggun appearances
Anggun News
Anggun Lyrics
Anggun Discography
Import CD's
Links Page
Pics

Email: chspchbi@yahoo.com