Sawgrass Herpetological Society
June 2000 speaker was none other than
Gary DaPalma
(the Prez)
Topic : WHY?

;

| | |
| --- | --- |
| | |
| Gary shows off one of his Dumeral boas | A Hog Island boa at 4 years old |
;


Why do you keep reptiles ? Why purchase a 450.00 pet snake ?

Those along with plenty of other " Why ?" questions were answered at the June 7 meeting . Gary's talk was a whopping 45 minutes long and he covered from maintenance to the purchase costs of reptiles including the type of container you might want to use. Gary's unique style of talking was put to the test . Allowing others in the group to sound off as to " Why ?" they have reptiles as pets. Gary's long association with the SHS was mentioned by Les who was present during the start of the herp society in Broward County over ten years ago . This was the first time Gary gave a talk as a guest speaker in the ten year history of Sawgrass Herpetological Society.
Gary attempted to explain his reason for keeping reptiles as only he can . He was first involved with turtles and wile at a local pet store he noticed a Yuma Kingsnake for $80.00 . After his first snake purchase he went on to other types of reptiles until he found the ones he feels best keeping. Boas !
---
Now here is the master himself showing off his favorite animal
Diamond/Carpet Python
" I seem to like this one the most because of the contrast
in color and it gets better looking as it gets older"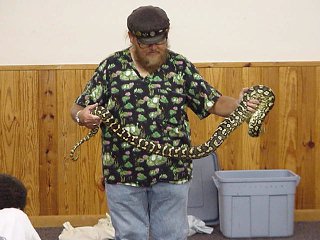 It was apperant the snake like's Gary also
" Get out of there "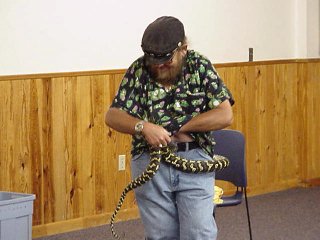 .
"No.. Not that way silly "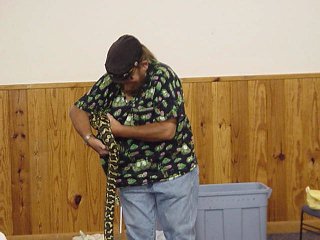 "Now let go of the shirt"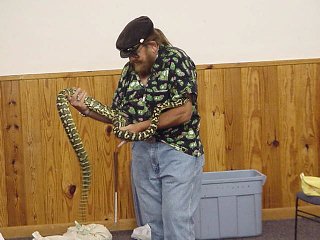 Nearing the end of the talk .. Gary was looking for a group hug !
That's it ! June was another great meeting .
Every first wednesday of the month at Fern Forest Nature Center.