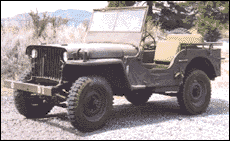 This jeep was purchased off the internet in 1998. I found it on the g503 site ran by Ron Fitzpatrick GREAT site and FANTASTIC guy!!!! The jeep is a 1941 Willys MB.
The picture above is how I saw my jeep for the first time and I knew I had to own it.
Above are four pictures that Frank Steele sent me of the jeep. He took several shoots to show me the condition of the jeep. Little did he know that I was already SOLD. Frank was an honest guy and told me this jeep was in good shape, but by NO means a purist's dream. The windshield is not original to the jeep. So, it is not the lower variety. The fenders are Ford script as well as the tires. The jeep has bondo on it and a cracked windshield. I bought the jeep on Franks good word and had my jeep shipped from Southern California to South Florida. My wife did all the arrangements and my jeep arrived in Florida in early October of 1998. It had to wait out the threat of a Hurricane in Atlanta, Georgia on its journey, but it did arrive.
These five pictures are of the jeep in my driveway in South Florida. I have not done anything to the jeep yet, but I hope to take and get the jeep into motor pool class sometime in the future. The jeep has become part of our family, and is loved by the three kids and sometimes the wife. As a teacher I am hoping to use the Willy as an educational tool in the future. I will keep this site updated on my activities.
email: