WELCOME TO THE SOF NETWORK
YOU ARE LOGGED ON AS: VISITOR
SECURITY CLEARANCE: TOP SECRET
ACCESS: UNRESTRICTED
MARGO VINCENT
---------------------------------------------------------------------
-BIOGRAPHY-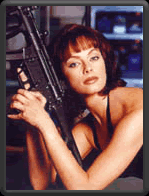 MARGO VINCENT
NAME: VINCENT, MARGO

DOB: 1970

POB: BUCHAREST, ROMANIA

HAIR/EYES: BROWN/GREEN

HEIGHT/WEIGHT: 5'7"/114

MARITIAL STATUS: SINGLE

DEPENDENTS: NONE

FAMILY:

PARENTS: UNKNOWN

SIBLINGS: JOHN ALEXANDRESCU, BROTHER

SECURITY CLEARANCE: TOP SECRET

RANK: GS-14

CITIZENSHIP: UNITED STATES (NATURALIZED)

CURRENT RESIDENCE: CALIFORNIA, UNITED STATES

NOTES: EMIGRATED FROM ROMANIA AGE 5. GRADUATED EARLY FROM HIGH SCHOOL. FORMER CIA OPERATIVE IN EUROPE, EXTENSIVE EXPERIENCE WITH CLASSIFIED INFORMATION EXCHANGE. PROFICIENT WITH LANGUAGES (6). LIMITED BLACK-MARKET ARMS DEALING. WORLDWIDE INTELLIGENCE CONTACTS.
----------------------------------------------------------------------------
SOFNET INTERFACE COPYRIGHT 2002 BY LILITH
DISCLAIMER: SOLDIER OF FORTUNE/SPECIAL OPS FORCE AND ALL THE CHARACTERS THEREIN ARE THE PROPERTY OF RYSHER, ET AL; THIS IS A RECREATIONAL ENDEAVOR, NO PROFIT IS BEING MADE NOR IS THERE INTENTION TO PROFIT AND NO COPYRIGHT INFRINGEMENT IS INTENDED. ALL IMAGES ARE COPYRIGHT THEIR RESPECTIVE OWNERS.
IF YOU HAVE QUESTIONS OR COMMENTS CONCERNING THE USER INTERFACE OR THE DATABASE ITSELF CONTACT: LEGEND_OF_LILITH@YAHOO.COM