---
---
Boardner's A Hollywood Legend Since 1942 & The B52Club…. Your Neighborhood Watering Hole & Unpretentious Hot~Spot Notorious for Stiff Cocktails, Lovin' Loungers, Bar Brawls, Riots, Prohibition and more… this bar has withstood the test of time & now Stands as an Institution in the Hollywood Bar and club scene. Open 7 Days 1p-2a serving cocktails, Lunch, Dinner & Late Night Noshing with eclectic Euro-American influenced Bar Food like no other created by Chef Oscar. The Main bar reflects its past & present, hardly touched to preserve the classic nostalgic ambiance so many other bars pay for & we've earned. Never a cover & Guaranteed a good time! Our B52 Club boasts a large dance floor, original bar from the Bonaventure downtown, VIP loft with cozy seating, two large fountains, projection screens, dancer platforms & awesome 23 foot high ceilings & archways. A secluded outdoor courtyard tops this O2-Cool bar off with an all original Moroccan tile fountain, full bar and stage for live performances…. seen in numerous movies and rumored to be haunted! We are the perfect place for any party!
Boardner's Bar Weekly Specials:
Sunday 8p-2a $3 Beers & $4 Wells;
Mondays 8p-2a $4well & $6call Martini Nite!!;
Tuesdays 8p-2a Tammie's 2-Shot-Promo-Tuesdays 2 shots for $6;
Wednesdays Whiskey Wednesdays $4 specials;
Thursday/Friday/Saturday Exotic Summer Drink Elixirs brewed by our very own bartenders! As always we provide a complimentary appetizer with the purchase of any Bottle Service!
Located @ 1652 N. Cherokee Avenue in Hollywood
Venue Tel: 323.462.9621
Promoter/Event Booking call Tricia @ 818.642.7391
All Bands/DJs contact Promoter directly at the appropriate numbers listed below
Site: http://www.boardners.com/
---
Tequila Mockingbird loves Hollywood. She was talent booker for New Wave Theatre in the 80s; she worked as a promoter, Songwriter, music Supervisor for film. She has worked for Nina Hagen as both sponsor and musical artist. Tequila booked the first shows for Tool and Green Jello, Was the queen of the Loyal Order of the Water Buffalos and Pasadena Doo Dah Parade, Tequila and Bob Blackburn had their own Satellite radio show called the tail Hour in the late 90s. She managed Pygmy Love Circus, Doppelganger, Idol worship and more producing TV footage along the way. She writes for Rock City News, California Song Venice and Entertainment today and is The Public relations manager for Boardners, a Hollywood Icon established in 1942. Some of her music is available at
http://www.cdbaby.com/cd/tequila


Trisha la Belle is proof that Movie Star good looks can take you far but hard work will get you further, Imagine having both going for you. Thats our Trisha Belle, and creator of Bar Sinister. Trisha is co owner of Boardners a Nightclub restaurant erected in 1942.She glides easily from task to task immaculately dressed and on top of it all. Thats a lot, because running any business is tough especially the business as people oriented as a Hollywood nightclub. Each night has a promoter, Club London, Club Moscow. Free Thinking Tammi Two fer Tuesdays, Blue Mondays, and her own baby Bar Sinister. She is, thin, lithe, and beautiful, tough, firm and fair. She also open to suggestions, listening to the musical taste of our generation. All in the entire atmosphere she has endeavored to create is completely enchanting.
---
LUNCH IS ON THE TABLE @ BOARDNER'S
STARTING MONDAY JUNE 13TH, OUR FABULOUS CHEF OSCAR IS BACK IN THE KITCHEN. SERVING THE BEST FLAME BROILED BURGERS IN HOLLYWOOD!
ALONG WITH OUR MOST POPULAR STEAK FILET SANDWICH SMOTHERED IN CREAMY GORGANZOLA TOPPED WITH GRILLED ONIONS. WE PREPARE FRESH DAILY ALL OF OUR SANDWICHES, SALADS AND PASTAS.
ENJOY A PRIVATE BOOTH OR PATIO TABLES IN ONE OF THE MOST HISTORICAL BARS IN HOLLYWOOD.
WE GUARANTEE YOU WON'T GO HOME HUNGRY!
BOARDNER'S... A Hollywood Legend Since 1942
Open 1pm - 2am 7 Days a Week!
Dine in or Take out
1652 N. Cherokee Avenue in Hollywood
323.462.9621
http://www.boardners.com/
---
---
---
---
---
B52 NiteClub Events
---

SUNDAYS> CLUB LONDON:

80's Alternative & Rockin' Espanola
Cover: $10
Dress Code: Trendy 50's to 80's Style! No T's w/out sleeves, Flannel or Gang Attire
Club Line: 213.486.4300
Site:
http://www.clublondonla.com
Promoter: Tomas Rios 213.486.4300

MONDAYS> BLUE MONDAYS:
80's 80's 80's 80's Decadent Decade of Bad Fashion & Great music spun by Dj's Mike, Robert & Bruce Call Promoter for Details
$4 Martini
Cover: Free Before 10pm
Dress Code: the best of the 80's MTV Fashionables Site: http://www.evilclubempire.com
Promoter: Bruce Purdew 818.550.0555

WEDNESDAYS> CLUB MOSCOW
Kitchi Indie Pop Live Showcase & Dance Event Hosted by Keith Wilson and LeDisko Productions. Feature resident band -
Cover: $8
Dress Code: Kitchie Cool
Club Line: 562.485.7035
Site: http://www.ledisko.com
Promoter: Keith Wilson 562.485.7035

THURSDAYS> THE SPY CLUB Presented by Indi 103.1
60's, Mod, Soul, Shoegaze and 90's Brit Pop with DJ's Chris B. & Dia on the patio along with a weekly live entertainment Indie, Brit Pop, English 80's, Electro with DJ's Frankie & Mantastique in the Main Room
Cover: Free w/ flyer before 10:30 PM/$5 w/ flyer before 11/$10 Thereafter
Cover: $5 B4 11 w/ flyr / $7 Thereafter / Scooter's Free Always!
Dress Code: The Best and Worse of the 60's, Mod & Funkie Cool!
Promoter: Shalyce Benfell 323-930-7119

FRIDAYS> TOUCHING BASS
Hollywood's Freshest Eclectic, Hip Hop & Funky Beats...definitely the place to be on Friday Nites! Main Room: 21XL RESIDENT DJs every Friday.
Cover: Free B4 11pm, $5 Thereafter
Strictly 21 & Over
Dress Code: Casual/Cool
Site: http://www.eventscompany.com/
Promoter: Dave 949.749.7439 x20

SATURDAYS> BAR SINISTER... the Club to be Scene on Saturday Nites
Alternative Dark Rock w/ Dj's Mj Tom, Wednesday & John Koviak. PurgaTory Pleasures enticed by Master Paul & Mistress Marina along with featured ViP guest weekly! Live Bands:
Strictly 21 & Over
Strict Gaultier Goth, Fabulously Fetish or Outrageously Alternative Attire Enforced!
$5 B4 10:30pm / $10 after 10:30pm / Out-of-dress code cover $15…NO EXCUSES!
Club Line: 323.769.7070
Site: http://www.barsinister.net
Promoter: Tricia La Belle 818.642.7391
Email: st.sinistress@barsinister.net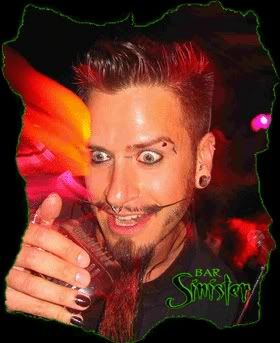 We ARE the ONLY CooL, EdgY, SeXy, ALterNaTiVe EvenT in Hollywood... No One does it like SiNisTer on SaTurdaY Nites!
Bar SINISTER's CeLebraTing 8 Years
Saturday July 29th, 2006
Complimentary Champagne*Silly String*Gothic Beach Balls & Bubbles....it's a party!
Gift bags for Everyone to include Sinister Panties, Pheromones for HiM & HeR, Fierce Couture & Shrine Discount Flyers, Hot Topic's Rock the Art's Foundation Bracelets, Sweet Treats & More!
http://mastermistress.com/
http://www.fiercecouture.com/
http://www.hottopic.com/services/ht_foundation.asp?LS=0&
LiVe>>>
STREET DRUM CORPs. & THE GENTS
http://www.streetdrumcorps.com/
Djs>>>
Mj Tom of Severed
Wednesday of 88.9 kspc radio
John Koviak of Point of Reflection
Apathy
PurGaTorY>>>
Nice & Naughty Nudies by Michael Helms Photography
http://www.mlhphoto.com/
$10 Cover in Appropriate Fetish, Gothique, Alternative or Upscale Attire
$20 Out-of-IT!
Strictly 21 & Over
Doors Open 9:3-3am
1652 N. Cherokee Avenue ~ Hollywood
Be There!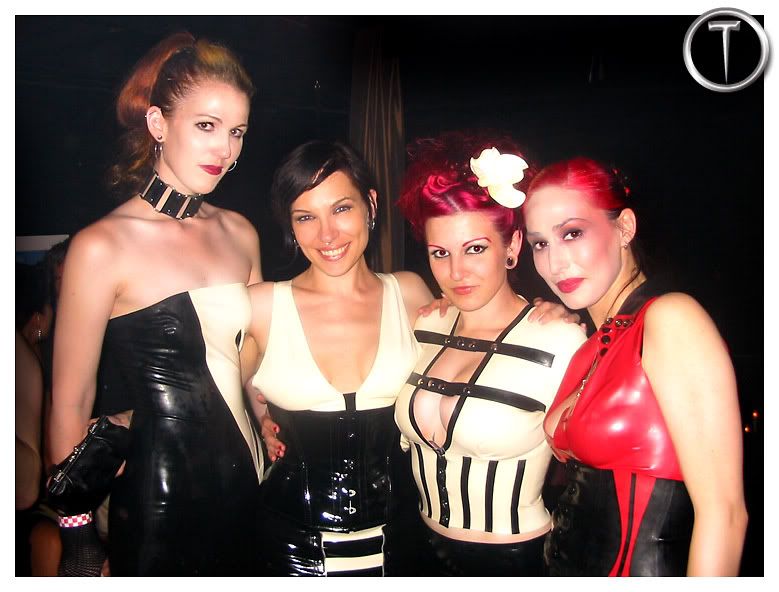 http://www.theatreofpain.net
Felcity The Singer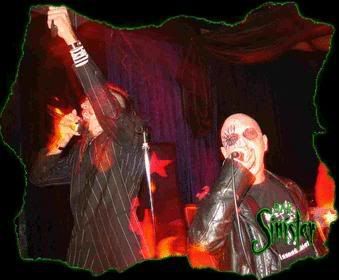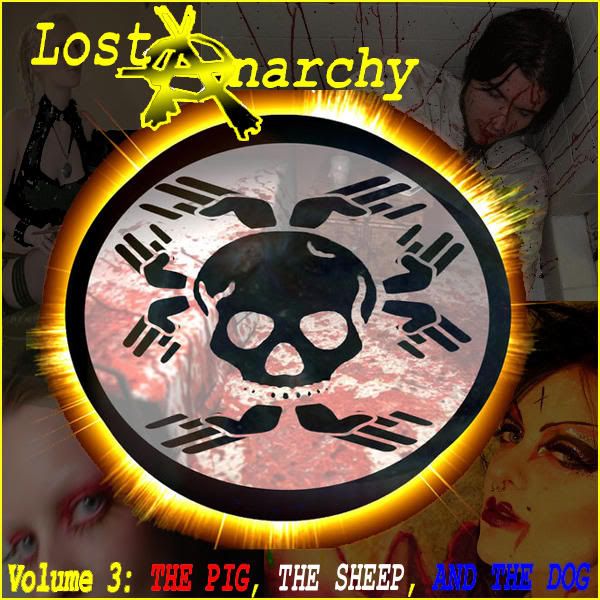 ---
---
---
---
---
---
---
---
http://www.myspace.com/purgatoryatbarsinister
Email: Email: st.sinistress@barsinister.net
---