The Civil Aviation Authority of Zimbabwe (CAAZ) has been awarded a local company, Glowtrack Auctions a tender to auction seven passenger aircraft, Nehanda Radio has established.

(Note: Strange. Checked Glowtrack Auctions on Facebook, seems to be a cardealer. No images of any AZIM aircraft)


"Glowtrack Auctions business interactions led to the award of a tender to sell used passenger aircrafts on behalf of the Civil Aviation Authority of Zimbabwe (CAAZ) targeting both the local and regional and even international buyers," read the statement.

The company is tasked to ensure public participation in the scheduled auction event in compliance with the Public Procurement and Disposal of Public Assets Act (PPDPA), sell 7 Civil Aviation Authority passenger aircrafts that have been marked for disposal through public auction and realise auction proceeds "that are either equal to or above reserve values for each aircraft."

Contacted for comment, CAAZ Public Relations and Communications Manager Annajulia Hungwe admitted that the
seven passenger aircrafts were being sold.She also said that "the tender was advertised in public newspapers" before
Glowtrack Auctions won it.

Over the past ten years, Air Zimbabwe (AirZim) has been frequently grounded due to losses and technical problems



* * *



The true workhorse Air Zimbabwe Boeing 737-200 Z-WPA "Mbuya Nehanda"

soon leaving Air Zimbabwe ....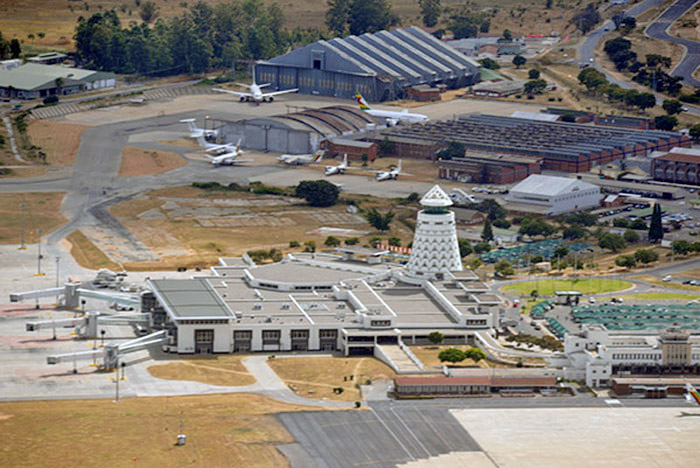 Robert Mugabe International airport (HRE) Zimbabwe


* * *

The Fleet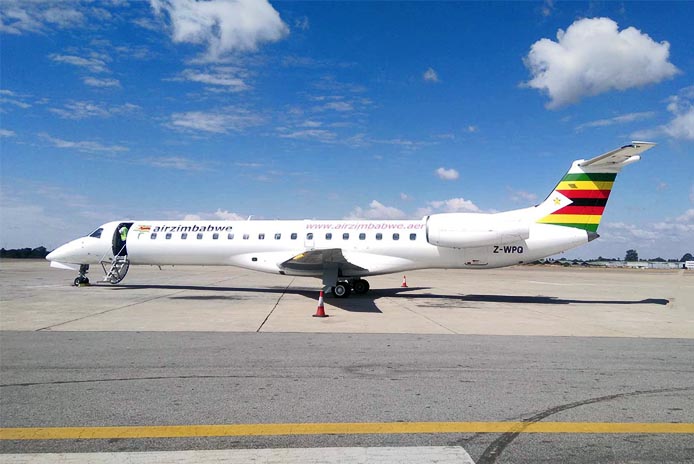 Air Zimbabwe 50-seater Embraer ERJLR 145 Z-WPQ msn 145373.

The Embraer E-145 is short range jet with capacity of 50 passengers and has arange of up to 2.873km.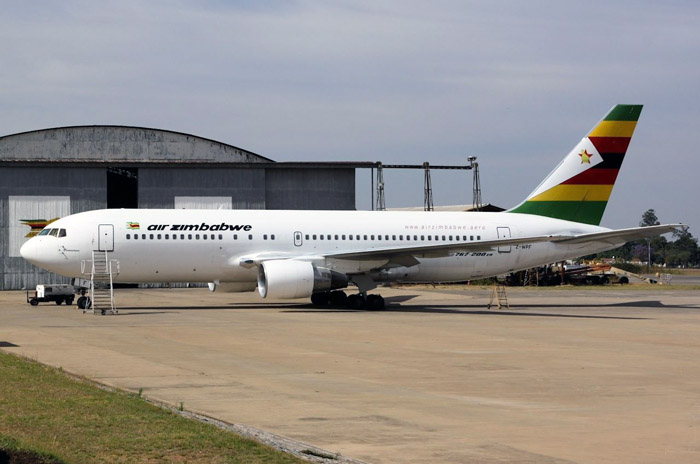 Air Zimbabwe Boeing 767-200 Z-WPF



AirZimbabwe's oversized, uneconomical and aged Boeing 767-2NO Z-WPF "Chimanimani´s" destiny is not known but will probably operate on longhaule routes in the future.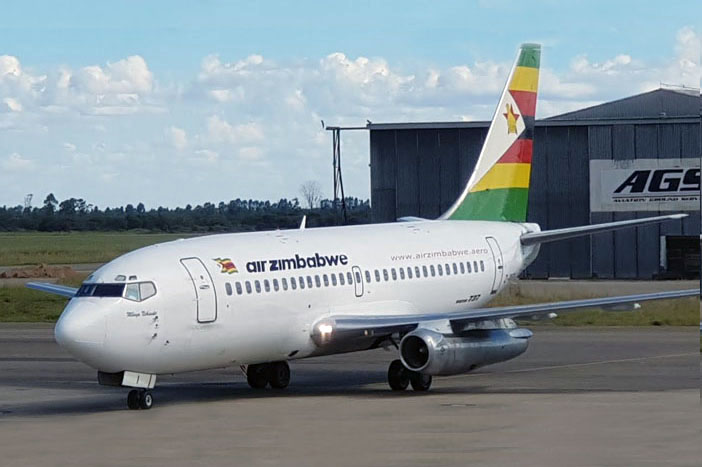 Air Zimbabwe Boeing 737-200 Z-WPA "Mbuya Nehanda".



What had Air Zimbabwe to do without its only airworthy 737-200 Z-WPA. From the beginning in 1986/87 "They" were the "Triplets" WPA, Mbuya Nehanda, WPB, Great Zimbabwe and WPC Matojeni . WPB and Z-WPC are stored probably both at Harare even if Z-WPB was logged last VFA/BUQ to Bulawayo.

However, the aircraft that was delivered brand new to Air Zimbabwe in 1986 was slowed down by an expensive and lengthy D-Check. The airline's engineers and mechanics apparently used the corona lockdown phase productively. As local media report, they made the Z-WPA fit again with great effort over months of work.

Then she is said to have taken off in Harare for a three-hour test flight, which put a smile on everyone's lips. Thus, the 34-year-old jet, which bears the name of the national heroine Mbuya Nehanda, could face a whole series of more years of service - just like many other 737-200s around the globe.

The Boeing 737 is and will remain a long-runner. This is especially true for the "original version" 737-200, which with its slim, loud and extremely thirsty JT8D engines doesn't really fit into the times, but whose services will continue to be in demand in the future.

Even if the number of flyable specimens will continue to decrease, there will be a few oases and for the legendary "thunder pig" for a long time to come. Mbuja Nehanda is equipping its 737-200 with glass cockpits and even wants to expand the sub-fleet. After all, with the right maintenance, 40 years is no age for an aircraft ...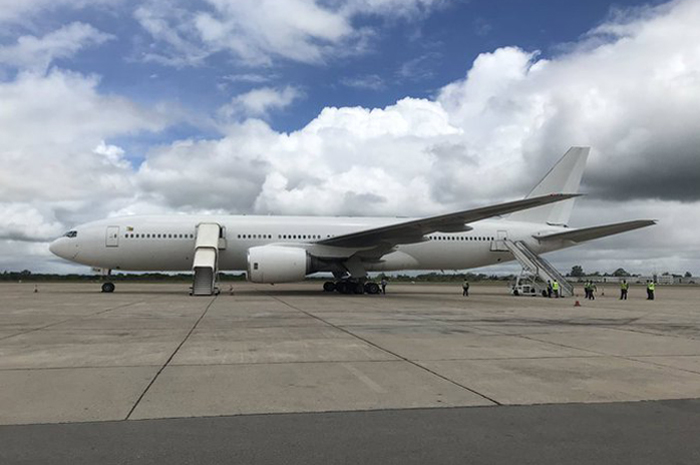 Air Zimbabwe Boeing 777-200 Z-RGM msn 28428 stored at Addis Ababa. Media reports that air-
craft is available for lease





Grounded Aircrafts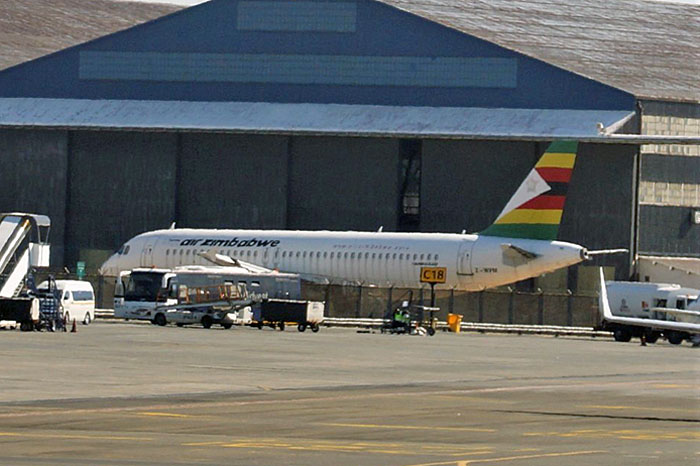 The Airbus A320 Z-WPM in a deplorable condition after the perils are parked because the ownership
conditions are not resolved.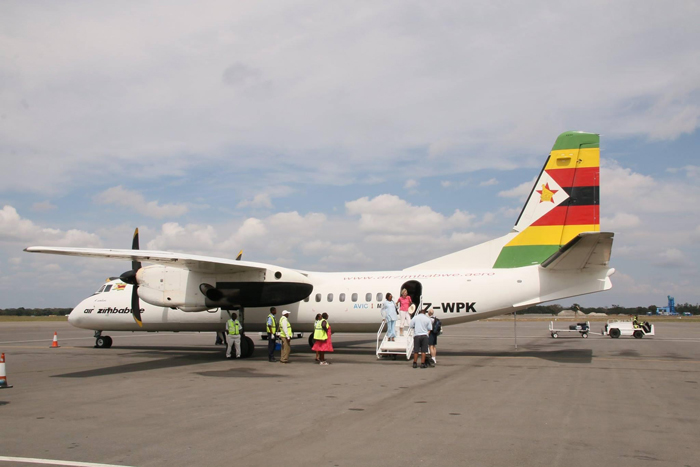 Air Zimbabwe Xian MA 60 Z-WPK msn 2016. Status unknown.



Is there any chance for Air Zimbabwe to solve the owner-problem of the Airbus A320-214 Z-WPM and the three MA-60 aircraft that are stranded behind the airport hangar in Harare regarding ownerproblem and with lack of funds to make them serviceable again.


1967

History

Note: Images presented in connection with events are only a vision in connection with the background of
Air Zimbabwe.

Air Zimbabwe


Air Zimbabwe formally came into being on 1 September 1967, when the Government of Rhodesia created Air Rhodesia Corporation to succeed Air Rhodesia, a wholly owned subsidiary of Central African Airways Corporation (CAAC) that had existed since 1951 as a domestic airline within Rhodesia.



Douglas C47 Dakota VP-YKA at Harare (Salisbury) Int airport 1959
Photo: Brian Robbins

1953


Central African Airways (CAA) 1953-1964


Central African Airways (CAA) was a supranational airline corporation serving as flag carrierfor Southern Rhodesia, Northern Rhodesia and Nyasaland (respectively the present day countries of Zimbabwe, Zambia and Malawi), which were organised as the Federation of Rhodesia and Nyasaland, also known as the Central African Federation, from 1953 to 1963. Based in Salisbury, it offered an extensive network of domestic passenger and cargo flights, as well as international services to major cities in Southern and Central Africa, and a route to London. In 1960, CAA owned 15 aircraft and had 1,155 employees.

1964


Air Rhodesia 1964



Boeing 707-025 VP-YNL at Harare (Salisbury) Int. airport 1977
Photo: Wikimedia



Air Rhodesia fleet at the Salisbury Int. airport 1975
Photo: Robin DW Norton



Vickers Viscount 748 VP-YNC at Bulawayo airport, Rhodesia early 1970s.
Photo: John Wheatley

Air Rhodesia was the national airline of Rhodesia. Its head office was located on the property of Salisbury Airport Rhodesia.

The airline was formed as a subsidiary of Central African Airways (CAA) in June 1964, but became an independent corporation on 1 September 1967. It flew internal routes to Buffalo Range, Bulawayo, Fort Victoria, Kariba, and Victoria Falls. During the 1970s, it operated international flights to Johannesburg and Durban in South Africa; Beira, Vilanculos and Lourenço Marques in Mozambique; and Blantyre in Malawi.

Air Rhodesia's mainstay aircraft were Douglas DC-3, Dakotas, Vickers Viscount 700D turboprops and Boeing 720 jetliners, which were successfully purchased in April 1973 despite sanctions against the Rhodesian government. After the country was renamed, the airline became known as Air Zimbabwe Rhodesia in 1979, before reforming as Air Zimbabwe in 1980.

1979


Air Zimbabwe Rhodesia 1979 - 1980


Air Zimbabwe Rhodesia Boeing 720-025 VP-YMN at Salisbury/Harare Int Airport 1973
"Air Zimbabwe Rhodesia" became the short-lived in 1978. Air Zimbabwe Rhodesia ordered construction of a large new hangar in 1979. Thoughts imediately turned to reopening routes to destinations long closed to the airline as a result of sanctions.
1980
Air Zimbabwe 1980 -
Air Zimbabwe was formed in April 1980 when the Republic of Zimbabwe was formed. Thoughts imediately turned to reopening routes to destinations long closed to the airline as a result of sanctions.

In the beginning, Air Zimbabwe operated Air Rhodesias/AirZimbabwe Rhodesia older fleet which was then grounded when the new carrier upgraded the fleet with new modern aircraft. Services connecting Harare with South Africa (Durban and Johannesburg) had been operated before the country gained its independence. Scheduled services began on 2 April 1980 to London Gatwick with on the inheritated Boeing 720-025.


Boeing 720 VP-YNL at London/Gatwick Int airport. 1973


Boeing 707-330B Z-WKS at London Heathrow Int airport 1982. UK



The company leased a Boeing 707-330 from South African Airways until May 1981, when three Boeing 707 were bought from Lufthansa. That year, flights to Frankfurt were inaugurated. The airline recorded a ZWL 330,000 (£220,000) profit for the fiscal year that ended on 30 June 1980. The two (2) last Vickers Viscount 810-serie were purchased by DAN-Air, UK.


Boeing 707-330B Z-WKS Harare Int airport, Zimbabwe 1981.
Photo: Edward Wasbuton



1982


During 1982, a service to Perth and Sydney commenced; it was run in cooperation with Qantas and flown with Qantas Boeing 747SP aircraft. In May that year, the Government directed Air Zimbabwe and the national freighter airline Affretair to merge their operations. The freighter company was eventually taken over by Air Zimbabwe in July 1983. The cargo carrier continued its operations under the Affretair brand. During 1983, Air Zimbabwe became a member of the International Air Transport Association (IATA) It also extended its regional routes to Gaborone, Lilongwe, Lusaka and Nairobi.



1985
By March 1985, Air Zimbabwe had 1,443 employees and the fleet comprised five Boeing 707-320Bs and seven Viscount 700s. At this time, the airline flew domestic services linking Harare with Buffalo Range, Bulawayo, Gweru, Hwange National Park, Kariba, Masvingo and Victoria Falls, regional services to Blantyre, Durban,Gaborone, Johannesburg,Lusaka and Nairobi, and intercontinental flights to Athens, Frankfurt and London. The Harare–Perth–Sydney route offered using Qantas Boeing 747SP aircraft was flown in association with Air Zimbabwe.


Boeing 737-200 OY-APC prior delivery at Copenhagen Int airport, Denmark 1995
Photo: Peter Schmidt
The airline decided in 1985 to renew the fleet and replace the ageing Boeing 720 aircraft by ordering three factory-new Boeing 737-200 and meanwhile waiting for the new aircraft to arrive, Air Zimbabwe leased a Boeing 737-200 Z-NIL (OY-APS) on a short-term contract from Maersk Air, Denmark

1986

In 1986 and the first of three owned Boeing 737-200s Z-WKA was phased in and put into service in December that year. The leased Boeing 737-200 was returned to the lessor when the contract expired. The second Z-WKB and third aircraft Z-WKS of the type were delivered in June and July 1987. The additional capacity permitted route extensions to Dar es Salaam, Manzini, Maputo and Mauritius.


Here comes Air Zimbabwe´s first Boeing 737-200/ADV, Z-WPA, c/n 23677.
Photo: Hannes Meyer

1987


British Aerospace BAE-146 Z-WPD at Harare Int airport 1988, Zimbabwe
Photo:
A BAe 146-200 was bought in 1987 for domestic routes. Also in 1987, the airline announced its intentions to acquire Ilyushin Il-62s and -86s and Yakovlev Yak-42s instead of Western-built aircraft. These plans never materialized and Air Zimbabwe placed an order for two Boeing 767-200s. With registration Z-WPE and named "Victoria Falls", the first Boeing 767-200ER entered the fleet in November 1989.

1989


Boeing 767-20N/ER, Z-WPE msn 24713
Photo:
The Boeing 707 was retired from serving long-haul routes shortly afterwards These aircraft were still used to cover regional routes. The Viscount was definitely withdrawn from service in November 1989.

1990


Boeing 767-20N/ER, Z-WPF msn 24867
Photo: HS-TCJ
The airline phased in the second 767-200ER (Z-WPF, named "Chimanimani") in late 1990. Two Fokker 50s were ordered in April 1995; they were delivered a month later.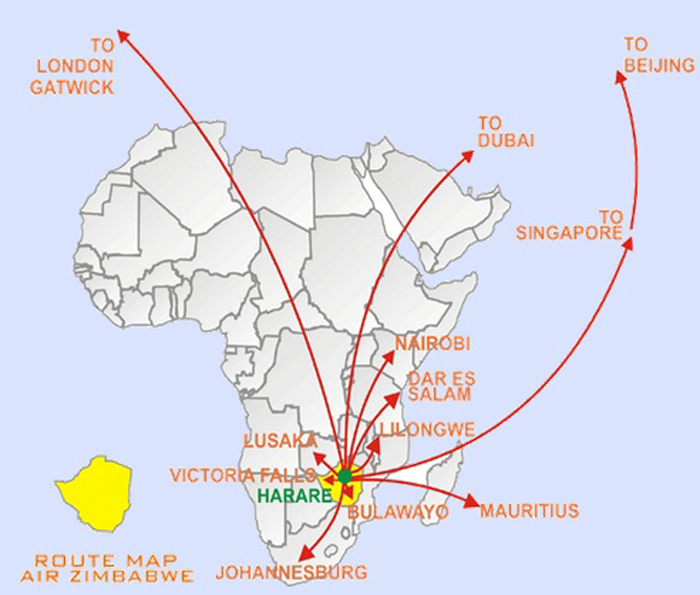 Destination map from when the clouds of unrest were far away
The first Boeing 767_300 Z-WPF in the new livery 1990.
Photo: Björn Düwel
1995



Fokker 50, Z-WPH, c/n 20105


Two Fokker 50s, Z-WPG and Z-WPH were delivered in early 1995 on a 10-years intended lease, but unfortunately these aircraft were incapable of serving the "hot and high-destinations" with adequate payloads and were returned to the lessor.

1999


Boeing 737-200 Z-WPA returning from Uganda Airlines 1999 after it had been leased for five years.
Photo:Thomas Ingendom

2001


Air Zimbabwe Boeing 737-200, Z-WPB and Z-WPC at Vic Falls Int. airport Zimbabwe 2001
Photo: Eduardo Paz
2004

Financial turmoil and service disruption 2004

In February 2004, it was revealed that the company had been temporarily suspended by the IATA over un-
paid debts.

Transportation China has been involved in all aspects of public transportation in Zimbabwe: road, rail and air. In 2004, Air Zimbabwe reached an agreement with the Chinese National Aero-Technology Import and Export Corporation for the acquisition of a long-haul plane (replacing one of their B767?).

At the same time Air Zimbabwe signed an agreement to buy two Xian MA-60 Air Zimbabwe has also be-
nefitted from Chinese generosity through the gift of an MA60 aircraft that the airline has been using on
local and regional routes. Apparently China made a "buy two get one free deal

It was noted at the time that this was aimed at assisting tourism in Zimbabwe. Although there were initial reports of technical difficulties, these were largely unfounded.



2005



Xian MA60 Z-WPK at Vic Falls Int. airport Zimbabwe
Photo:

Air Zimbabwe, took delivery of two Chinese aircraft, Z-WPJ in August Z-WPK on 27th May, Z-WPJ on 24th August and Z-WPL on 23rd December.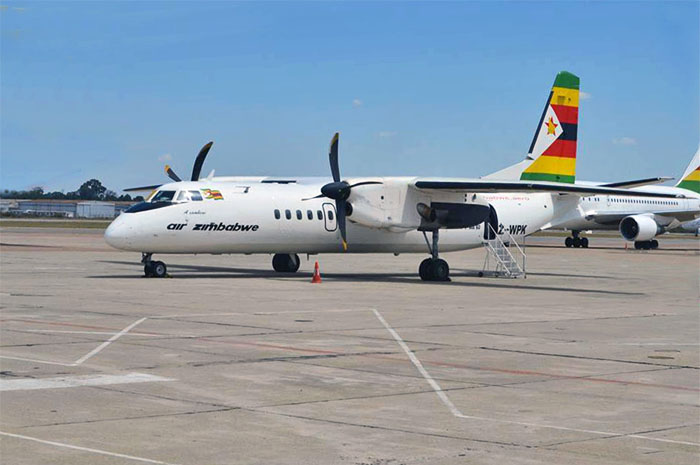 Xian MA60 Z-WPK msn 0303 at Harare Int. airport Zimbabwe 2015.
Photo:African Airliners archive

2006


In October 2006, the prices of Air Zimbabwe tickets increased up to 500%, partly due to the inflation in
the country rising to over 1,000% at that time the Zimbabwean Central Bank stated that it could not cont-
inue supporting Air Zimbabwe and other money-losing state companies and partly because the airline
was in need of foreign currency to pay for fuel, spare parts, and catering. A foreign exchange crisis in the
country led to the cancellation of the carrier's operations in late 2005, following the lack of hard currency
to pay for the fuel. In 2006, it was disclosed that passenger numbers had fallen from 1 million in 1999 to 23,000 in 2005.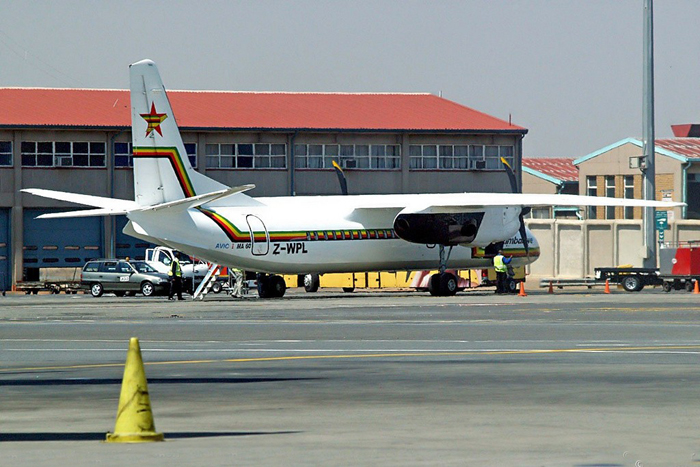 Xian MA60 Z-WPL parked for service at Johannesburg Int.airport, SA 2006.
Photo: Ray Barber
Due to lack of spareparts at the homebase, the Xian MA-60 Z-WPL was flewn to Johannesburg for service in September and returned for operations a month later.

2009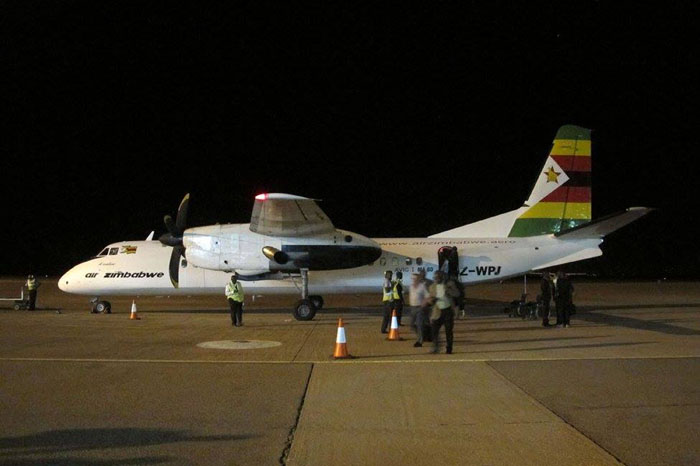 Xian MA60 2009
Photo: African Airliners archive
On 11th March 2009, Harare Int. airport. During the takeoff in night-conditions the Xian MA60 Z-WPJ hit warthogs the on runway and the left main gear collapsed. The plane skidded on runway and veered off. All passengers ceased but the aircraft got extensiv body-damage. The aircraft was extensiv damage to the aircraft. The plane was withdrawn from use (WFU)at Harare Int airport.

2010



AirQuarius or Foster Aero Int Fokker F28 ZS-DRF msn 11239 at Lanseria 2010, SA
Photo: A J Best



This is interesting a Fokker F28-4000 ZS-DRF in Air Zimbabwe titles that has been seen for some weeks in September 2010 at Lanseria (homebase) and at Jo-burg. It must have been a kind of atempt - a proposal, leased it to AirZim 2010 for awhile or what?

2011


In February 2011, the airline had to cancel all flights to Johannesburg due to unpaid debts to creditors at
the airport. Regional and domestic services were suspended for a short period in May, following both the grounding of its Boeing 737-200 fleet by the Civil Aviation Authority of Zimbabwe (CAAZ) over maintenance concerns.






Boeing 737-500 9J-ZJC msn 29074
Photo:African Airliners archive
Boeing 767-200 Z-WKF was the only of the two B767s in this nice livery. Photo:African Airliners archive

Operations resumed in late May 2011 but in late June 2011, Air Zimbabwe was forced to return the leased Boeing 737-500 from Zambezi Airlines as it was unable to afford the leasing costs. The plane was leased to compensate the lack of equipment following the grounding of its Boeing 737-200 fleet. The aircraft was mainly used to operate the Harare–Johannesburg route. It was disclosed the company had to fly the route using one of their Boeing 767s.
Z-WPA is still flying!
Photo: Sam Chui
Informed sources told reporters that Air Zimbabwe's long haul aircraft, a Boeing 767-200 known as Victoria Falls, was seized by American General Supplies upon landing at London's Gatwick International Airport on Monday morning from Harare International Airport.

American General Suppliers secured a court injunction in the US that gave them the power to impound the aircraft over US$ 1, 2 million debts.
Photo:African Airliners Archive


In mid-June 2011, flights to London and South Africa were temporarily suspended because of a due debt with fuel suppliers. Owing both to the grounding of the 737-200 fleet and to fuel shortages in the country, domestic services were suspended and regional flights were operated on an irregular basis. The airline started regularizing medium- and short-haul operations in July, as it got clearance from the CAAZ to op-
erate one of its three grounded 737-200, the Z-WPA.

Operations were discontinued again in late July 2011, this time due to a pilots' strike, resuming in mid-September after a 50-day-long strike. Once again, overseas and domestic flights were temporarily stopped in early November 2011, this time owing to an unpaid debt with fuel providers Overseas routes resumed on 11 November. However, flights to the United Kingdom and South Africa were suspended in January 2012 over likely impoundments of the airline's aircraft for outstanding debts.


IATA


In May 2011, the airline was suspended from IATA's international financial and booking system over unpaid booking fees. It was announced in early November 2011 that the government would absorb a US$140 million debt in order to make the company more attractive to foreign investors. Already in December 2011, the carrier struggled to provide its regional and overseas services amid aircraft impoundments over unpaid debts.



Despite versions for the acquisition of new aircraft were officially declined in July 2011 owing to a precar-ious cash position. It was disclosed that the airline bought an Airbus A340-500 and an Airbus A320, both new, in August 2011. As of January 2012, there had been discrepant versions over the acquisition of the new Airbus aircraft, since the secretary of the Zimbabwean Ministry of Transport has denied the transaction.

2012



In January 2012, the airline came under judicial management. Following a failed revival attempt, in which the pilots refused to resume domestic services over US$35 million in unpaid salaries and allowances, it was announced on 24 February 2012 that Air Zimbabwe would be grounded indefinitely. The Xian MA60 Z-WPL aircraft that had been flewn to Johannesburg in July 2006 has returned to Harare for storage and is presumed for sale



Air Zimbabwe Private LTD



In March of the same year, the government of Zimbabwe established Air Zimbabwe Private Limited as the new owner of the carrier after disbanding the airline's former parastatal owner Air Zimbabwe Holdings and absorbing a US$150 million debt. The airline resumed flying on a continuous basis in early May 2012, yet using a singel Boeing 737-200 aircraft and serving only three domestic destinations: Bulawayo, Harare and Victoria Falls and only for a short period of time until the grounding of the aircraft on 2 July 2012.

The airline was reactivated in late November 2012, with a reduced flight scheme serving the Harare–Johannesburg route. Reports indicated the carrier resumed domestic operations connecting Bulawayo, Harare and Victoria Falls, as well as the regional route to Johannesburg, on a daily basis service with the aged Boeing 737-200.

Air Zimbabwe was under pressure to renew and expand its fleet in the face of growing competition. The airline had to lease aircraft on short term grounds to service some of its routes from time to time. To boost the airline´s only Boeing 737-200 that had resumed operation last July 2012, the government was forced to find a lessor which had an aircraft suitable for Air Zimbabwe.

Air Zimbabwe was at this time offered to dry lease two Airbuses A320-214 to a cost of US$ 200.000 each from the aviation broker China Sonangol International (the same company that had caused problem for AirTanzania) with disputed leasing contract of an Airbus A320) through Isle of Man brokers SouthJet. This contract was probably not sanctioned by government, but only signed by the airline's representatives.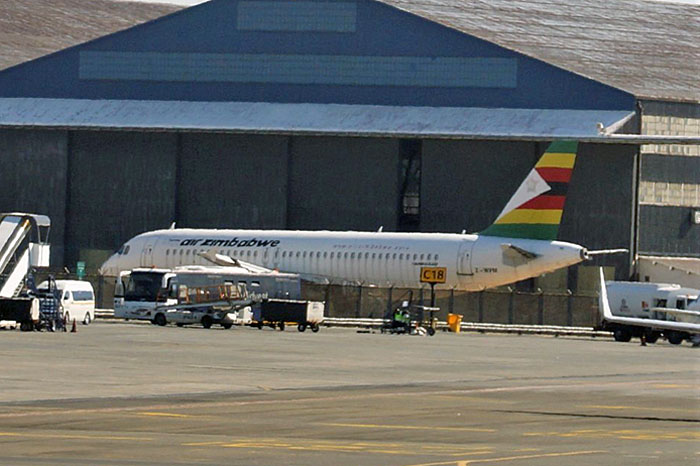 Airbus A320-214 Z-WPN msn 630 at Harare Int airport January 2013, Zimbabwe.
Photo: HarareAirportBlogger



The Airbus A320 Z-WPM ( msn 630) (the former Air Tanzania 5H-MWH) and the second Airbus A320 Z-WPN (msn 1973) were part of a 2012 deal between China Sonangol International (Hong Kong Int'l) and the then Mugabe regime to help revive the debt-ridden state-owned airline. The deal was structured via a pair of IOM-based SPVs, SouthJet. The first dry leased Airbus A320-214 Z-WPM entered immediately the important service to Johannesburg, Bulawayo and Victoria Falls routes.

2013



Airbus A320-214 Z-WPN msn 630 at Harare Int airport July2013 ,Zimbabwe.
Photo:



The second Airbus A320-214 Z-WPN was operating only a short time for Air Zimbabwe but due to a heavy landing at O.R Tambo International Johannesburg the landing gear was damaged. After a thorough investigation, it was found that the aircraft had several serious technical defects in the aircraft frame in addition to the damaged landing gear but sources in the aviation industry said that Air Zimbabwe took the plane to SAA because it did not have technicians trained to service the Airbus.


The Airbus A320-214 Z-WPN at the workshop for undergoing investigation of the landing-gear.



The aircraft was towed to a parking place and it never came in service due to lack of funds to repair it. The aircraft was then stored stored at Johannesburg Int airport, South Africa and was written off in January 2018,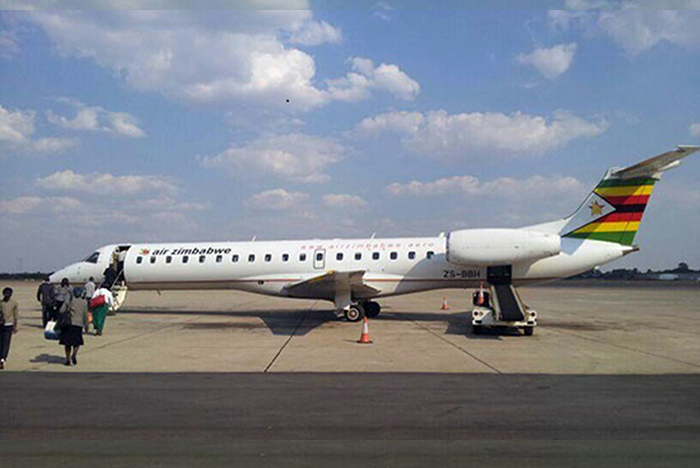 Embraer ERJ145 ZS-BBH at Harare Int airport, 2014, Zimbabwe



In 28 March, Air Zimbabwe decided to wet-lease a fifty seater Embraer E145 jet for an initial period of six month to cover up their aged Boeing 737-200 which was undergoing heavy maintenance. The Embraer145 was leased from Solenta SA in South Africa to operate the important Harare Bulawayo-Vic Fall-Harare route.

Soon a new scandal hit the Zimbabwean national, when it occurred that the wet-leased ERJ-145 from Solenta, SA was leased for an initial period of six months but had now expired, but Air Zimbabwe continued to operate the aircraft until June 2014. According to carrier, the decision to enter into an agreement with Solenta was made on the basis that it was more economical to operate an ERJ-145 jet on domestic flights primarily instead to operate their much bigger Boeing 767-200 which was costly to run service with a low cabin factor.

The government was probing Air Zimbabwe's leasing deal of a the Embraer 50-seat plane, amid fears the embattled airline has lost millions of dollars through a huge fixed monthly rental of $204 000 for the jet. Sources said that the airline tried in vain to lease directly the planes from their manufacturers because of sanctions against the country. Other sources said the similar jet could be hired for between US$80 000 and $120 000 monthly.

For this tender deal Air Zimbabwe had to paid over $3 million and is still now owing aboutUS $ 800 000, which adds up to about US $4 million. That is enough to cover a quarter of the price of a "new Embraer". The cancellation of the lease with Solenta whose managing director is from Zimbabwe - hit Air Zimbabwe hard and forced the struggling airline to dramatically increase its fares because of using their bigger aircraft, the Boeing 767 and 737, which was more expensive to run and maintain. They also guzzled fuel.

Approximately 600 employees out of more than 1,000 had been laid off by late May 2013 as part of cost-cutting measures aimed at recapitalising the airline.The Zimbabwe Tourism Authority revealed in June 2013 that the airline's market share suffered a steep decrease in the year ending 31 December 2012, with a 0.8% participation in this period down from 27% in the same period of 2009.



2014


Big African AirShow held in Harare at Charles Prince Airport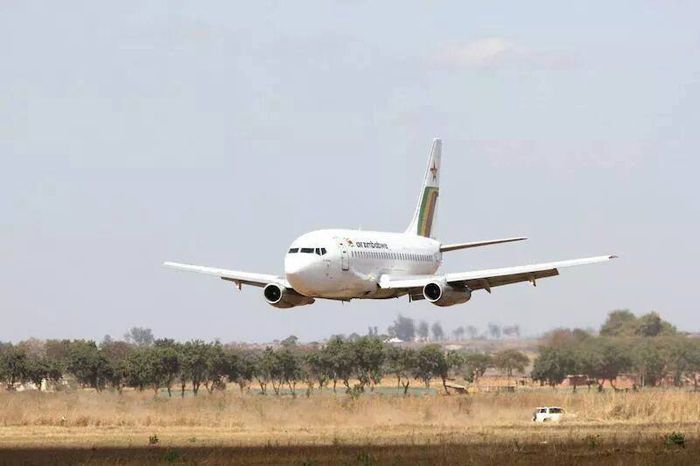 Stunning -Captain Joe Mpauri flys Air Zimbabwe B737-200 Z-WKB "Great Zimbabwe" just 10 feet over the ground,



2016


In 2016, ministers secretly created a debt-free new national airline – Zimbabwe Airways – in the hope that it would be capacitated with airplanes and eventually rise from Air Zimbabwe's ashes. The new airline collapsed after the plan was exposed, leaving Air Zimbabwe to take over negotiations to acquire two Boeing 777 aircraft from Malaysia and an Embraer ERJ 145 from the United States.

2017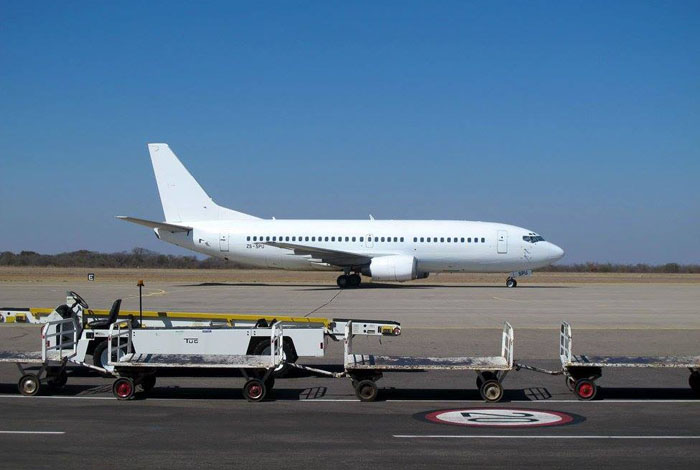 Air Zimbabwe had to lease on short contracts i.e Boeing 737s from Starair Cargo (here seen ai.e Boeing 737-500 ZS-SPU) when their own aircraft are grounded.

After takeoff from Bulawayo Int. airport the Xian MA60 Z-WPK lost the preassure and the gasmasks were released. The plane returned to Bulawayo and all survived. The plane was later flewn to Harare Int. airport and it is reported that the aircraf tis for sale. In early 2017 Air Zimbabwe forced to hire planes to serve its routes as foreign currency shortages are delaying the acquisition of spare parts for its grounded fleet. This has resulted in long flight delays and cancellations in the past week.

2018


Punctually at 12.30 on January 20, Z-RGM landed at Harare International Airport the ex Malaysia Airlines Boeing 777-200 in the livery of "Zimbabwe Airways" now registered Z-RGM (as an honoar to the President Robert Gabriel Mugabe) at Harare in the livery of "Zimbabwe Airways".

Since the airline could not secure its AOC for operating the aircraftit was parkedat Harare International airport. Then the B777 was shipped back to Malaysia on 25 May before a new deal was confirmed by the Zimbabwean authorities.
.
In November 2018, it became known that Zimbabwe Airways lost one of the planes as, reportedly, the government never payed for it. An unnamed official from the Ministry of Transport confirmed to "ZimLive" that: "The original plan was to buy four of the seven retired aircraft, but we have so far managed to pay for two fully of them, and a third should be secured. The Malaysians sold off the fourth after payment dragged on".

Apparently, the third aircraft was not secured and on December 10, Malaysia Airlines delivered it to Wilmington Trust Company (U.S.). The second B777 aircraft remained stored in Kuala Lumpur, presumably awaiting delivery to Harare.

On 8 June 2018, it was reported that Air Zimbabwe has debts of more than $300 million and can no longer fly to most destinations due to threats by debtors to impound its Aircraft. With mounting debt and only three of its aircraft operational, the airline was put under administration on 6 October 2018.


Despite the current flight ban in Europe, Air Zimbabwe continued to operate flights to Bulawayo, Victoria falls, Johannesburg and Dar es Salaam
with their remaining aging aircraft, a Boeing B737-200 and a Boeing B767-200. At the end of the year, the Boeing 737-200 was taken out of service for heavy duty services.

2019


In July 2019, Air Zimbabwe came under fire when news emerged that the financially struggling airline is "missing" three aircraft, were "stolen" or "lost".

The rumour emerged after the Auditor-General of Zimbabwe issued a disclaimer of opinion on June 20, 2019. In it, the auditor outlines that in 2011-2014 the airline operated three MA60 aircraft, but none of them were accounted for in the company's financial statements. There were no documents or agreements regarding if the aircraft were sold or leased.

In response to the backlash, one of the airline's spokesperson told the local media that Air Zimbabwe did not purchase the three MA60s but continued - "For state enterprises, government comes in from time to time to offer shareholder support". Thus, it is the government that should have the missing documents. Meanwhile, the aircraft are not missing and "anyone is free to come and see them".
This statement from the airline's spokesman is contradictory with reference to the 2004 agreement between the Chinese National Aero-Technology Import and Export Corporation and Air Zimbabwe that the airline buys two MA-60s and then receives as an generous gift from the seller another aircraft.

A late shot from Googel Earth shows "dusty" aircraft parked in the backyard closed to the maintenance area.


Harare Int. airport location of parked aircraft


Zimbabwe Airways Embraer ERJ145 N812HK msn 145373
Photo:



Zimbabwe government took delivery of an Embraer ERJ145 N812HK msn 145373 at Harare Int'l on Tuesday, April 30 in the livery of the controversial start-up carrier Zimbabwe Airways. The former Trans States Airlines twin-jet was ferried to Southern Africa from Kansas City Int'l via Gander, Reykjavik Kefla vik, Belfast International airport, North Ireland , Malta Int'l, and Aswan, Egypt. The acquisition of this aircraft plane was a part of efforts to revive the national airline, Air Zimbabwe." Still in the end of december the Zimbabwean government had not jet obtained the ownership and crucial operating manual for the Embraer
ERJ-145.

2020


Boeing 777-200 Z-RGM on its way to the apron,.
Photo:African Airliners Archive
In January the first ex Malaysia Airlines B777-200 with registration Z-RGM landed at Harare International airport.A delegation of participants from the government and the airline led by the country's Acting president and the airline's management a welcome ceremony was held. The President said in his speech "With this receipt of this Boeing 777 aircraft is clear testimony that we are taking concrete steps to capacitate our national airline so that it plays a role in promoting economic growth, creating jobs and facilitating international trade and tourism," - further he continued "This initiative is therefore, part of our efforts towards the realisation of Vision 2030, as informed by our economic blueprint, the Transitional Stabilisation Programme.

"This initiative is therefore, part of our efforts towards the realisation of Vision 2030, as informed by our economic blueprint, the Transitional Stabilisation Programme. Government remains committed to ensuring that our beloved national airline is restored to full functionality. That speech sounded very promising but there was another but

In April it was disclosed that the acquired B777 would be flown to Addis Ababa for positioning possible leasing out. Ethiopian Airlines had agreed to take possession of the aircraft maintain it until it will be leased to an airline that has shown interest in possibly leasing the aircraft on a two-year contract.

The second B777-200, Z-NBE was delivered to Air Zimbabwe in October the same year with the same destiny as Z-RGM. At the end of the year, no airline had yet signed an agreement with the lessor.

Still in the end of December the Zimbabwean government had not jet obtained the ownership and crucial operating manual
for the Embraer ERJ-145.


The ownership of two A320s?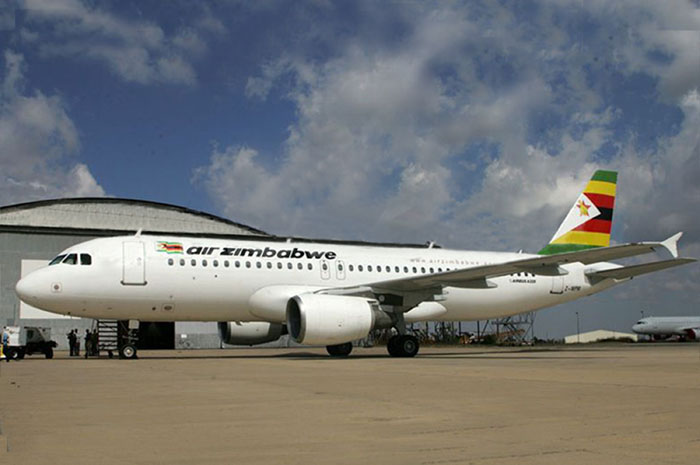 Air Zimbabwe A320-214 Z-WPM in front of Air Zimbabwe hangar at Harare International airport.

In June Air Zimbabwe was up in court to fight for ownership of two A320s. The two Airbus planeswere delivered to the carrier over seven years ago, but have barely been used yet.

Air Zimbabwe is in a tug of war with the Isle of Man company South Jet over two Airbus A320s. The aircrafts which are apparently parked up and not suitable for use right now, were acquired by the airline in 2012. However, the circumstances of the acquisition are muddy.

The carrier claims that the aircrafts were donated to the Government of Zimbabwe by authorities
The two Airbus A320-200s, registered Z-WPM and Z-WPN, we arranged to go to Zimbabwe in a deal spearheaded by China Sonangol International. At the same time, the Chinese partner was looking to bail out the Mugabe regime and help revive the debt-laden national carrier.

The deal was brokered through two Isle of Man "special purpose vehicles", known as South Jet One and SouthJet Two. Z-WPM entered into active service for a while, but Z-WPN has been parked at Johannesburg O.R.Tambo since the start of 2014.


Fleet: 2022


A320-200 Z-WPM cn 630 stored JNB
A320-211 Z-WPN cn 1973 stored HRE

B737-2NO/ADV Z-WPA cn 23677 in service
B737-2NO/ADV Z-WPB cn 23678 stripped for spareparts
B737-2NO/ADV Z-WPC cn 23679 stripped for spareparts

B767-2NO/ER Z-WPE cn 24867 engineless
B767-2NO/ER Z-WPF cn 24713 in service

B777-200/ER Z-RGM cn 28421 stored at HRE (for lease or sale)
B777-200/ER Z-NGB cn XXXXX stored at HRE (for lease or sale)

Bae 146-200 Z-WPD cn E2065 wfu HRE

Embraer ERJ 145 N812HK in service

Xian MA 60 Z-WPJ cn 302 damaged
Xian MA 60 Z-WPK cn 306 wfu stored
Xian MA 60 Z-WPL cn 304 wfu damaged



Behind the curtains



Air Zimbabwe Boeing 7372NO/ADV Z-WPC. The flightdeck stripped for spareparts.




Air Zimbabwe Boeing 7372NO/ADV Z-WPC. The cabin stripped for spareparts.




Scrapyard 2019.


This site is not sponsored by Air Zimbabwe!

Credits

*****

Links

Back to Encyclopedia Index


Email: tonyedlind1945@gmail.com