OWNER FORREST LUCAS CLARIFIES PRO PULLING LEAGUE'S 2006 PLANS


Louisville, Kentucky (February 20, 2006) -- With a standing room only crowd intently looking on, Lucas Oil Products founder and President, Forrest Lucas, boldly announced his Corona, California-based company's plans for the newly formed Lucas Oil Pro Pulling League, including a $180,000 year-end points fund, one of the largest if not the largest in the sport's history, for divisions within its Pro Champions Tour, of which his company is also the main title sponsor.
The purpose of the gathering, which took place at the Hilton Garden Inn in Louisville, Kentucky, across the street from the revered National Farm & Machinery Show, was meant to underscore the breadth and scope of the organization, founded with the goal of elevating the sport of professional and sportsman truck and tractor pulling to its true and lofty potential.
Lucas and his league's employed officials accomplished just that, and more, as the cash awards were among numerous reassuring and solidified announcements made during the unique, open door affair, in which many interested pullers, sponsors, event promoters, etc., were encouraged to attend.

Also laying the foundation for a solid 2006 series was the proclamation that a total of 60 cable television shows would be shown, including 23 prime time airings to more than 113-million U.S. households on cable sports giant ESPN2, plus The Outdoor Channel.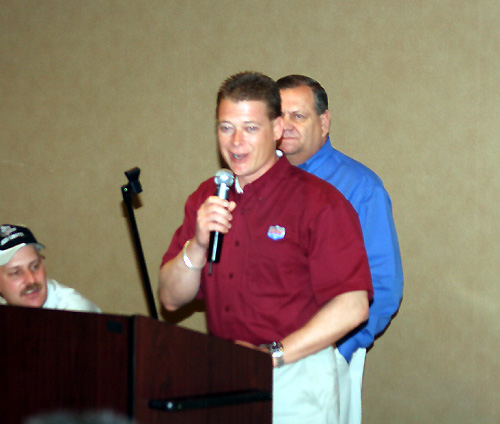 PPL Director Mike Chastain initially set the meeting in motion, whereby competitors were advised of the current national, Midwest and regional schedules, purse payouts, and membership requirements. In fact, when taking into consideration the additional monies to the aforementioned Midwest and regional organizations, the total point fund for 2006 is expected to top $300,000.

It was further explained that those who wish not to purchase a full Lucas Oil PPL membership will be allowed to pay a "per hook" hook fee, essentially giving competitors a chance to still participate in a Lucas Oil Pro Pulling League event prior to a further commitment, a proverbial "test drive" to get acclimated and altogether comfortable with the new organization.He also keyed on the fact that pullers are encouraged to take part in newly created Summit Racing Equipment and K&N Performance Filters contingency programs, plus a unique Dixie Chopper plan to assist those who wish to purchase a "World's Fastest Lawnmower" from the Coatesville, Indiana-based and PPL major associate sponsoring company.
Lucas was flanked by other major supporting sponsor representatives from Dixie Chopper, plus R&L Carriers, Generac, and heavyweight member state organizations such as East Coast Pullers, Badger State Tractor Pullers, Mid America Pullers Association, and Power Pulling Productions, LLC, among others.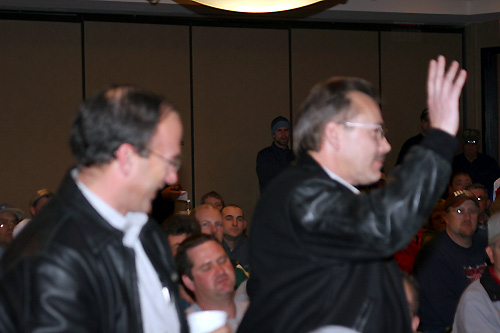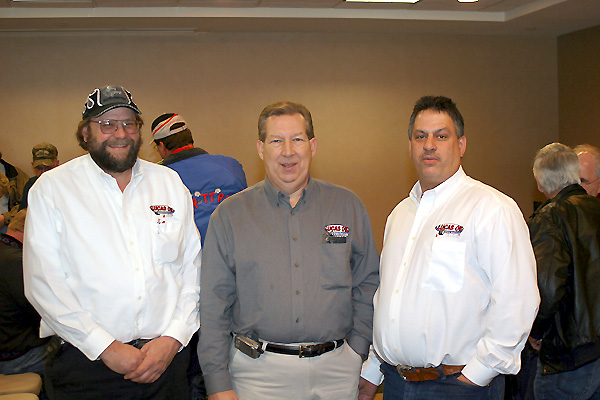 Mr. Lucas wasted no time in getting to the core of his commitment to the sport, essentially saying that Lucas Oil Products was a one-hundred percent owner of the PPL, that they are in this for the long haul, and that all those involved - or looking on with keen interest, can expect further growth and betterment for the sport this coming season, and in the future.

He continued by explaining that pulling was a terrific sport, and a perfect fit to his company's goal of reaching current and prospective consumers through unique and far-reaching demographic targets, which are not always within the scope of other groups that they similarly support and participate in, such as NASCAR, NHRA, and others.
Lucas, who previously owned a successful trucking fleet operation, has indeed shown that he is a man true to his word, establishing Lucas Oil Products with his wife, Charlotte, in 1989, with the philosophy of producing only the best line of lubricants and additives available anywhere. And his open discussion with the pulling fraternity at Louisville left little doubt that he wishes to foster the same outcome for the Pro Pulling League, as well.
Other announcements made include the date of the 2006 Lucas Oil Pro Pulling League Champions Banquet, to be held on Saturday night, October 28 at the Hyatt Regency (downtown Indianapolis, Ind.), plus special tours earlier in the day to numerous area locations, including Lucas Cycles, their NHRA top fuel team headquarters, and other venues of interest.
"This is a great day for the sport of professional and sportsman truck and tractor pulling," said Mike Chastain, a former competitor, one of the PPL's employees and a key individual hired to help promote and facilitate the major events tour. Others in this capacity include key statistician and office manager, Kristi Chastain, plus technical and rules director, John Mears.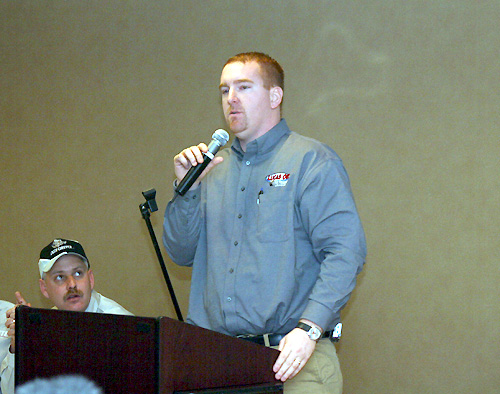 "I believe that this gathering finally cleared the air as to the motives, intent, and direction of this organization," he said further, "especially from the man directly responsible for the financial and decision making processes which will impact this company, and the sport, for a long time to come."
"I feel really good about this," began Paul Graf, with the Mid America Pullers Association, "especially hearing it straight from the owner and man in charge.
"There were a lot of people present at this meeting, and I heard many positive comments afterwards.
"We're going to pick up a lot more people and support now that a large number of the questions have been answered," Graf concluded.
The Lucas Oil Pro Pulling League is an intelligently planned, concerted and organized sanctioning and promotional campaign created to elevate the sport of professional and sportsman level truck and tractor pulling to its true potential throughout the United States.
Main title rights sponsorship of the PPL comes from Corona, Calif.-based Lucas Oil Products, a leading lubricants creator and marketer for automotive, truck, motorcycle, marine, RV, fleet and industrial applications. Their alignment with the Lucas Oil Pro Pulling League bolsters their position in the racing community, where they already have a strong presence in top-level organizations including NASCAR, NHRA and many others.
Another important and supportive sponsorship role comes from Dixie Chopper, of Coatesville, Indiana, makers of the "World's Fastest Lawnmower", and title rights sponsor of the Lucas Oil Pro Pulling League's Dixie Chopper (Midwest) points tour.
Additional funding comes from major freight facilitator, R&L Carriers of Wilmington, Ohio, whose fleet includes more than 12-thousand tractor/trailer rigs that provide transport service throughout the United States, Canada and Puerto Rico.
News and information can be obtained by calling the Lucas Oil Pro Pulling League headquarters at: 812/216-4024, or by visiting their official website at: www.propulling.com.
| | | |
| --- | --- | --- |
| | | |
| Kristi at the information & membership table | Some Modified competitors in attendance | Dwayne Lucas & Larry Knight |