70s invasion ; PATRICIA PAAY - 70s disco
PATRICIA PAAY
reviews of PATRICIA PAAY on page 25 of the 70s invasion, see our Glam Girls section 2 accessible from the bottom of page 21.... :)
reviews of HEART Patricia's dutch glam band of the early 70s in our gateway 1 :)

PATRICIA PAAY

The real voyage of discovery consists not in seeing new landscapes but in having new eyes. Proust.

No tree has branches so foolish as to fight amongst themselves. Ojibwa Indian saying.

It is never too late to become what you might have been. George Eliot.

You must be the change you wish to see in the world. Mahatma Gandhi.

At the center of your being you have the answer; you know who you are and you know what you want. Lao-tzu.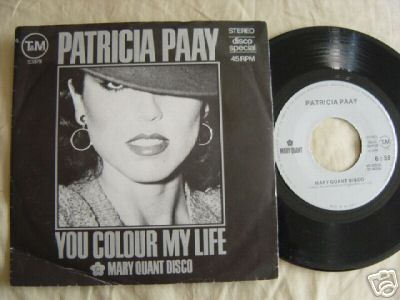 disco 45

The most beautiful thing we can experience is the mysterious. It is the source of all true art and all science. He to whom this emotion is a stranger, who can no longer pause to wonder and stand rapt in awe, is as good as dead: his eyes are closed.

--Albert Einstein