St. John the Baptist Russian Orthodox Cemetery
Stratford, Connecticut
Return to the main page.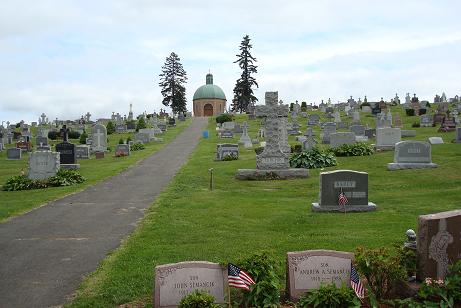 Saint John The Baptist Russian Orthodox Catholic Cemetery conatins many families of Carpatho-Russian descent; many stones are inscribed in Russian. The internments are not old (in fact, the date on the cornerstone of the chapel reads 1934), but it is an interesting cemetery with a few remarkable burials, including aviation pioneer Igor Sikorsky and Rockabilly Hall of Fame inductee, Eddie Sulik. St. John's is located near the intersection of Nichols Avenue (Route 108) and Hawley Lane in Stratford, Connecticut.
Photos were taken 18 June 2009.
"St. John's Russain Or-Cath Cemetery Chapel"
The veterans' memorial.
"This plot is reverently dedicated in solemn memory of
all those who died in the defense of our country."
Igor Ivanovich Sikorsky was a pioneer in aviation. Among his many achievements are designing (and piloting) the first four-engine fixed-wing aircraft and creating the first practical helicopter. Sikorsky was also responsible for the twin-engine S-38 amphibian (used by Pan American Airlines for travel to Central and South America). He was awarded the National Medal for Science and the Wright Brothers Memorial Trophy. He appeared on the cover of Time magazine in 1953.
Igor I. Sikorsky
May 25, 1889
Oct. 26, 1972
"Rare is the man whose vision whose dreams becme reality.
Rarer still is one whose vision brings a better life to others while fulfilling his own.
Such a man was Igor I. Sikorsky, "Father of the Helicopter,"
aeronautical pioneer, inventor and philosopher."
"I am the resurrection and the life." John 11:25
1901 - 1995
Elizabeth Sikorsky
Devoted wife of Igor I. Sikorsky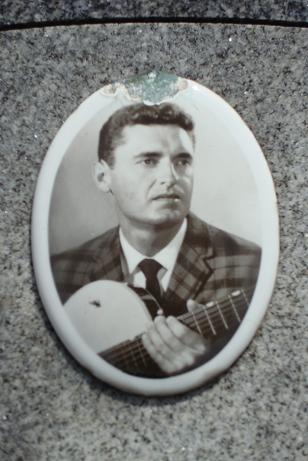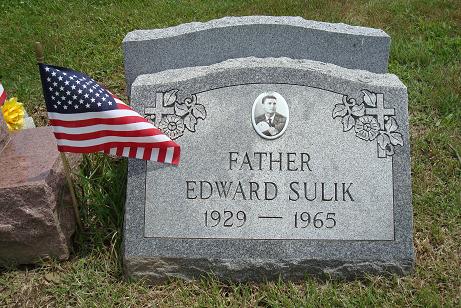 Eddie Sulik was a songwriter, lead singer and rhythm guitarist of the rockabilly duo The Echoes. The Echoes appeared with perfomers like Johnny Burnette, Johnny Tillotson, and the Temptations. In 1960, The Echoes embarked on a brief tour with the Miss Universe Pageants, and appeared on radio and TV. Sulik went solo in 1961, garnering the attention of record executive Archie Bleyer. Bleyer invited Sulik to his office in New York City two weeks before Christmas, 1965; Chet Atkins was going to be in town. Sulik was killed in a car accident just hours before the meeting. He was inducted into the Rockabilly Hall of Fame. His songs include, "Bye-Bye My Baby," "Ecstasy," "Bounty Hunter Dale," and "Anna Marie." For more on Eddie Sulik, visit his Tribute at The Death of Rock: The Archive.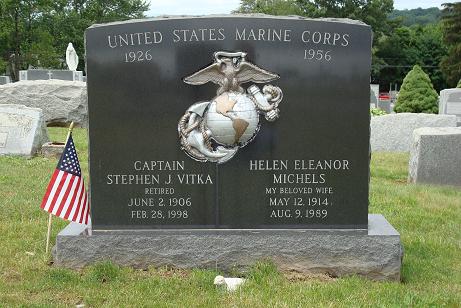 This is a very large stone emblazoned with the Marines insignia in gold and silver.
All photos copyright by the author, 2009. Not to be used or reproduced without permission.
Return to the main page.