Great Hill Cemetery
(Hookman's Cemetery)
Seymour, Connecticut
Return to the main page.
Great Hill Cemetery is located on Cemetery Road off Route 188 in Seymour, Connecticut. Stones date from the late 1700s in the old section, with contemporary stones in the newer area of the cemetery. Common names found within the older section include Holbrook, Smith, Lum, and Tomlinson. Great Hill is locally known as "Hookman's Cemetery," although the exact origin of this name is unknown. One story involves a former caretaker of the cemetery, who had a hook for a hand. He was said to have murdered a boy who had stayed in the cemetery after dark. Supposedly, the boy was found impaled on a large hook, dangling from a tree. A second story involves a man named Hookman who was accused of a crime he didn't commit and hanged in the cemetery. He reportedly still haunts the graveyard.
Photos were taken 19 October 2009.
The first burial at Great Hill.
"Here lies the body of Joseph Canfield,
the first Deacon of the Church at the Great Hill in Derby,
and the first Person buryed in this Yard.
Died July 14th AD 1784 in the Faith and Hope
of the Gospel aged 64 Years."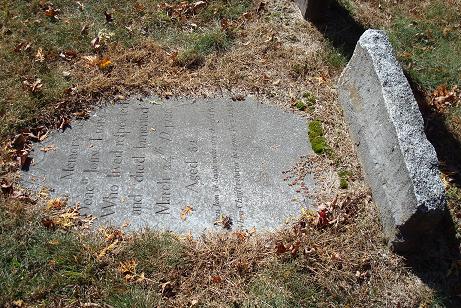 "In Memory of Deac.n John Lumm
Who lived respected and died lamented.
March 24th AD 1786 Aged 82
Then join ye Saints wake ev'ry cheerful (?)

When Christ returns he comes for your (?)"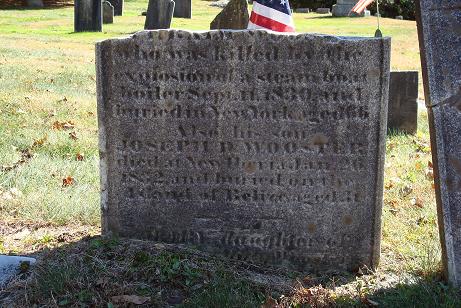 Online research revealed to whom this stone belonged. The top half was nowhere to be found.
Ephraim Wooster: Sept. 14 1764 - Sept. 11, 1830
"who was killed by the explosion of a steam boat
boiler Sept. 11, 1830 and buried in New York aged 66.
Also his son Joseph D. Wooster
died at New Iberia Jan. 26 1832
and buried on the island of Belize aged 31.
Mary daughter of..."
Mary was the daughter of Ephraim and Mitty (Vose ) Wooster.
She died August 29, 1805, aged 3 months.
(From Connecticut Marriages and Deaths 1792-1837:
"At New York Harbor: Mr. Ephraim Wooster, of Derby, Conn., ae. about 60 years:
died, as result of explosion on board steamer UNITED STATES, near Blackwell`s Island." )
"Beneath this stone is interred the remains of
Cap.t John Holbrook:
who, having lived a useful member of society,
a professor of the Christian religion,
and an exemplary man in hope of a resurrection to eternal life,
died Jan. 28, 1801 in the 75th year of his age.
The memory of the just is blessed."
Capt. Abel Holbrook was a Revolutionary War veteran,
the son of Capt. John Holbrook (above), born Dec. 16, 1762.
"In memory of Capt. Abel Holbrook
who died July 15, 1812 aged 80."
Smith was a Revolutionary War veteran.
"Christopher Smith Died Aug. 8, 1820 Ae. 86.
In Battle at Saratoga 1777.
Abigail Harger his wife
Died Dec. 30, 1823 Ae. 86."
The Tomlinson plot:
William Russell Tomlinson, died Feb. 13, 1885 (age 75);
his wife, Phebe Bassett, died May 24, 1832 (age 20);
his second wife, Hannah Bassett, born Dec. 14, 1807, died Nov. 24, 1893 (age 85)
his daughter (with Phebe), Henrietta, born Feb. 18, 1836, died Nov. 23, 1901 (age 66);
his daughter (with Phebe), Phoebe Augusta, born May 24, 1838, died Oct. 20, 1927 (age 89).
All photos copyright by the author, 2009. Not to be used or reproduced without permission.
Return to the main page.