GODZILLA MAGAZINE COVER GALLERY
This section of the site is devoted to the many times Godzilla has graced the covers of American monster magazines over the years, with a specific concentration on his earlier years during the Showa Era for reasons that will become quite obvious.

What is interesting about the Big G in regards to his appearances on the covers of American monster mags is the surprising scarcity of them, particularly during the heyday of his popularity, which was during the early to late 1960s, where he graced no covers whatsoever. It wasn't until the '70s that this horrid omission was remedied.

It appears that many of the most popular monster film mags during that time, particularly FAMOUS MONSTERS OF FILMLAND (then published by Warren) as well as its many imitators (e.g., HORROR MONSTERS, Mayfair's MONSTER FANTASY) that are now mostly gone and forgotten by the public at large, the Big G and giant monsters in general weren't considered popular audience grabbers by the editors of those magazines. The editorial policies of these mags, while regularly including articles on G-films and other giant monster movies within their pages, seemed to almost solely focus their covers on relatively human-sized monsters along the lines of the Frankenstein Monster and Dracula. The latter monsters' frequent cover treatments make sense given the tremendous film popularity that they have always had, but what isn't understandable is the entire lack of covers devoted to the Big G and company, who represented another popular sub-genre of monster movies, and one that was much, much more popular during the '60s and early '70s than today.

Wouldn't a monster on the scale of Godzilla, let alone a visually spectacular dai kaiju like King Ghidorah, be considered a cover sight that would compell a monster movie fan who was perusing the newsstands to pick up the mag and purchase it? Apparently not, according to the perceptions of the monster mag editors. Hence, from the late '50s throughout the 1960s, and even for a few years into the '70s, Godzilla and his fellow dai kaiju were nowhere to be seen on any monster mag cover that didn't specialize upon info covering giant monsters or Japanese sci-fi films.
Godzilla appeared on many early '70s issues of THE MONSTER TIMES, but that fondly remembered newspaper format monster mag often seemed to provide a much-needed focus on Godzilla, Gamera, and other giant monsters while also including info on other horror and sci-fi sub-genres, the very inverse of the sub-genre focus we saw with FAMOUS MONSTERS OF FILMLAND, who preferred to center its info on the likes of Frankenstein's Monster, Dracula, cinematic werewolves, and the Phantom of the Opera.

In other words, THE MONSTER TIMES seemed to cater to a specialized faction of monster fans, unlike the general focus of more mainstream horror movie mags. THE JAPANESE FANTASY FILM JOURNAL is another fondly remembered mag that debuted early in the '70s, and its title boasted a straighforward specialization context, so fans expected to see Godzilla and other dai kaiju grace several of its covers, as dai kaiju eiga made up a large and popular chunk of Japan's sci-fi cinema at the time of its publication.

It wasn't until early in 1975 that the Big G finally graced the cover of a mainstream horror film magazine, specifically MONSTERS OF THE MOVIES #5, published by Marvel Comics. The latter mag was part of the company's foray into black and white magazine publication outside the purview of the oppressive Comics Code Authority that Warren Publications (who then published FAMOUS MONSTERS OF FILMLAND) specialized in. MONSTERS OF THE MOVIES was set up as Marvel's answer to FAMOUS MONSTERS OF FILMLAND, and even though it tried really hard (and basically did a good job), it didn't last more than two years, but it did provide an important footnote in history for G-fans; with the mag's fifth issue, its editorial team made the then-unprecedented decision to feature Godzilla on its cover. That issue sold rather well, and just a few months later, Warren followed suit by featuring Godzilla and Rodan on the cover of FAMOUS MONSTERS OF FILMLAND #114 in order to highlight a series of articles on Japan's dai kaiju eiga, which this issue of the mag happened to feature.

Would Warren have included Godzi and friend on the latter cover and graced monster fans with an all Japanese kaiju issue if Marvel hadn't done so with their FAMOUS MONSTERS OF FILMLAND knock-off some months earlier, despite the Japan kaiju article in that issue? I'll let you decide, but personally, I think Marvel's aformentioned mag obviously opened a door for the Atomic Titan and other kaiju that had previously been closed regarding his place in the overall pantheon of monster cinema.

Just four years later, the fan fave FANGORIA mag debuted, and provided one of the best historical footnotes of all for G-fans. This was none other than the radiation-spewing King of the Monsters making the cover of the first issue, in addition to having the first big film franchise retrospective published in that mag devoted to Godzilla, and the year 1979 was Godzilla's 25th anniversary.

Yep, that's right, fellow G-fans...FANGORIA, which was to become very popular among monster film mavens (and still is to this day), devoted its first film franchise retrospective to Godzilla, in the process passing over, for example, the Hammer film franchises featuring their versions of Dracula and Dr. Frankenstein, which one would have expected to get the debut spot. Kudos to the earliest FANGORIA editorial staff for their respectful decision.

Below are pics of these early and glorious 1970s monster mag covers featuring the Big G. In time, I will add more magazine covers to this section, and broaden the coverage of the Big G's monster movie magazine cover history.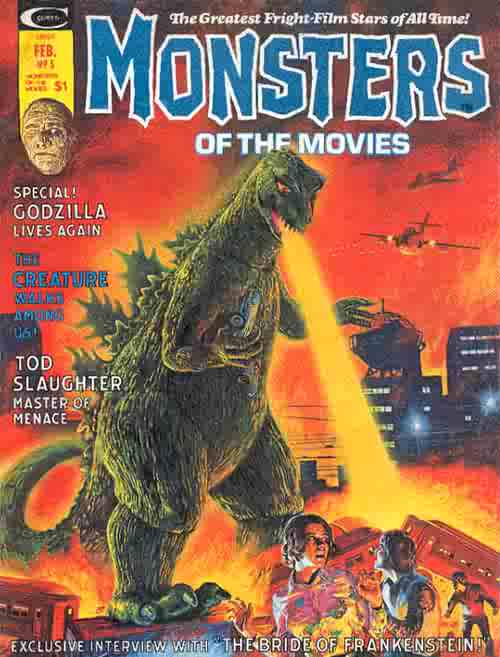 MONSTERS OF THE MOVIES #5
This is the one that got the proverbial ball rolling for Godzilla and dai kaiju eiga in general in regards to mainstream monster mag covers!
Marvel Comics gave us the first-ever appearance of Godzilla on the cover of a mainstream monster film mag devoted to general monster cinema coverage, courtesy of the artistic talents of Bob Larkin. And what a great cover it was! Not only did this cover highlight Godzilla's original sinister, city-smashing side at a time that represented the zenith of the Big G's semi-comical super-hero days, but it also opened an important door for his entire sub-genre of monster films that has never been closed since. It also displayed how the original archetypal fears that the Big G represented to humankind still existed at a time when Toho had since morphed him into a bumbling good guy.
And since the beleaguered humans fleeing from Godzilla's rampage on that cover are obviously Caucasions rather than Asians, you can well see that many Americans were wondering what it would be like if Godzilla ever broadened his city-smashing horizons and paid the U.S. of A. an unwelcome visit instead of exclusively picking on the people of Japan.
This cover presents a terrifc twinge of nostalgia for this author, because though I never purchased this mag when it was originally available on newsstands, I did see it advertised in many Marvel comics of the time, and since I was a huge G-fan even back then, it had quite an impact on me.
It obviously had quite an impact on the folks over at Warren Publishing, too, as the next cover will make rather clear.
Thank you to Mike Scott, publisher and editor of MONSTER MAGAZINES--THE FIRST DECADE, for this high quality cover scan.
FAMOUS MONSTERS OF FILMLAND #114
Since James Warren was quite unhappy that Marvel and other publishers were trying to corner the newstand market that supported both his fan fave monster movie mag and his b&w illustrated story mags that he was producing, I'm sure the publication of MONSTERS OF THE MOVIES made for a lot of irritated tooth-gnashing on his part. And when he saw that Marvel did what his long-running and well-respected monster movie mag had never done--give Godzilla center stage on the cover (and enjoy decent sales because of it!)--he was quick to see to it that his own monster cinema mag, the first and greatest of them all at the time, make up for this 17-year oversight.
Godzilla, along with Rodan, graced the cover of FAMOUS MONSTERS OF FILMLAND #114 for the first time ever, to compliment a series of articles about Japan's dai kaiju eiga within its pages (previously, FM had featured smaller articles on Godzilla and company in its pages). Godzi's appearance on the cover of this particular monster movie mag was the biggest validation for his overwhelming popularity within the overall world of cinematic horror and sci-fi that G-fans had ever seen up to that point. This cover appearance truly put the Big G on the map, so to speak.
And on top of it all we got an amazing cover, as was often the case with Warren Publishing, this one courtesy of Ken Kelly, one of Warren's best cover artists.
Hence, 1975 was a great year for Godzilla in this regard, as G-fans got not one but two great G-covers within just a few months of each other, after never having received one prior to this year.
Thank you to Mike Scott, publisher and editor of MONSTER MAGAZINES--THE FIRST DECADE, for this high quality cover scan.
Two years later, one of the great posters for "Godzilla vs. the Bionic Monster" (prior to its hasty change to "Godzilla vs. the Cosmic Monster" for its 1977 American release) found its way as the cover for FAMOUS MONSTERS OF FILMLAND #135, which happened to feature a filmbook on the movie. Unfortunately, the second time was the last time that Godzilla and his fellow Toho kaiju got the cover of FAMOUS MONSTERS OF FILMLAND.
Click here to see the cover to FAMOUS MONSTERS OF FILMLAND #135
FANGORIA #1
Here is a special magazine cover treat that G-fans received for the Big G's 25th anniversary: the first issue of FANGORIA, which remains one of the top mags devoted to cinematic horror to this day. Though this mag from the very start focused upon splatter-heavy horror that didn't involve dai kaiju, who tended to take whole cities apart rather than focus upon small groups of promiscuous teenagers hanging out in a secluded camp or wilderness area, the fact that the Atomic Titan got both FANGORIA's first cover and its first monster film franchise retrospective is an amazing testament to the Big G's popularity, both then and now.
The cover featured a copy of one of the more prevelant depictions of the 1954 Godzilla, which was then used as a poster for the Italian re-release of the first G-film.
Thank you to Mike Scott, publisher and editor of MONSTER MAGAZINES--THE FIRST DECADE, for this high quality cover scan.