'THE ILLUSORY POWER OF IMAGES'
AS 'AMERICAN PSYCHO' FILM TURNS 20, RINGER CRITIC NOTES DANCE INSPIRED BY 'BODY DOUBLE'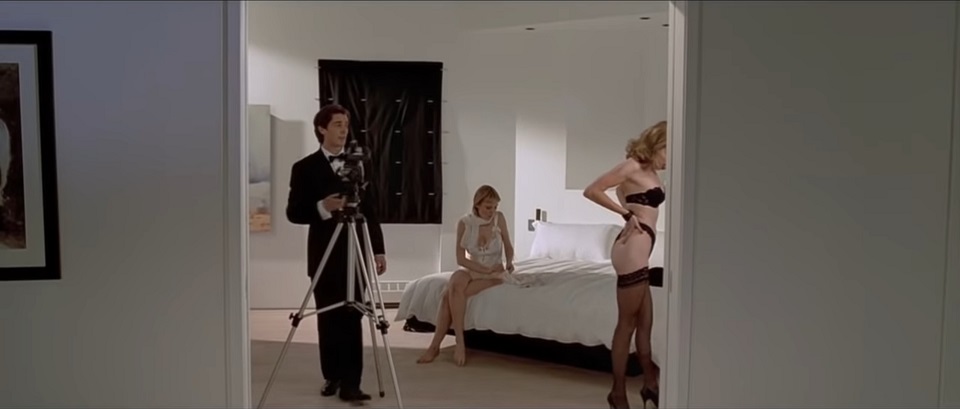 In
Bret Easton Ellis
1991 novel
American Psycho
, Patrick Bateman mentions that he has seen
Body Double
37 times, renting it repeatedly on VHS.
Mary Harron
and
Guinevere Turner
's film adaptation, which was produced by
Edward R. Pressman
and released twenty years ago today, in 2000, does not explicitly reference
Body Double
, opting instead to show that Bateman is watching porn in one scene and
The Texas Chainsaw Massacre
in another. However, an article today by
Manuela Lazic at The Ringer
suggests that the dance moves by one of the characters "are clearly inspired" by the dance in
Body Double
:
Bateman's reflection and appearance are crucial to him in a pathological and modern way. Harron cleverly turns his lengthy morning routine into a cosmetics ad selling you an entire lifestyle. Bale's descriptive voice-over speaks in velvety tones as a delicate piano (by John Cale) bathes the scene in luxurious serenity. Bateman's sculpted body is presented in full as it is perfected through exercise and lotions. His outward appearance is the modern ideal, which he also confirms for himself by videotaping his straight sexual encounters, for which he carefully selects sex workers for their looks (one of them is asked to dance, and her moves are clearly inspired by Melanie Griffith's in Brian De Palma's 1984 erotic thriller Body Double, a film all about the illusory power of images). These moments, too, are athletic workouts: In the midst of acrobatic poses, Bateman winks at himself in the mirror, triumphant. He is the ultimate "boy next door," as his fiancée Evelyn (Reese Witherspoon) calls him: the poster boy for individualistic upper-class America.
See also:
Scott Tobias, The Guardian
American Psycho at 20: a vicious satire that remains as sharp as ever
Adam Pliskin, Elite Daily
The One Line In American Psycho That Will Completely Change The Way You See The Film