GOLD DERBY WRITERS RANK TOP 20 DE PALMA FILMS
"BLOW OUT IS A STERLING EXAMPLE OF WHAT DE PALMA DOES BEST"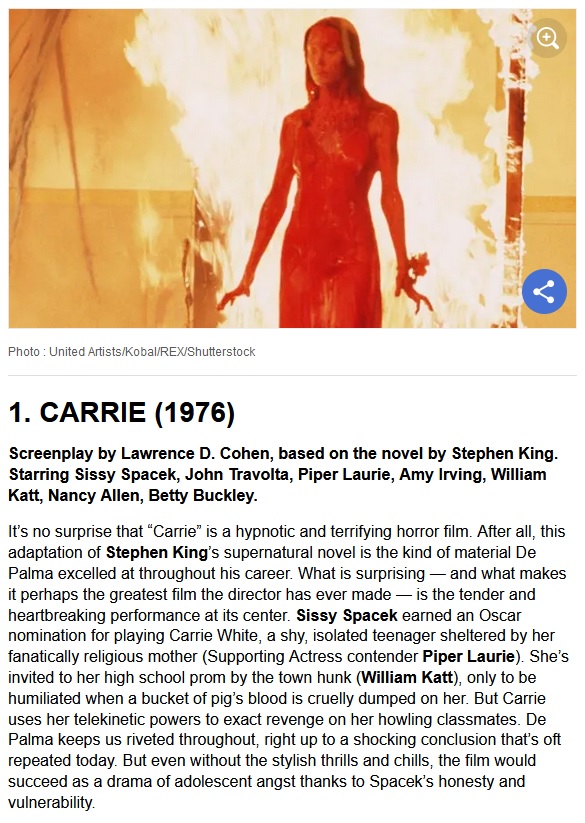 For the Academy Award-based blog
Gold Derby
,
Zach Laws
and
Chris Beachum
have posted, "
Brian De Palma movies: 20 greatest films ranked worst to best
. They start with
The Black Dahlia
at number 20, and then all the way up to
Carrie
at number 1. Here's part of the intro to the Article:
Although several of his films have either competed for or won Academy Awards (including "The Untouchables," which brought Sean Connery a Best Supporting Actor trophy in 1987), De Palma has never personally been nominated for an Oscar. He has, however, competed at the Razzies a number of times, including for a few films ("Dressed to Kill," "Scarface," and "Body Double") that have since been named as some of his best (the same, sadly, can't be said for either "The Bonfire of the Vanities" or "Mission to Mars").

De Palma's reputation has grown among cineastes who appreciate his visual flair, his flashes of humor, and his fascination with gore. He was recently the subject of the career-spanning documentary "De Palma" (2016), directed by Noah Baumbach and Jake Paltrow.

Tour our photo gallery of De Palma's 20 greatest films, including a few gems for which he was undoubtedly snubbed at the Oscars.