THE BRIAN DE PALMA TREATMENT
'BASED ON A TRUE STORY' DIRECTOR CITES DE PALMA, HITCHCOCK, RAIMI, COENS AS INFLUENCES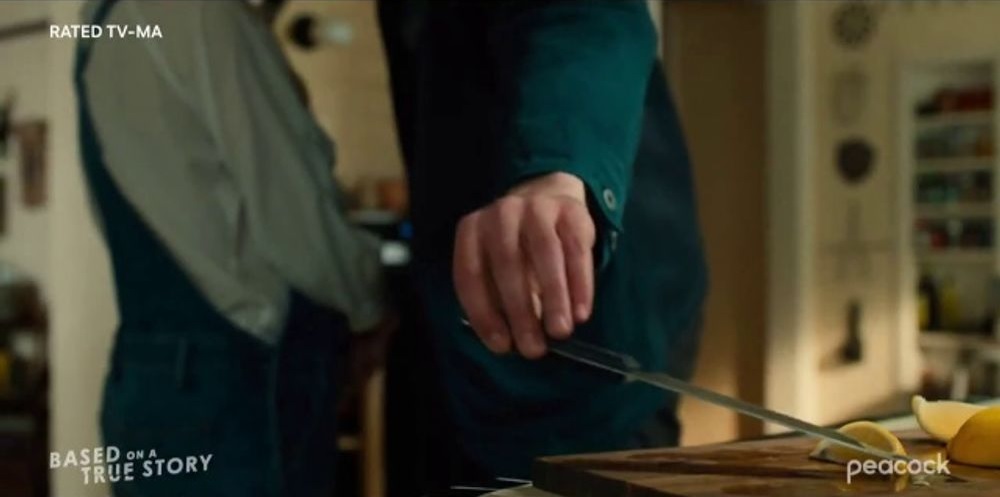 Alex Buono
, who directed the pilot episode and the finale of the
Craig Rosenberg
Peacock series
Based On A True Story
, is interviewed by
Metro Philadelphia's Molly Given
:
And you directed the first and last episode of 'Based on a True Story'?

I directed the pilot and the finale, and I was the directing producer of it—so I was there on set the whole time helping the other directors just to make sure that they understood what the tone of the show was, and visually what we were trying to do. And just to make sure that Craig's vision for the show was actually happening and that the show didn't accidentally stray away from it, because he had a really strong vision for it…I was there to just help him make sure that that's the show that we were making at all times.

What were some of those conversations that you had with Craig when discussing the vision for the series?

When I first met with Craig—it's funny, he's Australian and from Melbourne, and my wife happens to be from Melbourne. Weirdly, her parents knew his parents and they worked together, so there was this weird immediate very loose connection. But we bonded a little bit, and then we sort of bonded further just talking about the kinds of films and things that we're interested in.

We both shared a love of Alfred Hitchcock and Brian De Palma and Sam Raimi, and how the [Coen] Brothers or Tarantino or sort of newer filmmakers reinterpret that Hitchcock suspense. I could tell he was really kind of going for Hitchcock in his script, and he and I spent a lot of time talking about what's the right tone to strike? How Hitchcock is it? Hitchcock has been done a bit in television and it can also feel a little dated, so [it's more], what can we pull from that visual style?

Then when we talk about Brian De Palma or Sam Raimi, what does that mean to you and what are the sort of visual or the subtextual cues that you can pull from those filmmakers that we love so much?

What visually do we see from those styles then in 'Based on a True Story'?

I kind of came in pitching a color story for the show. I felt the aspirational world of the show could be told through greens and blues, and Craig had already written in tennis courts and the ocean in the west side and Malibu and all these things that just reminded me of that color scheme.

The other end of the spectrum was a yellower mustards and pinks and a little more colorless. We've talked about using the color red as this very strong, controlled [color] and we use it less so that it's more meaningful. Conceptually the idea—we called it a sunshine noir, [or] a California noir that would be outdoors, but we could still take some of the hard shadows in the contrast and make it cinematic and be purposeful with the camera and think about composition. So, building a set of rules helped the other directors understand really quickly.
De Palma is mentioned in a positive review of the series by
Craig Mathieson at The Age
:
Let's clear this up: there are killings and there are aspiring podcasters at the centre of Based on a True Story, but it's not a Los Angeles transplant of Only Murders in the Building. A comic-thriller both bloody and scathingly satirical about the true crime-industrial complex, the show has none of the giddy joy or daffy camaraderie of Steve Martin's hit series. It's about the comic pulsebeat of panic and opportunism, and how satisfying them can open you up to all kinds of unforeseen risks.

It starts with wealth: married couple Ava (Kaley Cuoco) and Nathan Bartlett (Chris Messina) see it everywhere, but can't grasp it. She's a real estate agent trying to graduate from two-bedroom apartments to luxury homes, he's the tennis pro at a privileged country club. Ava's pregnant, but their marriage is adrift on wayward hormones and Nathan's regrets over a professional tennis career prematurely ended by injury. Her consolation is true-crime podcasts, which Ava devours with forensic dedication.

It's also Ava who quickly deduces that Matt Pierce (Tom Bateman), the friendly plumber who Nathan is giving lessons to in exchange for much-needed discounted work, is the Westside Ripper, a stab-happy serial killer whose murders get the lurid Brian De Palma treatment. And with money issues looming, it's Ava who convinces Nathan to threaten Matt with exposure if he doesn't agree to be the anonymous subject of a tell-all podcast, a proposition both cuckoo and convincing. They should get in first, Ava theorises, before "the girl from Serial turns up!"

Suspension of disbelief is a highwire act in Based on a True Story, but the show benefits from the couple's risky, short-sighted instincts and some delicious twists – is Matt playing along until he can strike, or committed to the process? When the killer tradie starts demanding creative input the stakes get a blackly absurd charge. That's exacerbated by the storytelling exploring the commercialised world of true crime podcasts, where successful hosts are quick to profess that they're doing it for the victims, but also spruik their new merch line.

The show's Australian creator, Craig Rosenberg (The Boys), can't always keep the ragged stitching in the plot from showing, but he's terrific in catching the audience out with unexpected dynamics. Nathan and Matt, for example, actually make for good friends, while Ava pushing Matt reverses the usual idiot husband and cautious wife set-up. "Pressure is a privilege," she reminds him, before sending him off to an interview session with Matt. Prepping for a serial killer sit-down with a Billie Jean King quote sums up this series.