BRIAN DE PALMA'S 80TH BIRTHDAY ZOOM PARTY
WITH SPIELBERG, SCORSESE, KOEPP, JAY COCKS, WES ANDERSON, BAUMBACH, GERWIG, PALTROW, LEHMAN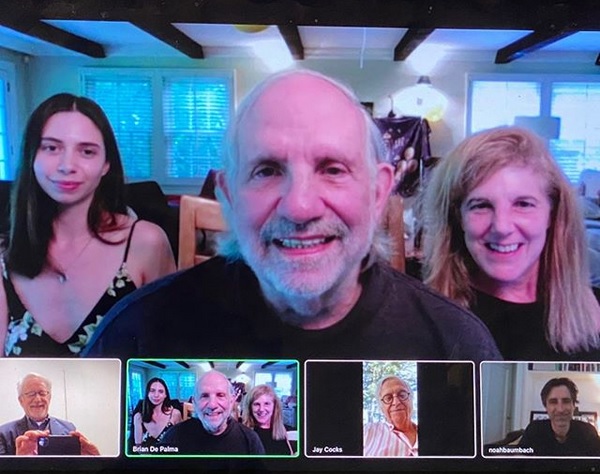 "The Maestro, Brian De Palma, turned 80 today, and the Zoom toasts were flying,"
David Koepp
wrote on his
Instagram
yesterday, in a caption to go with the snapshot above. "I love you, buddy. 80 more, please."
And then today, Piper De Palma posted the pic below on her Instagram. Let's follow the zoom around the room, so to speak: Brian De Palma, flanked by Susan Lehman and Piper, sits at twelve o'clock; then going clockwise, Noah Baumbach, Greta Gerwig, David Koepp, Steven Spielberg, Martin Scorsese, Jake Paltrow, Jay Cocks, and, in the center, Wes Anderson. A legendary line-up, indeed.
(Thanks to Adam Zanzie, via a Nick Newman tweet.)