GUADAGNINO ON TONY MONTANA AS ARCHETYPAL FIGURE
"IT'S SOMETHING BIGGER THAN BRIAN DE PALMA, HOWARD HAWKS, AND MYSELF"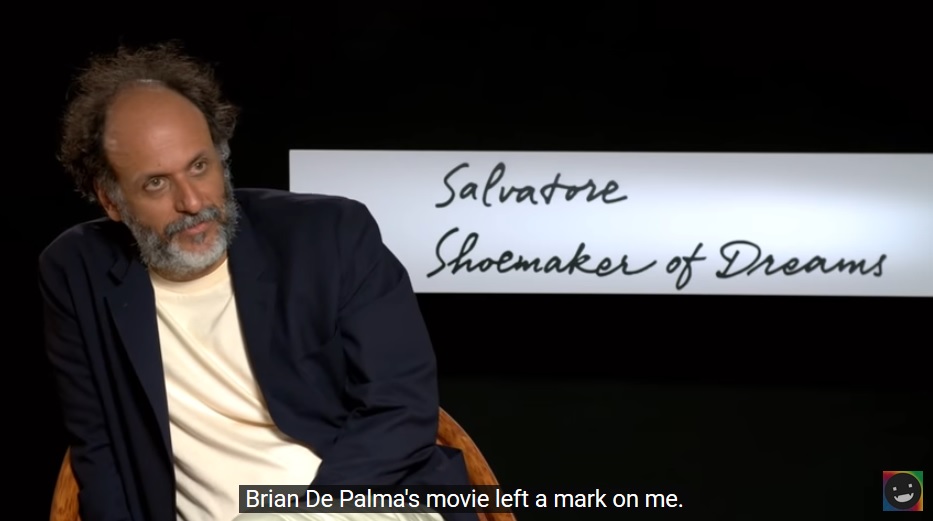 Luca Guadagnino
was at the Venice Film Festival this past weekend with a new documentary,
Salvatore: Shoemaker of Dreams
. In a video from Venice, posted at
BadTaste.com
, Guadagnino is asked about his upcoming
Scarface
film:
BadTaste: When you were here presenting A Bigger Splash, we talked about Suspiria. You told me about what you saw in Dario Argento's movie, and your movie actually mirrored that vision. So: what do you see in Brian De Palma's Scarface?

Luca: But why are you deciding that my reference is De Palma's movie?

BadTaste: Well, I'm curious about it.

Luca: Okay...

BadTaste: More than what you see in Hawks' movie.

Luca: Well. Brian De Palma's movie left a mark on me. So it's an important movie in my imagination. The truth is that I'm interested in the character of Tony Montana. He's a symptom of the American Dream. And I think that these movies are made for their ages. My own Scarface will arrive 40 years after the previous one. I think the important thing about these movies is not the fact that they are lush and fundamental like the Brian De Palma one. The important thing is knowing that Tony Montana is an archetypal character. We won't consider the problem of the existence of a great movie before this one. I'm talking about, for example, The King Of Kings and The Last Temptation Of Christ, if we were conceiving a movie about Jesus Christ. It's an archetypal human figure. We don't have inferiority complexes about great movies made by great filmmakers. I think that Tony Montana is an extraordinary symptom of the American Dream. I think that Tony Montana righteously took from Howard Hawks' age (and remember, when that movie opened, it was accompanied by titles that said, "The filmmakers do not endorse criminal behavior"). That movie was sensational, hugely popular, probably more than De Palma's movie, in proportion. It's almost 100 years that Tony Montana affects the imagination of the audience. And this happens in part because we are attracted by what is capable of producing evil. And in part because we want to make something bigger than ourselves. It's about the dream of fulfilling, of success. This is something way bigger than Brian De Palma's direction. It's something bigger than Brian De Palma, Howard Hawks, and myself. The important things are: A) It has to be well done, the script has to be great. And it is. B) Our Tony Montana has to be current-- I don't want to imitate anything. C) This movie has to be shocking. So: I told you about Suspiria, and I kept the promise I made to you. Then I think I will surprise you with this movie, too. Brian De Palma's movie was rated R, so I want a big R on my movie, too.
Previously:
Guadagnino expects his Scarface to be "timely"
Luca Guadagnino is the latest director for Scarface