BERGER- DOMINO IS DE PALMA'S EVERYTHING-ALL-AT-ONCE
HOWARD S. BERGER FINDS DE PALMA'S LATEST "BOTH COMFORTABLE & DISCOMFORTING"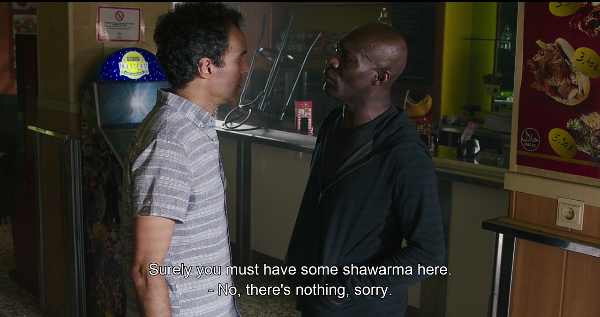 Howard S. Berger
, who contributed mightlily to Arrow's "De Niro & De Palma" box set last year, shared his thoughts about
Brian De Palma
's
Domino
in a
Facebook post
earlier today:
DOMINO is De Palma's everything-all-at-once. A perfect end-cap to his trilogy (REDACTED, PASSION, now DOMINO) of satires dealing with the advancement in technology in media, ease of content distribution, the basic immorality of that content and the ultimate price society (viewer and filmmaker alike) will pay for buying into that corruption. It's Jon Rubin's (DeNiro in De Palma's GREETINGS and HI MOM!) dream of terrorist infiltration and usurpation and ultimate destruction of society through the media. Samuel Fuller's notion that "film is a battleground" validated for the 21st century. I found DOMINO both comfortable and discomforting. It's always a joy to see De Palma dismantle the expectations of "mainstream commercial film" audiences and, with this film, he is, if anything, more contemptuous and hostile towards them than previous. A dash of VERTIGO, a sprinkle of TORN CURTAIN and a trickle of - gulp - BEYOND THERAPY (?!?!?) - washes of UNTOUCHABLES and CARRIE and BLACK DAHLIA amongst the greatest hits used to a fairly amusing and bemusing extent. I'm sure this film will continue to piss off, disappoint, depress anyone who still believes that De Palma owes them their idea of a De Palma film. I'm braced for the derisive howls. But the crescendo of failed expectations will be a symphony in testament to the director's carefully, contemptuously, constructed cautionary message to the masses. I can only hope that De Palma lives long enough to make twenty more features — but — I have to say — this would make one smashing, logical conclusion to one of the most consistent, complex, careers of one of the most devoted satirists working in cinema today. It's a pitch black, hilarious hoot.
In a special feature on that Arrow set from last year, Berger zeros in on Jon Rubin as the ghost, essentially, in De Palma's cinematic machine. Speaking about
Hi, Mom!
, Berger says:
Forget about the plot. When he reads from The Urban Guerilla, direct, like he did in Greetings, when he's reading from the book on voyeurism, I see this removed from the plot. And the plot is, you know, threadbare to begin with. You're formulating your own idea of what the plot really is. It's a fragment. These are fragments. So, you're abstracted from this continuity of daily life, in a story, in a narrative framework. You're in a more Godardian sort of blackout skit, sort of satiric thing. And what he does in Hi, Mom! when he reads from The Urban Guerilla, I believe, is... De Palma's basically stating to the audience that he is a cinematic terrorist. He's going to assimilate into society as a respectable mainstream director. He's going to do commercial, accessible mainstream, genre film assignments. He attempted to do this with Get To Know Your Rabbit, but it was almost fortunate that that was a disaster for him, both personally and, I guess, commercially, because Sisters is where, it's sort of like, there's this little gap, between Hi, Mom! and Sisters, of a couple of years. And when Sisters emerges, it is a superficial veneer of a Hitchcockian commercial horror film. From that moment on, he goes step-by-step into this plan that Jon Rubin, in metaphor, states outright that he wants to do in Hi, Mom! He wants to assimilate into the culture, on its own level, appear to function as a commercial, mainstream, successful director of individual distinct talent, or whatever-- he contributes to the pool, and then he will level it in the most subversive way possible. And that's with his touches of satire. And that's consistent, from the beginning of his career to the ending of his career. He is one of the few directors where I can actually say I almost hesitate to judge critically any one film that he's made, because they all contribute so strongly to an overall cinematic worldview.