HOWARD GOTTFRIED HAS DIED
EXEC-PRODUCER ON 'BODY DOUBLE' WAS 94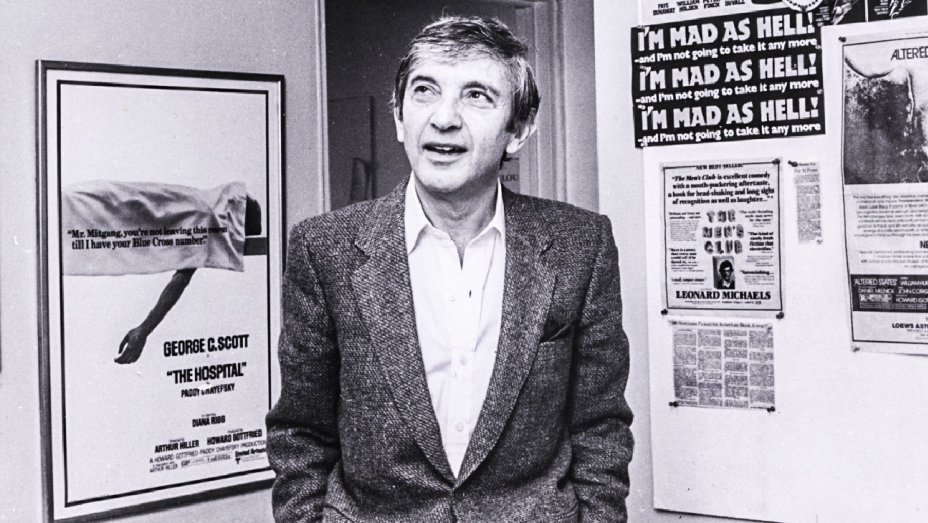 Howard Gottfried
, the executive producer on
Brian De Palma
's
Body Double
, died of a stroke a week ago today in Los Angeles. He was 94. Here's an excerpt regarding Gottfried from
Susan Dworkin
's book,
Double De Palma
, on the making of
Body Double
:
She had come to Brian's attention during the winter before Body Double started shooting, when Howard Gottfried, the executive producer, went to the Consumer Electronics Show in Las Vegas. The X-rated home video marketers had been denied space on the convention floor, but their wares and their stars were available in hotel rooms close by.

Howard threw up his hands. "Can you imagine, I went to Las Vegas with my casting lady to look at porno movies?! Can you imagine, I go in, I say..."--he straightens his jacket which he always wears with jeans and cocks his head like David Niven--"... Uh hello, I am from Columbia Pictures and I would like to talk with you about a major motion picture.... I mean, they look at you like you're some kind of lunatic!"

It is true that Howard Gottfried is not the sort of man you would ordinarily imagine as a sex scout. A voluble New Yorker with a burning concern about social issues, he made his name in the film industry as the partner of Paddy Chayefsky in such literate and relevant films as Hospital and Network and Altered States. Culturally and intellectually, Howard was made a little crazy by the porn connections of Body Double, all the more so because unlike Brian, unlike Steve Burum, the director of photography, and Joe Napolitano, the first assistant director, Howard Gottfried had children. Howard was the one who had to go home to his family in New York and be assaulted by feminist friends at dinner parties who wanted to know if it was true, was Howard really making a pornographic movie?! ... It was lucky for Howard, therefore, that he had a sense of humor. And Brian De Palma's sense of humor meant as much to him as any other element in the movie.

"Why do they say Brian hates women more than other filmmakers?" Howard asked. "Saturday Night Fever treated women like pieces of meat. And look at Flashdance. Sure she had a job, she had ambition, she was liberated. But how does she show us she's liberated? When the ex-wife stops at the table and asks, 'What do you two do?' she answers 'We fuck our brains out.' It's insulting to women because it means to be a serious portrayal. Now, look at this scene in Body Double with Linda Shaw. Is this a serious portrayal? They're both on these water beds and she's massaging her breasts in this television interview and she's screaming, 'I'm coming! I'm coming!' and the interviewer says, 'So while she's coming, we'll break fr this clip.' Now that's funny. That's fun-nee! How can all these women despise a guy who's as funny as that?!"