DONAGGIO HANDED LIFETIME AWARD BY STOLLER
VIDEO - DONAGGIO: "DE PALMA & I NEVER QUARRELED, SINCE I SPOKE NO ENGLISH AND HE NO ITALIAN"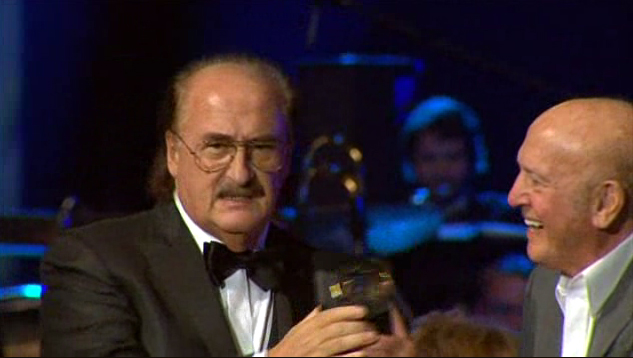 In the image above, legendary songwriter
Mike Stoller
hands the Lifetime Achievement Award to
Pino Donaggio
at last night's
World Soundtrack Awards and Concert
ceremony. There is a video brief at
De Redactie
which shows Donaggio receiving the award, along with a snippet of the concert in which some of the composer's themes were performed while images from the films played on a giant screen behind the musicians (see image below). In the video, Donaggio says, "The collaboration with De Palma has always run very smoothly. We have never quarreled, since I spoke no English and he no Italian. We found each other in music. That was the most important: the music."