FULL PHOTO FROM GEORGE LUCAS' 50TH?
SPOT THE FAKE...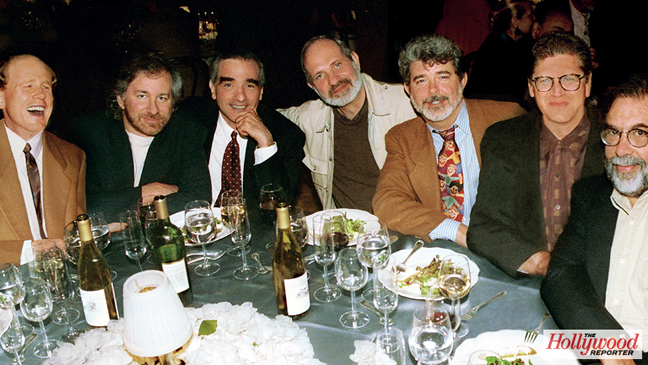 A couple of weeks ago, as part of its "Legends" issue,
the Hollywood Reporter
published a familiar photo from
George Lucas
' 50th birthday party, except this time, while the poses of
Steven Spielberg
,
Martin Scorcese
,
Brian De Palma
, Lucas, and
Francis Ford Coppola
are exactly the same as previous versions of the photo that have been circulating for years (see photo to the left), two other big directors have suddenly popped up in the photo:
Ron Howard
, sitting to the left of Spielberg, and
Robert Zemeckis
, who appears to have been inserted in between Lucas and Coppola. The version of the photo seen below the other one shows Coppola right next to Lucas at that moment in time. I had assumed that the new Hollywood Reporter photo was the real one, because I did not even consider that a publication such as the Hollywood Reporter would run a faked photo, and in an article that includes the following passage:
At one point, someone — no one now can quite remember who — called for a group shot. And with a click, a moment in time was frozen with seven of the era's most prominent directors caught, for a second, in midcareer.
But then in a comment below, Greg pointed out that neither Howard nor Zemeckis is looking directly into the camera the way the rest of the table is. Greg also noted that the tablecloth in the top photo looks photoshopped. Perhaps this is a minor experiment by Lucas, who, according to Mel Smith (talking to the Daily Mail), is said to be "buying up the film rights to dead movie stars in the hope of using computer trickery to put them all together in a movie, so you'd have Orson Welles and Barbara Stanwyck appear alongside today's stars." (And, of course, Zemeckis' films are filled with similar trickery.)
The photo was taken on May 14, 1994, at Lucas' Skywalker Ranch, where he had invited his friends to come celebrate his 50th birthday. Incidentally, Zemeckis had worked with De Palma and Bob Gale circa 1986 on a screenplay for an idea De Palma had called Carpool, in which a murder is witnessed from a car's rearview mirror (shades of a scene in Body Double, made two years prior). De Palma has referred to this potential project as "Rear Window on wheels."