KIDNAPPED IS "FUNNY GAMES MEETS DE PALMA"
FANTASTIC FEST ENTRY FEATURES HAND-HELD TRACKING SHOTS & A SPLIT SCREEN SEGMENT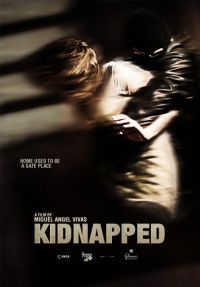 Spanish filmmaker
Miguel Ángel Vivas
's
Kidnapped
won the award for Best Horror Feature at this year's just-concluded Fantastic Fest in Austin, Texas. Fest goers began tweeting about the film after seeing it on Saturday, with several comparing it to the work of
Brian De Palma
.
Matthew Kiernan
tweeted that "
KIDNAPPED
is Brian De Palma's wet dream of a movie. Non-stop extended takes and split screen. Works pretty well."
Giles Edwards
tweeted that
Kidnapped
is the "best film the new and modern Brian De Palma never made. Sorta."
Cinematical's John Gholson
hated it, however, writing, "
Funny Games
meets Brian De Palma would be an apt description for the gimmicky
Kidnapped
, the harrowing tale of an affluent family forced to turn over all of their cash to violent hooded thugs. Vivas treats his characters (and the audience) rough, unleashing a tiresome feature-length onslaught of relentless tears, screaming, and sobbing amidst occasional bursts of queasy shock-value violence." Gholson goes on to describe what he sees as the film's notable technical achievement, even if it is used in what he finds a "reprehensible" manner:
The most reprehensible part of the affair is that it forces you to suffer along with the family for one single, remarkable technical moment; a split-screen camera move that is the film's centerpiece and the only real pay-off for so much rampant ugliness. Vivas himself seems immediately disinterested in his own film after he pulls off his De Palma trick, and concludes the movie with such obvious disregard for his own characters and his audience, that the only natural response, whether you like the film or not, is to leave the theatre completely shell-shocked.
Ain't It Cool's Capone, however, has a different take on Kidnapped, writing that he found the flow of the film rather engaging. "By keeping edits to a minimum," states Capone, "Vivas makes this ordeal feel like it's unfolding in real time." Capone concludes that:
KIDNAPPED is a film that takes a familiar sub-genre of horror and somehow manages to both class it up and degrade it. The occasional use of split screen to show what's going on in two different places (either within rooms of the house or showing us activity in the house and on the road with the father) is never used as a gimmick; it's only brought in to enhance very specific events that I won't spoil. I won't lie, KIDNAPPED is rough at times, but the way director Vivas allowed the action to unfold almost organically is astounding. This is easily one of my favorites of this year's Fantastic Fest.