THE FUSS & THE FURY
EMERSON ASKS: "CAN A MOVIE RUIN A GOOD REVIEW?"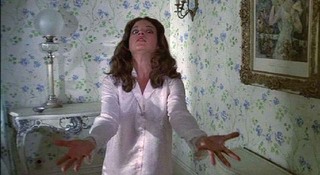 Today
Jim Emerson's Scanners blog
discusses the way a film review can set expectations for a work that make actually viewing the thing a letdown. His first example is
Pauline Kael
's "intoxicating" review of
Brian De Palma
's
The Fury
. Emerson writes:
The movie itself was a bit of a letdown for me after that review, but Kael's enthusiasm proved infectious. I'm sure I've seen The Fury at least half a dozen times and it remains one of my favorite De Palmas (and Carrie Snodgress is one of the most heartbreaking of the tender, funny oddball heroines of early-ish De Palma, alongside Sissy Spacek, Betty Buckley, Amy Irving, Genevieve Bujold and Angie Dickinson). Kael's description of the movie's climactic crescendo has never left me:

This finale -- a parody of Antonioni's apocalyptic vision at the close of Zabriskie Point -- is the greatest finish for any villain ever. One can imagine Welles, Peckinpah, Scorsese, and Spielberg still stunned, bowing to the ground, choking with laughter.

Well, once that image has been implanted in your head to accompany the one(s) in the movie (and the villain is John Cassavettes, so there's even more auteur glee on display), it's hard to shake it.
Emerson discusses a couple of other examples before getting into a discussion of A.O. Scott's review of Sam Mendes' Away We Go, and how the review impressed him so much that he is now hesitant to see the actual film.