ELFMAN AT THE TEMPO OF HUNT'S HURTLING HEADSPACE
NICK ROGERS AT MIDWEST FILM JOURNAL CELEBRATES ELFMAN'S SCORE FOR 'MISSION: IMPOSSIBLE'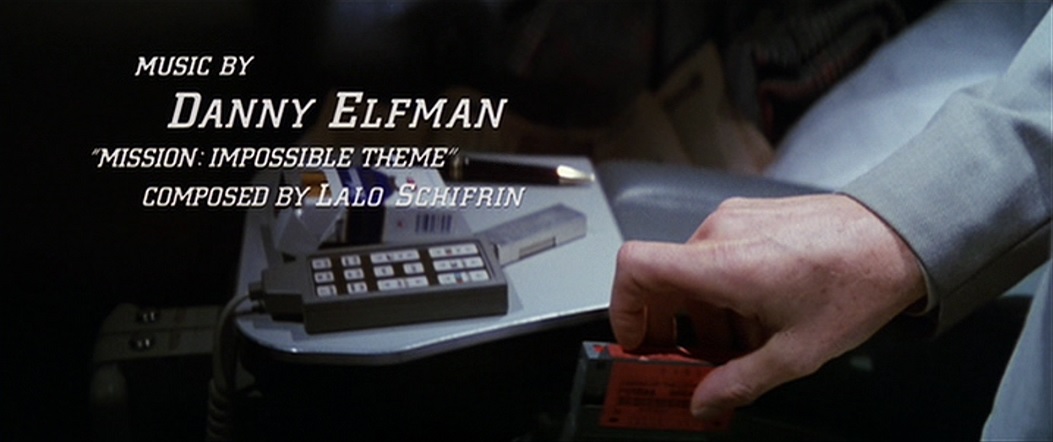 Midwest Film Journal
is honoring
Danny Elfman
's 70th birthday (which is Monday, May 29) with "a selection of reflections on his work called The Elfman Cometh." Kicking off the series is
Nick Rogers
's essay about Elfman's score for
Mission: Impossible
. Here's an excerpt:
Elfman creates a distinct imprint of near-miss intersections and on-the-fly improvisations as Hunt perceives them. Frequently as haunted and harried as it is high-spirited and heroic, Elfman's score careens in real-time through Hunt's cognitive analysis of who has betrayed him and his team. Working in tandem with a hairpin narrative, Elfman perpetually suppresses Hunt's progress beneath propulsive momentum that this pointman cannot always control.

During "Big Trouble" — as Hunt's team falls prey to a catastrophic mission in Prague — Elfman undermines the typical connotations of confidence in a trumpet voluntary. He upends the lone-hero motif as a bit of brassy bravado; as fast as Hunt can run, he can only arrive at prime vantage points to watch his colleagues picked off one by one. Burbling timpani and skittering-scorpion auxiliary percussion add to the sense of inescapable dread, like Hunt's heartbeat aggravated into arrhythmia. Elfman holds the tether with the faintest instrumentation before a car explosion segues into a full-blown, fog-thickened tragedy.

Later, in "Mole Hunt" — as IMF director Kittredge puts the squeeze on Hunt, whom he believes sold out his team — Elfman addresses the accusations like an ascending scale of anxieties for a man still reeling from seeing his colleagues slaughtered. And through dynamics and sound alone in "Biblical Revelation," Elfman suggests Hunt is hallucinating the reappearance of his supposedly dead mentor, Jim Phelps. These darker passages feel like a variation of Hunt's vitals, from amplified anxiety to the comforts of certainty he derives amid so much deception.

It's all the more impressively oppressive given the playfulness of other passages. As director Brian De Palma does with the film itself, Elfman nails the delicate balancing act.

When it comes to Hunt's nigh-magical acts of spycraft, Elfman puts the presti in his prestidigitation. Accompanying the film's prologue, "Sleeping Beauty" opens with a martial, percussive momentum. It's a deceptively hefty introduction, yielding to trilling flutes, jaunty cello and plucked bass (the latter for just a bit of that bottom-end heft Elfman brought to his band, Oingo Boingo). Castanets conjure the fast finger-work of a grifter lifting and pinching, only here it's the question of the reality we see — blooming into full heroic flourish once Hunt commits his first of the series' many mask-pulls. Before "Big Trouble" brings the carnage, "Red Handed" rolls off rollicking roundelays amid the typically cheery chatter on back-channel communications. Although the film's centerpiece CIA robbery sequence unfolds largely in silence, "The Heist" is an emotional pump-primer for the clenched teeth and clapped hands it commands. And when the hammering triplets hit for a swoop in on a bullet train during "Train Time," it's simply electric.

Elfman is also judicious with Lalo Schifrin's iconic but indispensable theme he did not compose — deploying it only for the opening credits, the establishing card for the CIA headquarters and the climax of the furious helicopter-versus-train finish. Even in that latter moment, Elfman's own "Zoom B" first erupts into a major key as Hunt leaps onto a helicopter skid — a sonic sunburst through the clouds and a full, unfettered act of derring-do as Hunt takes down the bad guys with an homage to his fallen friends.