REMEMBERING JONATHAN WARDEN FROM 'GREETINGS'
ACTOR, WHOSE REAL NAME WAS CHIC CICCARELLI, PASSED AWAY THIS PAST MARCH AT 83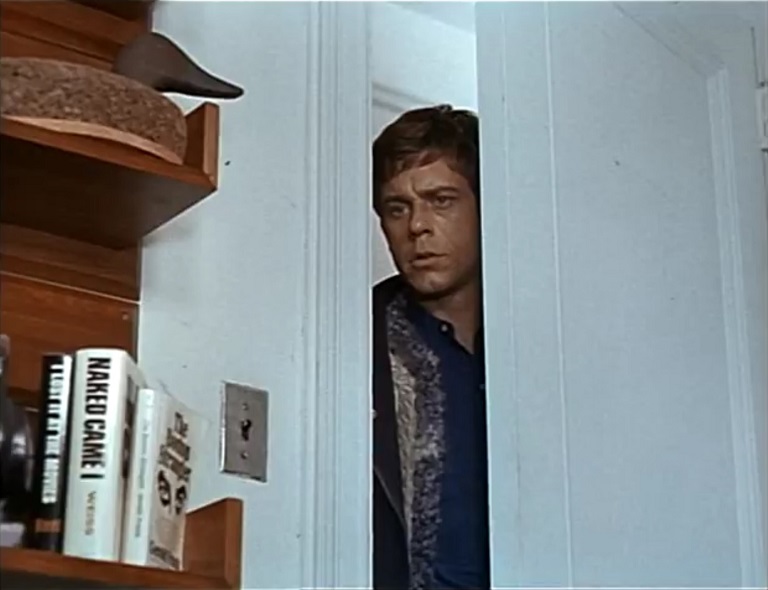 The first figure we see in
Brian De Palma
's 1968 counterculture comedy
Greetings
is that of
Jonathan Warden
. We see his back as the camera follows him down a New York street, and the theme songs plays against the sounds of the city.
Jonathan Warden's birthname was Ernesto Ciccarelli Jr., although when he was doing theater work in the early 1960s, he was known as Chic Ciccarelli. According to an obituary at Tribute Archive, Ciccarelli, who was born in Staten Island, New York on June 18th, 1937, "passed away peacefully at home in West Palm Beach, Florida on March 17th, 2021." He was 83.
A tribute at Empty Mirror Books suggests that Ciccarelli took his film acting name from two stage plays he'd worked on:
'Chi' Osceola

Christened as Ernest Ciccarelli
in Staten Island, N.Y.
during the period of Guernica.

Chi Ciccarelli emerged as an Equity member,
with the Living Theatre whose demise was caused
by too much relevance in an irreverant land.

Reborn as Chi Osceola after
living on the Seminole reservation.

Among
his many enticing performances
Chi played the warden in The Brig
presented by Julian Beck.

Last
as an actor was a film called Greetings
with Robert De Niro, directed by Brian di Palma.
As an actor Chi used the name Jonathan Warden
Jonathan from Oh, Dad, Poor Dad,
and Warden from The Brig.

Before
Chi was with the Becks he was
the macrobiotic chef at
The Paradox on East 7th Street
when he was with the
N.Y. Poets' Theater on St. Marks with
Dianne di Prima & Leroi Jones (Amri Baraka).
In a 1965 memoir by
Judith Malina
titled
Directing the Brig
, Malina writes:
Moving with unaccustomed solemnity we learned to share the sense of the ordeal that the Marines felt at Fuji Brig, and that is everywhere felt in the schools of submission, in the fraternities of exclusion, in the clubs of the oppressors.

Drill was taught according to Marine Corps tactics. Chic Ciccarelli, who played the Brig Warden, was a former Marine, and remembered with touching and terrible closeness the cold, hard exhilaration of the drill. Before each rehearsal the company drilled half an hour, after the lunch break, another half hour. We cleared the lobby of The Living Theatre, and there on the tile floors we marched endless hours. Startled ticket buyers often entered in the middle of a drill master's angry scolding. It was not the polite tone of a theatrical director discussing the character with the actor, it was Ciccarelli screaming, "Get your head up, you lousy maggot!"

The drill however had an enlivening effect. The marching is a ritual of great beauty only grown hideous because it stands for the marches towards the fields of death in battle and because it has come to signify the loss of character that ensues when all of life becomes routed into this exactitude. And because you cannot stop, Meanwhile the rhythm of mutuality entices the kinetic senses. The sense of moving in a mutual rhythm with one's fellow man.
(
Thanks to Bill!
)