FABOLOUS FINDS CARLITO'S WAY
UPCOMING LOSO'S WAY INSPIRED BY DE PALMA FILM
In the shadow of
Brian De Palma
's
Scarface
, the director's other collaboration with
Al Pacino
,
Carlito's Way
, has its own cult growing. That cult will get a boost this summer when
Fabolous
releases his new album,
Loso's Way
, July 28, which features a heavy lineup of guest stars, including
Jay-Z
,
Lil Wayne
, and
Ne-Yo
. Fabolous told
Billboard
in March of 2008 that he wanted to make a concept album that would be similar to what Jay-Z did with his tie-in to
Ridley Scott
's
American Gangster
. Without naming the film at the time (keeping it a secret), Fabolous explained his idea to Billboard:
I always wanted to touch on this particular movie musically because I felt some of the things in the movie related to me and to lots of other people. A lot of scenarios and situations in the movie are relatable. Plus, I always wanted to use a theme for my album, like how Jay[-Z] used American Gangster because he saw a character that was relatable to him. I want to take scenarios and turn them into records, and vice versa.
STANDOUT TRACK IS "PACHANGA"
With the final product finally being released more than a year later, Fabolous now tells Billboard about how his own personal stories link with Carlito's Way:
To help tell his story, Fabolous looked for inspiration in Carlito's Way, the 1993 movie in which an ex-con pledges to shun drugs and violence despite the pressure around him.

"The concept of the album came from me watching Carlito's Way and seeing how he was a guy who came from jail and wanted to do something bigger and better," he says. "I didn't come from jail, but I came from the hood, and in many ways I felt just like Carlito, because even though I'm still connected to the streets, I wanted to do bigger and better things too. There were a lot of parallels between his story and mine."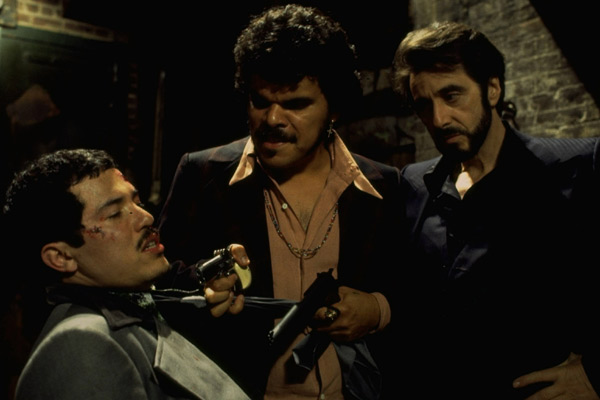 Fabolous says the lead single, "Throw It in the Bag," produced by Tricky Stewart and featuring his labelmate the-Dream, doesn't fit in with the theme, but he explains that "it was so contagious and catchy that we just had to go for it." The motivational "It's My Time," featuring Def Jam newcomer Jeremih and produced by the Runners, which was released in conjunction with "Bag" and appears in a TV ad for the NBA draft, is an example of how Fabolous' and Carlito's stories coincide.
"This song is about how I generally feel about my life and my career, and it's relatable to people because it's the type of song that motivates you to do whatever it is you have to do, just like Carlito," Fabolous says. "Throw It in the Bag" and "It's My Time" recently entered Billboard's Hot R&B/Hip-Hop Songs and Pop 100 charts at Nos. 94 and 99, respectively.
Created with help from producers like Jermaine Dupri and DJ Toomp, other tracks on the album include "Stay," featuring Marsha Ambrosius from Floetry, about a son asking his father not to go. "It's a personal record for me because in between the last album and this album I had a son, and so on this track I talk about my relationship with my son and with my father," says Fabolous.
"Last Time," finds collaborator Trey Songz singing, "'this is the last time but I gotta see my baby,' but it is a metaphor for him having to see the streets one last time, just like Carlito on his last run," says Fabolous.
But the record that plays off the movie the most is the stand-out track "Pachanga," named after Carlito's right-hand man, who betrays him at the end of the film. "A thug changes and love changes, friends become strangers, pachanga," Fabolous rhymes, sampling Nas' "The Message."