FINCHER UP FOR CITIZEN NESS
BUT PARAMOUNT PREFERS HIS KEANU CHEF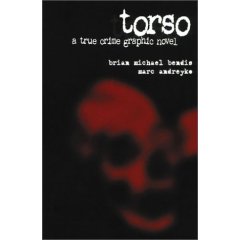 David Fincher
has apparently been quietly preparing to shoot his
Eliot Ness
film, which is based on the graphic novel
Torso
by
Brian Michael Bendis
and
Marc Andrey-ko
. Fincher's project is now titled
Ness
. Fincher explained to
MTV's Kurt Loder
last year that he is not so much interested in the torso killings as he is in "the de-mythologizing of Eliot Ness. Because, you know,
The Untouchables
was only two or three years of the Eliot Ness story. There's a whole other, much more sinister downside to it. And so that's of interest to me. We want to make it the
Citizen Kane
of cop movies."
Don Murphy
, who with
Todd McFarlane
is producing
Ness
,
told Robert Sanchez in 2006
that Fincher's film would begin with Ness immersed in mayoral elections, and then flashbacks would delve into the torso murders.
MATT DAMON COMES ABOARD
This past September, it was reported that Matt Damon had come aboard to play Ness. Yesterday, it was reported in the Akron Beacon Journal that Fincher would begin scouting locations in Ohio "in the next few weeks" for his $100 million film about Ness and the torso murders. However, Entertainment Weekly's Christine Spines also reported yesterday that Hollywood is buzzing about why Paramount has yet to greenlight the Ness project, as the studio's rights to the project are due to expire on December 15th. Spines states that Casey Affleck has joined Damon in the cast, with Rachel McAdams also in negotiations. Paramount, the studio that would also distribute Brian De Palma's Untouchables prequel that has stalled over questions about who owns the rights, told Spines that Ehren Kruger's finalized screenplay had only just arrived, and that they were working on making a decision. This led Hollywood Elsewhere's Jeffrey Wells to check in with his own sources. Wells posted the following on his site yesterday:
A source close to team Fincher has told me that Fincher is ready to make the picture immediately but can't get an answer out of Paramount because -- ready?-- production execs prefer that Fincher make a Keanu Reeves chef comedy instead.
That "Keanu Reeves chef comedy" could very well be related to Fincher's long in development project previously klnown as Seared, which is a fictional take on CIA-trained Anthony Bourdain's Kitchen Confidential. IGN's Stax reviewed the script for Fincher's film back in 2001, when Brad Pitt was set to play the lead. Late last month, Production Weekly reported that Reeves had indeed signed on to star in a film called Chef, to be directed by Fincher.