With its own unique flair and style, Toronto's award winning Lechowia Polish Canadian Dance Company recreates for the stage the rich artistry of polish folk culture while delighting its audiences at home and abroad!
Founded in 1977 as an amateur dance organization, Lechowia takes its name from Lech, a prominent Polish legendary figure credited for establishing the Polish nation. Today, the Company comprises over 200 dancers, singers and musicianc ranging from children to adults. Lechowia varied repertoire consists of several different choreographic arrangements from the many regions of Poland, including the stately court dances, the Mazur and the Polonaise made popular by Frederic Chopin; the high spirited Polka; the colorful Krakowiak; the fiery Oberek; the dazzling Goralski mountaineer's dance as well as the beautiful songs of Silesia.
Lechowia's expression of Polish folk culture transcends the traditional view of folk dancing as a limited artistic event. The Company's pace and flamboyant staging, combined with its use of comedy and theatrics, sprinkled with the occasional ballad, produces a smooth transition to popular entertainment. This formula has proven to be successful since Lechowia has won numerous awards over the years including those for the Best Entertainment, Best Musical Theatre, Choreography, Staging and Costumes while performing at Metro International Caravan Festival's "Krakow" Pavilion in Toronto.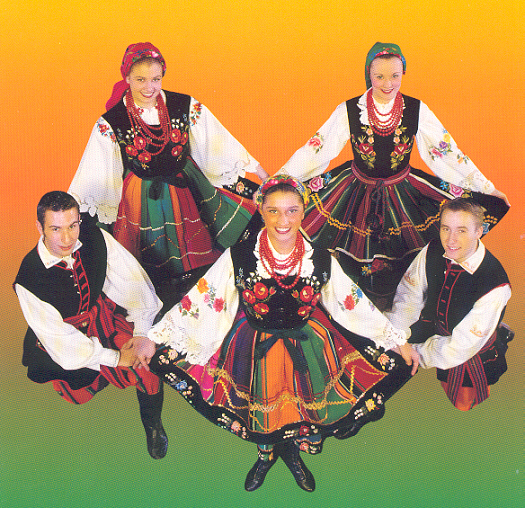 Over the years, touring Canada has become an important part of the Company's development. Invitations to dance at various venues have seen Lechowia perform from coast to coast in Canada, including representing the Province of Ontario at Expo '86 in Vancouver B.C. Most notably, visiting dignitaries to Canada such as His Holiness John Paul II and Lech Walesa were entertained by Lechowia's performances in their honour, which were broadcast live on national television.
Always proud of its Canadian roots, Lechowia has waved the maple leaf throughout the Company's international travels. From Boston to San Francisco, Lechowia has extensively toured the United States. In 1988, the company traveled "down under" to represent Canada at Expo '88 in Brisbane, Australia. France and Spain were Lechowia's destinations in 1994 as its members performed throughout the two country's southern regions on a month long tour. Most recently, the group has represented Canada at the I-Lan, Taiwan World Folklore Festival in 1999; and Zacatecas, Mexico in 2000. The thrill of performing its artistry in the "homeland" has seen Lechowia participate in the International Polish Folk Festival in Rzeszow in 1980, 1983, and 1989, Iwonicz 1997, Kielce, Poland 2000.

In 1989, the Company was accorded the Oskar Kolberg Award, Poland's highest recognition for excellence in Polish folklore.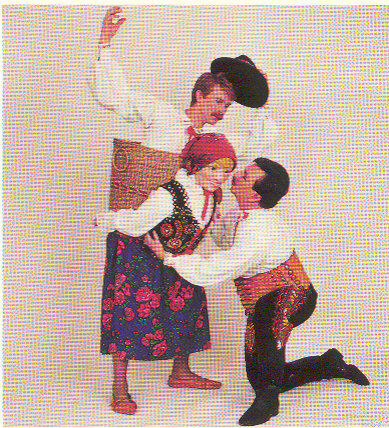 Lechowia children's groups have followed in the footsteps of their older peers and have continued the tradition of traveling by taking part in numerous international festivals in Canada, the United States and Poland. From Chicoutimi, Quebec, to DisneyLand in California, to Iwonicz Zdroj and Elblag in Poland, the younger members of the group have presented themselves admirablyand entertained many audiences.
In 1995, an important artistic development for Lechowia was the addition of Ballroom Dancing to its repertoire. This particular style of dance soon became a hit with many of the company's younger members and resulted in Lechowia organizing the very first Polish Canadian Ballroom Dance Championship as well as the first Ballroom Formation Championships in Ontario.
Since 1980, Lechowia has reflected the spirit and drive of Artistic Director Dr. Andrew Wichert. A graduate of Polish folk dance choreography in Lublin, Poland. Wichert has pushed the Company to strive for artistic excellence. His greatest strength is the characteristic intensity by which he is able to transform the Company, en masse, into a burst of energy and a kaleidoscope of color. His enrichment of the Company's repertoire with additions from French-Canadian and Eastern European folklore, as well as that of Ballroom Dancing, has resulted in the artistic skills of the company's members being broadened to allow for a dynamic form of entertainment to be presented.