Iwa-K and his Cinere Posse
Photos compliments of www.iwakusuma.com
by Nico Colombant for the Indonesian Observer, Cinere, Jakarta, 1997
---
Indonesian rap does not come from the mean streets of Jakarta, Yogyakarta or Bandung. In Jakarta's notoriously bad district of Tanah Abang, you can find drug dealers, gambling dens and prostitutes but you can't find any rappers.

In fact, the totality of the local "rap scene" comes from a single one-story house on the other side of town in Cinere, south Jakarta. It is here that Guest Music Productions has set up the stable of Iwa-K and his junior posse of Pesta Rap fame, as in let's rap to have fun, make money and live on the cool side of things. Rap is all about territory and this is as inconspicuous as a base can be.

The rappers and their entourage of fans, producers and girlfriends spend their days at the one-home 'hood between the sweltering heat of an outdoor basketball court where they play basket-ball, mostly it seems to keep up appearances, and the chill of a three-by-four recording studio inside. They have no competitors so life is tranquil.

And the lyrics are not about violence and sex. Iwa-K, 28, prefers to talk about love, social situations and sports.

The country's best selling rapper - the only one, in fact, to release an album all to his credit - is the guru of this posse. His "juniors" as lieutenants of rap are called in these parts are dressed in loud, oversized and overpriced basketball replica threads. They hang on his every word. They seem to have taken to his approach. On the compilation album Pesta Rap I, the duo that calls itself Boyz got no Brain sings about mosquitoes. The hit song of Pesta Rap II, released last year -- Mati Lampu -- is about an electricity blackout.
"A lot of people think that rap is talking about violence and sex, but rap is just talk and you can basically talk about anything you want," points out Masaru Riupassa, the manager of this rapping Mecca. He is in charge of rent and deciding when the time is right for an album's release. "The problem isn't getting the good tunes on tape, it's making sure they sell. As for our image, we're not gangsters, but we won't back down from saying what's wrong with everyday society."
Rap emerged two decades ago on the streets of South Bronx, New York, as a way of expressing rage on energetic bass lines. Hip-hop, which encompasses rap, graffiti and break-dancing has since grown into a global pop culture, but was slow coming to Indonesia.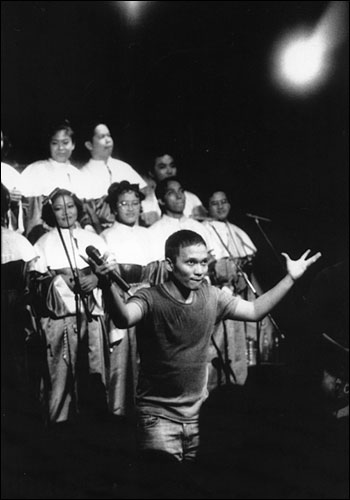 The only rappers to record any success on the local market are The Hammer and Bobby Brown, hybrid musicians who offer more dance and soul than rap. Hard-core rappers such as Wu-Tang Clan or the slain 2 Pac and Notorious Big haven't registered any success here.
But Riupassa firmly believed the powers of black music could cross southeast Asian borders and during the late eighties he successfully launched Guess Band, an R&B unit, with the hit song Takan. When the lead singer left the group, Riupassa decided to start a recording company instead. Riupassa found the rapper he wanted in Iwa-K, a Jakarta native and sometime university student in Bandung. At the time, Iwa-K was writing lyrics and rapping cool tunes for pleasure instead of going to classes.
Riupassa signed Iwa-K to produce Indonesia's first ever rap album, Ku Ingin Kembali, which was released in 1992 and sold 100-thousand units. The hardest part was finding a distributor. Riupassa was turned down by seven music labels until PT Musica Studios reluctantly agreed to promote the product, not knowing they had stepped into a lucrative mine.
Iwa-K's second album, Topeng, released in 1993, sold 260-thousand copies. The first track, Bebas, a free-flowing song about freedom, was briefly the number one song on the Prambors radio chart, Jakarta's barometer for popular songs. The music video produced by Rizal Mantovani, with Malcolm X in the background, won the MTV Asia video of the month award in April 1995.
Not satisfied to have only one rapper to market, Riupassa organized a rapping competition for teenagers at the Jakarta Hilton hotel in 1995. The winners, he decided, would participate in the production of a new rap album with fresh voices. The result was Pesta Rap I which sold an astonishing 270-thousand copies.
"If you make good rap like we do, the upper middle class teenagers will go for it," Riupassa says. "It's all a question of toning down the style, making it easy-listening, all the while keeping that distinctive edge rap possesses. I might add a lot of Indonesians have a natural gift for rap."
He then organized a competition over the phone, to make matters easier. The best sounding telephone rappers from across Indonesia, including Da'Ricuh, an 18-year-old girl from Jakarta, were then chosen to produce Pesta Rap II, which was released at the end of last year. Meanwhile, Iwa-K released his third album Kramotak, which means brain dead. The title song Nombok Dong with its incessant chorus Bola Basket, Bola Basket! has become an anthem for the country's growing legion of basketball players.
Iwa-K and the Pesta Rap posse regularly perform on TV or on stage in Jakarta. They have the local veto on the rap look - bandannas, droopy hats, large jerseys. Their concerts are as much about energy - sprawling all over the place, bouncing off walls, polishing the floor with their moves - as it is about their music, sometimes lacking in maturity. In addition to the music celebrity circuit, Iwa-K does double duty as a basketball commentator on private television.
Of late, albums have been few and far in between because of the economic crisis, "not a good time to release" says Riupassa. But that doesn't mean the Cinere crew is not busy at work, still recording rhymes. In Indonesia's only rap ghetto, far from the murderous streets of Compton, California, which gave the world gangsta rap, the trailblazer and the posse survive, play ball and keep on rapping. Pesta Rap III and Iwa-K's fourth album are both ready and should be out in record stores by the end of the year.
-30-