Welcome to The 2003 Homepage of the Babalu!
How to Babalu
Visit Yale Field
Sit in Section 12 at Yale Field in New Haven and/or
The Loge Section of Yankee Stadium (Around sections 19-29)
Chant when the opposing team has 2 Strikes
Keep Visiting This Site!
Links of the Most Holy Babalu!
The Most Holy Babalu Photos
The Holy Land of the Babalu
The Papal Pages of Pope Steve
The EASTERN LEAGUE CHAMPIONSHIP TEAM of the Babalu
Come and See the Holy Babalu TRADING CARDS (Now Updated)
Come See the Most Holy Moments in Babalu History!
Arch Bishop Aussie's Sacred Babalu Photos (Updated)
Screensaver of the Babalu
WHERE'S DESI?!

BABALU OFFSEASON PHOTOS
Fidel Castro Representing the Babalu!
Top Ten Fidel Castro BABALU Baseball Jeers 10. "Get a raft!"

9. "My team may defect--but your team has defects!"

8. "Our players could beat you even if losing didn't mean certain death."

7. "Years of indoor plumbing have made you Americans soft and weak."

6. "Castro will whip your astro."

5. "The ump needs glasses...inform him that it's a three-year wait."

4. "No batter, no batter, and no bat since Russia stopped sending aid."

3. "I'm not paying you $6 a year to strike out."

2. "You call that catching? I catch more in my beard while I'm eating."

1. "You throw like a capitalist girl."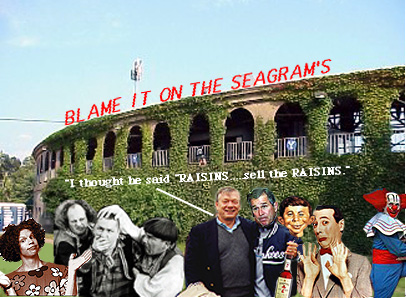 ~And one final note, I urge you to check out the Website of the Babalu's new feature, entitled "Where's Desi?", which can be found in the in the table of links. Babalu! --Reverend Justin

Sign My Guestbook
View My Guestbook
Site Updated on 1/30/03