Spantax S.A (BX)

Spantax S.A.
Welcome to former Spantax S.A. Convair 990-30A Coronado page !
Updated 1st January, 2021


Yes, we can!

Follow the restoration - scroll down to bottom of this site!

SPANTAX Convair 990-30A Coronado, EC-CNH, cn 30-1017 at Stockholm/Ailanda Intl. Airport, Sweden


History of SPANTAX S.A. (BX)

Spanish Air Taxi, later SPANTAX SA was founded on October 6, 1959 by the Iberia senior-captain Rodolfo Bay Wright and his partner ex Iberia
stewardess Marta Estades Saez who held 20% of the stock.




SPANTAX Douglas DC-3, EC-AQE, cn 25641 at Las Palmas, Gran Canaria 1964.
Flight BX502R/050 Las Palmas - El Aauin - Las Palmas
Photo:Tony Edlind (carrying a SAS, Scandinavian Airlines System bag)




Spantax Avro 652 Anson XIX EC-ALF 1959
Photo:NA3T




Spantax Avro 652 Anson XIX EC-ALF at Tenerife Nord, Los Rodesos 1960
Photo: Fransisco Andreau




Spantax Airspeed Consul S.65 EC-AJV at Tenerife Nord, Los Rodesos 1960
Photo: Francisco Andreu




Iberia Douglas DC-4 EC-DAO, Junkers JU-52 EC-DAM and Douglas DC-4 EC-DAP on the apron
at Aeropuerto nacional de Gando, Las Palmas 1941.



Iberia DC-3, EC-ABC cn 34361 at Aeropuerto nacional de Gando, Las Palmas ~1955.



An AVIACO Bristol 170, and a couple of SPANTAX DC-3s, a Beechcraft Baron and an Auster.



Gando (LPA) 1964. SPANTAX Douglas DC-3, EC-AQE to the right and behind of the IBERIA DC-3.
Photo: Tony Edlind



Beech 18S Expeditor, EC-ASJ and DC-4 EC-ACD at Las Palmas Intl. airport(LPA) 1966.




A SPANTAX Airspeed Consul at Las Palmas/Gando Airport, Gran Canaria and a SPANTAX DC-3 at Los Rodeos Airport, Tenerife to the right.



A Douglas DC-3, EC-BEG in Marrocco and the Douglas DC-4, EC-BMI at Las Palmas Airport, Gran Canaria.




Spantax crew 1963 (DC-3) and 1966 DC-4).

The airline was based at Gando Airport, (Las Palmas International Airport) LPA near Las Palmas. In 1959 the fleet comprised three (3) Airspeed
Consuls, two Airspeed Oxfords, one Auster and a single Avro Anson. The airline got a successful start due to the exploration of the oil-fields in
Sahara. The carrier began operations flying geologists and technicians to the oilfields in the Sahara and Spanish West Africa. Initial destinations
included El Farsia, Gaada, Itguy, Mardesiat, Tindouf, Dakhla, Lagouira and El Aaiún.


At the end of 1960, the SPANTAX purchased two DC-3s from SWISSAIR and these were place into service from May 1961 operating tourist
flights within the Canary Islands and were joined by a Piper Apache for short flights.The fleet was joined in 1962 by a Beechcraft Model 18.



SPANTAX DC-3A EC-AXS cn 1984 and C-47B-DK and EC-AQF cn 26465 at Las Palmas 1964.




Piper PA-23-160 Apache, delivery colour.
Photo:



Beech 18S Expeditor, EC-ASJ, cn AF-752, Malaga Airport (AGP), Spain. EC-ASJ was acquired on May 4, 1962 and he company operated this executive aircraft until 1969.

executive aircraft and a Bristol 170 which was leased from IBERIA. The Bristol was returned to IBERIA the following year, and four Douglas
DC-4s were acquired; the first in the Belgian Congo and the other three from Aviaco. Between 1962-1965 the airline operated DC-3s, DeHav-
illand Canada DHC-2 Beaver on routes for AIR MAURITANE. SPANTAX was also instrumental in the establishment of Air Mauritanie. They
provided technical expertise along with aircraft including DC3 EC-ARZ to establish the new airline.

SPANTAX started to transport tourists around the island group and also to El Auin in Spanish Sahara and the fleet was extended by three (3)
Dougas DC-3. The carrier became the first Spanish airline to operate the Fokker F-27 on domesic routes in the Canary islands. The first steps
were taken to start to operate Inclusive Tour Charters from Europe to the Spanish sun destinations. A new type of aircraft joined the fleet as
SPANTAX purchased the DC4. The first examples were purchased from IBERIA. This enabled the expansion of the network into Europe
second new type was introduced into service when the first of the DC7s joined the fleet.



SPANTAX Fokker F-27, EC-BRN, Palma de Mallorca 1976
Photo: Jurgen Lutz.

1963

The company decided to change the name to SPANTAX S.A. in 1963 due to the airline´s development within the charterbusiness. In 1966 the
airline had a fleet of five Douglas DC-7, two DC-6 and thirteen DC-3. Fokker F27´s were also similarry used for a time when accquired in 1966,
but the whole fleet of five was subsequently leased and more recently sold to Aviaco. Between June 1963 and September 1967 the airline also
acquired and additional four DC-4s, and in May 1965 it obtained two Douglas DC-6s and Spantax contracted Sabena to convert one of their
DC-6 aircraft (EC-BBK) into a swingtail freighter. Disaster struck on December 7th 1965, when the DC-3 EC-ARZ crashed in Tenerife killing
all 32 on board.




Douglas DC-4, EC-ACO, Las Palmas (LPA), 1967.
Photo:The Eye of Photography.



Douglas DC-7, EC-ATR, Manchester, UK
Photo: North West Air News.

A pressurized long range Douglas DC-7C entered service with the airline in April 1963 and SPANTAX would eventually go on to operate eight
of the aircraft which served destinations in the United Kingdom and elsewhere in Europe.




DC-6, EC-BBK, Paris Le Bourget Airport (LBG), France 1971.
Photo: Christian Volpati.





After receiving approval from the Spanish authorities to operate passenger charter flights, the airline moved its headquarters from Gran Canaria
to Palma de Mallorca. The Balearic base was chosen due to the role that Mallorca had taken in the development of tourism in Spain allowing the
airline to gain prestige in the European market.


The JetAge 1967

The airline entered the jet age in February and May 1967 when two Convair 990 joined the fleet after being purchased second hand from Ame-
rican Airlines. Between 1968 and 1972, an additional eight Convair 990s join the fleet; two of which were leased to Iberia between 1967
and 1969 whilst that airline experienced delays in the delivery of its own Douglas DC-8s.

May 31, 1967 - A SPANTAX CV990,piloted by captain Rudolfo Bay Wright bound for Fuhlsbuttel Airport (HAM) in Hamburg, Germany, mis-
takenly landed at Finkenwerder Airport (XFW).

Rumours say about this accident that this special flight with members of the German press was to demonstrate the safety of Spantax planes. Bay,
who was piloting the CV990, displayed great skill in managing to stop the plane only a few metres before it would have chrasched into an office
building on landing. It was great skill, especially as he had landed at the wrong airport. The German press were not very impressed by this flight.

The CV990-A, EC-BJC, was 1 of 2 SPANTAX aircraft leased to IBERIA between 1967 and 1970. EC-BJC served with SPANTAX from April
1st 1967 until December 31st 1967 and supported a hybrid scheme of basic SPANTAX period livery with "IBERIA" fuselage titles. This aircraft
was originally delivered to AMERICAN AIRLINES (N5610) as a standard CV990 on April 4th 1962 and was upgraded to CV990-A at Tulsa
during the early 1960's. SPANTAX acquired the aircraft on February 19th 1967.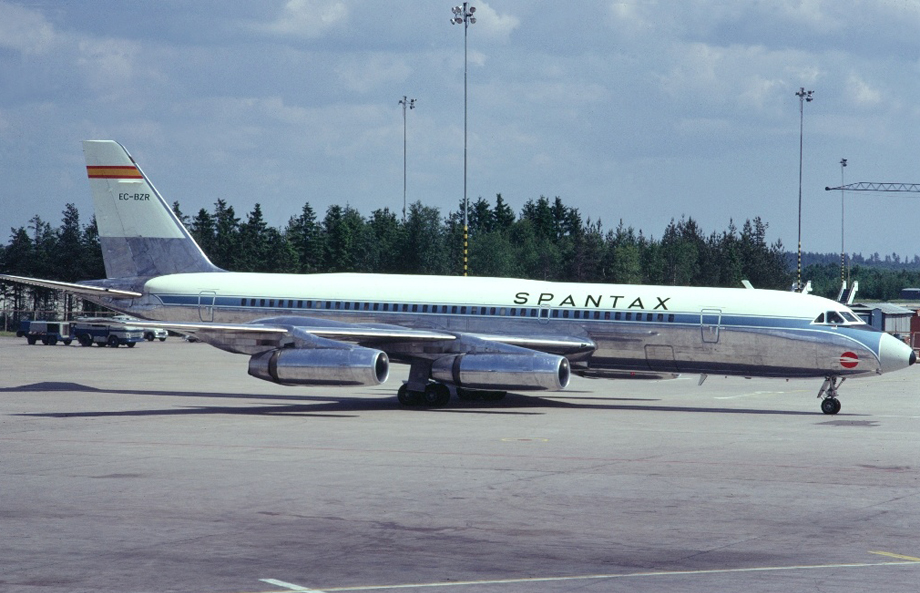 Convair Coronado 990, EC-BZR, Arlanda/Stockholm, Sweden 1976
Photo: Kjell Nilsson.



Spantax Convair Coronado 990 EC-BZO cabin.



Flightdeck.



SPANTAX Convair Coronado 990 cabin crew.

Further diversification of the SPANTAX fleet occured in 1969 when a Twin Otter Srs 200 was acquired to operate (under contract to Iberia) sche-
duled service across the Mediterranean from Malaga to Melilla. The aircraft (EC-BPI) was ideal as it was able to operate from the very short run-
way in Mellila. A second Twin Otter was subsequently acquired and these have been flying up to ten roundtrips a day on the Trans-Mediterranean
services.

On January 6th 1970, the CV990 (EC-BNM) crashed while taking off on a "three-engine" ferry flight from Stockholm/Arlanda airport to Zürich,
Switzerland. Five(5)passengers/crew of ten (10) survived the crash,five crew of (10) survived the the crash, among them the air hostess Maria
José Casanova de Sansimon.



SPANTAX DeHavilland Canada DHC-6 Twin Otter EC-BPF, cn 155.
Photo:

1972

Early this year, the company took a somewhat unusual step of ordering from de Havilland Canada a single Dash-DHC7-STOL as a replacement



SPANTAX De Havilland Canada DHC-7-102 STOL, EC-DCB, cn: 003, Palma de Mallorca (PMI), 1981.
Photo: Francisco Andreu.
for one of the Twin Otters (which was being traded.in), while the other remained as a back-up for the Dash-7. 1972. Thus SPANTAX became the
only the fifth airline and the first in Europe to order Dash-7 which was delivered in June 1978. In advantage, however, is that it could double the
number of seats of the Twin Otter whilst remaining capable of operating from the very short and often very hot fields of Melilla.

SPANTAX started operating transatlantic flights, initially using DC7 aircraft. SPANTAX leased their fleet of F27s to Aviaco and later on sold the
aircraft to AVIACO.

On December 3rd 1972, 155 people were killed in what was Spain's worst air disaster when a CV990 (EC-BZR) crashed in Tenerife. The Convair
990 EC-BZR flight 275 to Munchen crashed at Los Rodeos Airport on the island of Tenerife while taking off in almost zero visibility, killing all
seven crew and 148 passengers.

Transatlantic charters were begun by SPANTAX in 1972. As an adjunct but an important one to its charter, Spantax provided scheduled inter-is-
land and feeder services in the Canary and Balearic Islands.

In 1973 a SPANTAX CV990 again, this time the EC-BJC was involved in a mid-air collision with an IBERIA DC9 over Nantes. The DC-9 crash-
ed with the loss of all 68 persons onboard (POB ) whilst the SPANTAX aircraft whilst the CV990 remained controllable despite the loss of some
18ft of wing and disabled hydraulics to perform a successful emergency landing at Congnac Air Frce Base in France. This aircraft was repaired
and returned to SPANTAX service during September 1973 and remained in operation with the airline until its retirement on November 15th 1979
having accumulated 35,535 hours total flying time. This aircraft too was scrapped at Palma De Mallorca during 1991.

Two DC-9-14 (ex. SOUTHERN AIRWAYS) were purchased from McDonnell Douglas and jouined the fleet in April 1974 and were used prini-
pally for local scheduled flights. Another new type to be introduced was the DC-9-50 in addition SPANTAX ordered a pair of DC-9-50 aircraft
becoming the third airline to order this type of aircraft after SWISSAIR and AUSTRIAN. This order was later cancelled the reason given differs
depending on the source used. One source says it was cancelled due to lack of finance, another says it is due to the inability of the aircraft to ope-
rate from the Canary Islands to Scandinavia non-stop, which was a key requirement for SPANTAX.




SPANTAX DC-9-14 EC-DIR, cn 45698/5 landing at Athens (- Hellinikon) (ATH / LGAT) (now closed).
Photo: Johan Ljungdahl.


In keeping with their operation primarily on long-haul routes, the DC-8´s were most utilized of the SPANTAX fleet, with an average annual uti-
lisation of 2,670 hrs each.

Now, SPANTAX had to upgrade their old longhaul fleet. The final wide-bodied decssion was between the McDonnell Douglas DC-10-30 and the
Airbus A300, the latter losing out as it could not operate between Scandinavia and the Canary Islands non-stop. In October 1978 the airline aq-
accquired its first widebody aircraft a Mc Donnell Douglas DC-10-30 to operate on long haul routes to the United States as well as high density Euro-
pean services. This year a CV-990 made a wheels-up landing in Cologne.



SPANTAX DC-8-61 EC-CZE, cn 45913/325 at Stockholm/Arlanda Intl. Airport 1981
Photo: Johan Ljungdahl



SPANTAX Douglas DC-10-30, EC-DEG cn 46962, landing at Stockholm/Arlanda Intl.Airport, Sweden.
Photo: Johan Ljungdahl.

The policy was to expand slowely. One Douglas DC-10-30CF was introduced to operate in the services as well as Boeing 737, DC-8 and DC-9.
The airline was seen in many countries, USA, South America, Canada, Asia, Scandinavia and Finland, all together in twenty-one countries. Du-
ring 1984 the airline transported some 1,6 million passengers. In September 13th 1982 the DC-10-30 (EC-DEG) crash on take off from Malaga
killing 50 passengers and crew of the 393 on board along with 3 passengers on the ground.

The DC-10 was preparing for takeoff as flight 995 at Malaga to New York when the pilot attempted to abort the takeoff. Their fully fueled air-
craft overshot the runway and hit the ILS equipment. The plane stopped at 450 m after the threshold of the runway and ignited. The cause of the
abortion was a burst nose gear wheel.






The reputation and rumours of the SPANTAX accident spread concern about their old long haul fleet among the touroperators and passengers.

In 1985 Spantax decided to get a facelift for its fleet. The new blue and red cheat-line made the aircraft look very smart, "The state of the art".



SPANTAX Douglas DC-9-14, EC-DIR cn 45698, at Bologna Intl. Airport (BLQ/LIPE), Italy.
Photo: Aldo Bidini.

The first aircraft the DC-9 EC-DIR was the first aircraft to wear the new livery. Later SPANTAX introduced a new type of aircraft into service,
the Boeing 737-200. They were the first airline to operate the Boeing 737-200 in Spain. This was the last year that SPANTAX declared a profit.



SPANTAX Convair 990-30A Coronado, EC-BZO, cn 30-10-30 at Son San Juan Airport, Palma, Mallorca, Spain.
Photo:





SPANTAX DC-8-61 EC-EAM, cn 45908/296, landing at Stockholm/Arlanda Intl. Airport, Sweden 1987.
Photo: Johan Ljungdahl


The Demise



SPANTAX Boeing 737-2k5 EC-DTR, cn 22598
Photo: Fredy Harder, Jet Flugzeuge.

The Demise
By the mid-1980s, competition in the charter airline market in Europe was intense, and in conjunction with spiralling fuel prices, the fortunes
of the airline took a turn. Having an outdated fleet, the company was forced to lease in 737s from SABENA and two Boeing 747s and a DC-10
from MALASYAN AIRLINE SYSTEM.

In 1986 both the pilots and maintenance crews went on strike for two weekends in June. The airline was forced to charter in aircraft from other
companies to cover their commitments during the strike. The staff wanted a pay-rise and a guarantee for security of employment. They felt that
this could be achieved by a sale of a share of the company. It was rumoured that Frank Lorenzos Texas Air Group was interested in taking a
stake in the airline. The strike was resolved when management agreed to the unions demands.

In April 1987 the company was sold in its entirety to Luxembourg based Aviation Finance Group. They aimed to revamp the service offered by
the airline. SPANTAX recently won the lead balloon on customer service in a survey carried out by Holiday Which magazine. The finances were
also going to be revamped. SPANTAX had a debt of $50million at this stage. Aviation Finance Group proposed spending $40 million on acquiring
new aircraft for the airline.

In October 1987, the revamp of the fleet began with the leasing in of two DC9-83 aircraft. These were to replace the Boeing 737 and the CV990



SPANTAX MD-83, EC-EFJ cn 49575/1414 returned to the lessor as EI-BWD.
Photo: Fergal Goodman.

in service. A revised livery was also introduced with the DC9-83s. SPANTAX was also in negotiations with CHINA AIRLINES about the pur-
chase of two Boeing 767s. However before the deal could be finalised, talks aimed at refinancing the carrier broke down and SPANTAX col-
lapsed on March 29, 1988. Some of the 815 workers of SPANTAX staged a blockade of Palma airport to highlight their plight.



Dreams


Captain Rodolfo Bay Wrigh gave serious consideration to operate the Concorde on the route from Nothern Scandinavia to the Canaries, the
Concorde could have been flown supersonically, over water, almost all the way, passing to the west of Ireland. The idea was to lease Concorde
time from one of the present operators, to have become the first company to offer supersonic IT packages, would indeed have been a major coup,
but the economics just didn´t quite come out right. About 30 more seats in the Concorde was needed for the economics to look sensible stated
Captain Bay in an iterview.



The dream
Photo: SPANTAX

Final


One aircraft of Captain Rodolfo Bay Wright and his partner Senora Marta Estades Saez masterpiece, SPANTAX SA remains at Son San Juan Air-
port, Palma de Mallorca, the Convair Coronado EC-BZO, now parked in the "Corrosion Corner"!
Captain Rudi Bay passed away on 1st October
2000, 89 years old.



The final countdown for the SPANTAX Convair Coronado 990 fleet at Son San Juan airport, Palma de Mallorca, Spain
Photo: The WEB


The fate of EC-BZO (BX)



EC-BZO, ex AMERICAN AIRLINES 990 Astrojet N5618 1967 on delivery flight to SPANTAX S.A.
Photo: Bob Garrard



Will we ever see the "Queen of Spantax" EC-BZO, restored?



Yes, we can!

At last a group of Spantax fans under conduction of David Nogueira Garcia and Xavier Rodriques started early 2017
with the intension to convince the Spanish air authorities to restore the "Queen of Spantax, Convair Coronado 990.
Sources:

José Manual Santaner, Keith DÁrcy, Caz Caswell, Javier Rodriguez, Daniel GonzaloFischer, Johan
Ljungdahl and Salvemos el Convair Coronado de Spantax.




Links:

New ccc Prop.Fleet-list/ Updated 08-08-08
Jet.Fleet-list/Updated 2015-08-10






© Copyright 2001 by Tony Edlind

vings707@hotmail.com


Visited: