This line was made from 1992-1994, consisting of cars, trucks, aircraft, spaceships and other vehicles. When you push certain parts of the vehicles, they open up their mouths and transform into animals, monsters or creatures with big teeth, tongues, eyes and stuff. They were even available as McDonalds Happy Meal toys, as an option to Barbie dolls. I decided to make this page since these were some of my favorite toys, and there are no sites on the entire internet specifically dedicated to these monster vehicles. Every now and then the Attack Packs are mentioned in a forum somewhere, and that's how the idea of this site came to be, in a thread in littlerubberguys.com.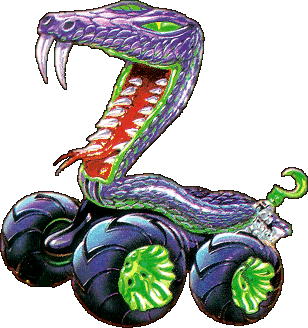 Several of the Attack Pack vehicles are easy to identify, since they are marked "Attack Pack", and some even "Hot Wheels" and also have a round symbol (except for the original series of cars and the repaints of those, and the Big Ones and Biggest Ones) with a hand doing a thumps up or a scary face with fangs, respresenting the Heroic Cat Pack team or Evil Rat Pack team. Also they're all marked with "Mattel 1992", "1993" or "1994" (the years don't necessarily represent the year it was actually released though).
As far as I know there was no cartoon or comics or anything like that about the Attack Packs, but the back of the US boxes reveal information about each of the vehicles aswell as the story of Attack Pack. There were however some other merchandise made, like wristwatches (other than the ones pictured on the site, without an Attack Pack vehicle attached to it).
Some of the Attack Packs were released as repaints of the same shape of vehicle. The "Dinosaurs" were differently painted in Europe and the USA. But there are also other, more accidental variants and variations of colors, like "Maggot Mouth" and "Tankasaurus Rex". Plus a couple of unreleased ones, one which made it all the way to a collector. That collector also told me that there probably is a wristwatch of "Slaughterjaws" aswell. So, all in all with the repaints, variations, McDonalds, prototypes, wire-controlled, and wristwatches, the total amount of so far known vehicles should come to 58.
There were plenty of bootlegs of these toys aswell. I had two. One purple that you would push down and close the mouth on, which would load it and send it speeding away while opening it's mouth. And an almost exact copy Rip Rat, but bigger and with different colors, I think it ran on batteries. There are also some other Mattel toy cars around, also called "Hot Wheels Attack Pack" released in the year 2000, which apparently have nothing else in common with these monster cars. And also Mattel has re-used their ideas for some of the Attack Pack vehicles in a new very similar line called "Road Beasts", and also the name "Road Beasts" were re-used by Mattel on vehicles that had nothing to do with that line. Other similar toylines are (Jayce and) the "Wheeled Warriors", which was also made by Mattel and consisted of some monster vehicles.
I will continue to update this site as long as I have something more to add. And hopefully I'll learn some more about the Attack Pack series, as well as introduce others to the Attack Pack line and help you to identify your vehicles. Any collectors out there who are willing to contribute with some info or pictures? Maybe you have some Attack Pack or info that isn't featured here? Or if you have any Attack Packs for sale that I don't have (I only have the ones with red background in the picture) let me know.
Attention!!!: Looking to complete my collection. So if anyone out there has any of the following for sale, please contact me at allinthestyle@yahoo.com:
Skeletalker, Splitfire (black), Jungle Jaws, the wire-controlled, Dragonfighter, Big Mouth, or any prototype.
Thanks to KungFuMan and Corlan for alot of info and pictures! Thanks to Shawn Rengel for the Skeletalker info. And an ebay seller for letting me use her pictures from her auctions, which are currently available for sale, check them out here!
Just point the cursor over the images to see the vehicles transform into monsters. (Note: Some of these have old stickers on them that I put on when I was younger. Also, the back of the European boxes look the same, so all in the same series share the same image here "Box Back (Euro)".)