LAUREL & HARDY: A TRIBUTE TO THE BOYS (1992)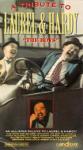 A well-meaning but ill-fitting salute to Stan and Ollie, hosted by Dom DeLuise (wearing an Ollie derby throughout) and produced by Cabin Fever Entertainment, a home-video outlet that distributed colorized videos of L&H movies at the time of this video's release. On the plus side, this video corrals celebrities such as Johnny Carson(!) into explaining their love of Stan and Ollie's films. On the minus side, those films are represented only in truncated sequences, and even then of only their talkies as colorized by Cabin Fever. A nice but perfunctory introduction to L&H's comedy classics.
(C) 2002, Steven Bailey.