---
Celebrating our 20th Anniversary on the Web!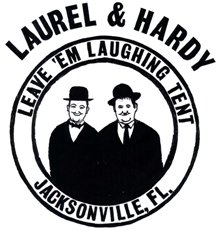 Our Tent was established in August, 2006 -- "Mighty oaks from little acorns grow"
Our original website was established on Apr. 25, 2000


"[Oliver Hardy played] in short comic film subjects produced by a company based in, of all places, Jacksonville, Florida." -- Laurence Maslon and Michael Kantor, Make 'em Laugh: The Funny Business of America

"Billy! Come and tell me about Babe in Jacksonville!" -- Stan Laurel's constant request to Billy Bletcher, Jacksonville co-star to Oliver Hardy (and voice of The Big Bad Wolf in Disney's Three Little Pigs)

Welcome to our online Tent! (What's a "Tent"? See the Sons of the Desert link below.) Scroll down to the dark-gray box below, and click on the appropriate button to go to any of our site's many features. Why, nothing could be simpler!

Special thanks to Tent member Carroll Hebbel for his creation of our Tent's logo (shown at above left), and to John Brennan of Laurel and Hardy Central for his invaluable contributions.

As befits its subject matter, this website is presented in glorious black-and-white. Death to colorization!!
The Leave 'em Laughing Tent is proud to support the Norman Studios Museum, a tribute to one of Jacksonville's silent-film studios and the only one to feature all-African-American casts. Click on the logo at left to learn more about the museum and how you can help them.



If you are ever in the Jacksonville Beach, FL., area, visit or stay at the beautiful Casa Marina Hotel. Opened in 1925 one block from the Atlantic Ocean, its guests have included movie greats such as Laurel and Hardy, Charlie Chaplin, and Buster Keaton. Click on the photo at left to visit the hotel's website.




Be sure to visit our "sister" site, devoted exclusively to Laurel & Hardy's classic comedy Western Way Out West! Click on the site's logo (above) to visit!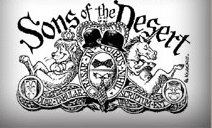 Leave 'em Laughing is a proud member of The International Laurel & Hardy Appreciation Society (a/k/a Sons of the Desert)! Click on their logo (above) for more info on their work in preserving and spreading the great work of Laurel & Hardy!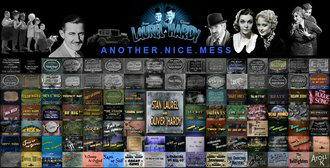 Another Nice Mess is an exhaustive and thoroughly satisfying study of each and every L&H film, with voluminous, glistening stills from their movies! Visit and savor!
A terrific, British-based discussion group for all things L&H! If you're a buff, prepare to spend several hours posting your opinions on a wide range of Stan-and-Ollie-related topics!


The Leave 'em Laughing Page has been dubbed an "official friend" of Laurel and Hardy Central, and we couldn't be prouder! Stuffed to the margins with insightful reviews and great tributes to The Boys, there's truly "everything from soup to nuts" at this site! Click on the logo to visit! (Also, click here to visit L&H Central's subsidiary website, "Stuff You Gotta Watch.")


Site Menu: Click on the appropriate button below to go to whatever section of our site you'd like to see. There is a similar menu at the bottom of every page of our site.

About the webmaster of this site
Other entertainment websites from our Grand Sheik:

MovieMovie BlogBlog The webmaster's blog about some of his favorite movies.
Salty Steve's Popeye Page Reviews of the 1933-1942 Fleischer Bros. Popeye cartoons.
Another Charlie Chaplin Website Reviews of Chaplin's classic movies.
The Love Nest - A Buster Keaton Appreciation Cult. Reviews of Keaton's independently-made silent film comedies.
The Marx Bros. in "A Day on the Internet" Reviews of Marx Bros. movies.
So You Want a Joe McDoakes Website Reviews of the hilarious 1942-1956 Joe McDoakes short subjects.
Gilligan's Id The webmaster's attempted Freudian explanation of the TV series "Gilligan's Island."
Sit On My Monty Python Website Reviews and random thoughts about the British comedy troupe.
Steve Bailey's Lost in America Page A tribute to Albert Brooks' classic 1985 comedy.
"Atomic Shakespeare" and Other Moonlighting Minutia Devoted to the most famous episode of the 1980's TV series.
It's All Too Much A song-by-song analysis of The Beatles' recorded music.