IN LOVING MEMORY OF MY MOM
Carolyn Sue Holstein - Lewallen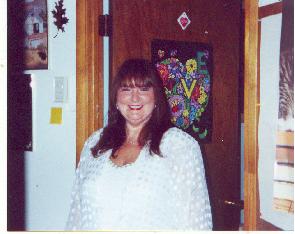 Sept. 16, 1950 ~ May 11, 2002

My mother passed away due to an automobile accident

which was caused by two drag racers racing on interstate.
"MOTHER" You never said "I'm leaving."
You never said "Good-Bye."

You were gone before I knew it.

And only God knows why.

A million times you've been there for me, and even when I cried.

If LOVE alone could have saved you. You never would have died.

In life I loved you dearly, In death I love you still.

In my heart you hold a special place, no one can ever fill.

It broke my heart to lose you. But you didn't go alone.

For part of me went with you, that day God called you home.
REMEMBERING TIMES
I remember growing up times where tough on her for being a single parent.
But I never went hungry and always had nice clothes to wear, mom

would give the shirt off her back to make sure we had nice things out of life.

I never did understand how she paid all the bills

while making such little pay, she lived paycheck to paycheck.

When every holiday came around we celebrated by getting each other something,

or by making something. But there was not a holiday that went by

that we didnt celebrate. She would decorate for every holiday.

There was times when we would go shopping and I seen something I really wanted

and mom would say if you want it go ahead and toss it in the buggy.

I love you and miss you so much!

There is not a day that goes by that I don't think of my mother.
KIND OF PERSON SHE WAS My mom was born and raised in West Virginia. She loved to travel everytime she could get away she would usually every summer. She would go to the beach and lay out in the sun every summer and turn herself into a little indian (she has Cherokee in her). Last time we went on a vacation together it had to have been in 1998 when we went to Tennessee then while we was down there we went to Dollywood. In 2001 she went on a cruise to the Bahamas even though it rained almost the whole time, she said she always wanted to go on one, and thought she never would have been able too. In July 2001, she went to see all those country singers singing at "Jamboree in the Hills", she had a blast. My mom was a big fan of country and a variety of music, some of her favorite singers were: Alan Jackson, Alabama, Travis Tritt, Bob Segar and tons of others. She also went in 2001 and seen Alan Jackson and Lee Ann Womack in concert. This year (2002) she planned on going to the beach with one of her friends. But when mom wasn't traveling she would either be working or at home, when she had time she would tape or watch "Days of Our Lives" the soap opera. She grew up watching it, and like her, I grew up watching it also - and to this day continue to do so. My mom was a pack-rat and kept just about anything. She had tons of what-knots, and her house was always kept clean and nice. She made the house look and smell so good. She was a big holiday person, every holiday she would celebrate and decorate. I'm going to really miss spending the holidays with her. She was an excellent cook, and a gardener. She had a huge rhonderdon bush outside which was so beautiful when in bloom. My mom was the best mom in the world to me!!
A Love Gone, But Not Forgotten!!
SOME OF HER FAVORITE THINGS

She loved butterflies, red roses, and ducks.

But she liked about anything, I don't think there was anything she did not like.

Her favorite season was spring.

FAMILY

She was preceded in death by her parents, Dempsey Holstein, Elsie Bonham; and brother, Junior.

Surviving are her daughter, Kimberly; son, Michael;

sisters, Mary, Patty, Barbara, Debbie, Wilma; brother, William;

grandchildren, Justin and Jamey.

grand-daughter she never got too meet nor know in person:

Savannah Cheyanne born August 9th, 2006
**this is a special memorial guestbook ~ so please sign, thank you!!**
forever burning candle
(poem ~ a must read)

SONG FOR MOM

(other familes who have lost loved ones)

please add yours
UPDATED:5/02/2009