The Farthing family
This Site
This web site includes a partial family tree of people with the family name Farthing. It shows a selection of the descendants of George Farthing and Catherine Atkinson, born approximately 1750, and of George Farthing 1771-1850, and his wife Margaret Bell 1776-1859, up to Stanley Farthing 1894-1985. A selection of pictures is included as available.
Note that small additions are added to the pages by Angelfire in return for free web space. In itself that is an acceptable price to pay, but I rather object to the additional pop-up boxes, especially any making rediculous and false claims. Some of these might install sofware on your PC. I think the host is imposing too much of a penalty for the small amount of free space. Please ignore these pop-ups and close them at the first opportunity. Pop-up blocking should eliminate these.
The Name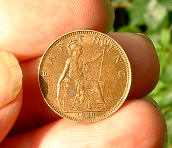 The surname Farthing is an English name and one view is that it originates from the allocation of land in plots of four quarters called farthings, and the term is sometimes used in place names. The name would probably have been given to a tenant or occupant of such a plot.
Another theory is that it derives from a mythical Viking king Farthegn meaning travelled thegn (=warrior).
Farthing was also the name of a small coin of value 1/4 of a penny. They continued to be minted until 1956 or so, the later ones having queen Elizabeth on one side. They were technically legal tender until about 1960. Most people of a certain age will associate the surname with the coin, but there is no connection.
---
Ancestral list from George Farthing, born c.1750, to Stanley Farthing 1894-1985.
| | | | |
| --- | --- | --- | --- |
| Man | Birthplace | Married to | Birthplace |
| George Farthing | | Catherine Atkinson | |
| George Farthing 1771-1850 | Aycliffe, Co. Durham | Margaret Bell 1776-1859 | |
| George Farthing 1805-1860 | Durham St. Giles | Jane Wallace 1809-1868 | Durham |
| Thomas Farthing 1844-1882 | Coxhoe Mill, Co. Durham | Mary Ann Thompson 1842-? | Woodham, Northumberland |
| George Thompson Farthing 1864-1931 | Durham | Rosa Collings Vail 1865-1938 | Spennymoor |
| Stanley Farthing 1894-1985 | Spennymoor | Edith May Stephenson 1894-1963 | Barry, S. Glamorgan |
George Thompson Farthing and Rosa Vail
Stanley Farthing had two younger brothers, Douglas 1897-1980 and Donald 1900-1990, and two sons Desmond 1922-1953 and Geoffrey 1926-
Stanley Farthing with Edith May and their sons Desmond and Geoffrey
This picture was taken on 18th July 1945 after the end of the Second World War (in Europe). The men are in their respective uniforms.
To be continued...
---
Record your visit (optional)
You can send a message here. All fields are optional, so your comment may be anonymous if you wish. Please note, entries here do not notify me, so depend on me checking occasionally. This might be only about once a month. Entries are not currently displayed on the site, but should not be considered confidential.
---