Details, Details, it's all in the Details......

A few shots of work in progress
Monogram AH1S prepainted with superdark grey over panel lines, which will show up underneat the Jordanian paint scheme to be applied on top of this....simple and VERY effective!!

Here is the Fonderie Miniatures 1/48 HO3S1 Dragonfly, a mixed media kit.Half the interior is scratchbuilt (pedals, controls, aft sling seats). The rotor system is highly detailed, and the hoist has been detailed to within an inch of its life!
Let's compare the old with the new here shall we?
Circa 1987, Esci UH1H detailed with copper wire, medical tape, sheet plastic, typing paper, flattened solder and aviation lockwire
Today, the same kit, using Eduard PE, resin details, copper wired and sheet plastic. What a difference!
Head to the finished article for more info.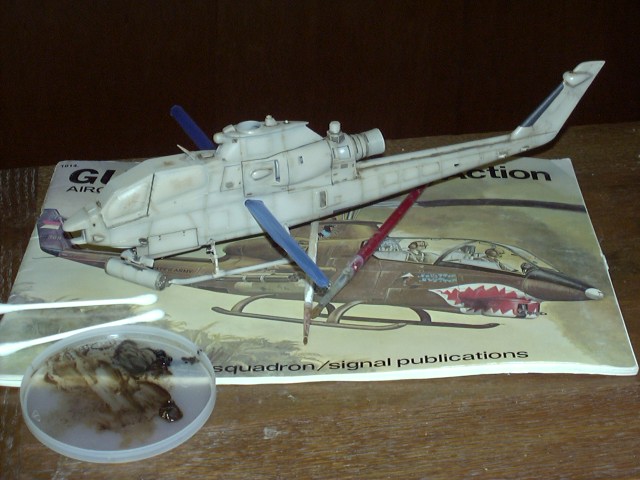 Monogram's Classic Cobra with a desert scheme. The kit has been preshaded, overcoated, tonal highlighted and given a wash.

If you have questions feel free to Email me.
Hasegawa's 1/72 SH60B gets some help with a ceiling, Senso rack from styrene, RAST from tubing and a Sonobouy rack from sheet plastic and aluminum tubing. Still need to make the seats and associated parts for the back end.Check the

Review

page for the HSL51 Warlords kit reviews.
Monogram's venerable Cobra gets a sandfilter for a Japanese Self Defense Force Scheme from Twobobs Graphics.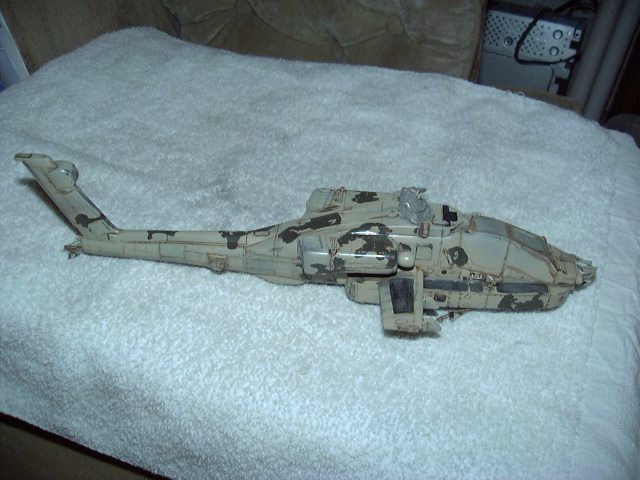 Acadamy's 1/48 AH64D Longbow. By this time I have painted the kit in overall green and overpainted that in "fied applied" Sand. This is very thin in places to allow the decals to show thru, as well as where it would have worn off. I applied Rubber Cement and allowed it to dry to various areas before applying the sand, then removed the RC. That gives the flaked off effect. Here I have applied and begun to remove oil washes.

Italari 1/48 UH1N being converted to a Canadian

CH134 rescue version.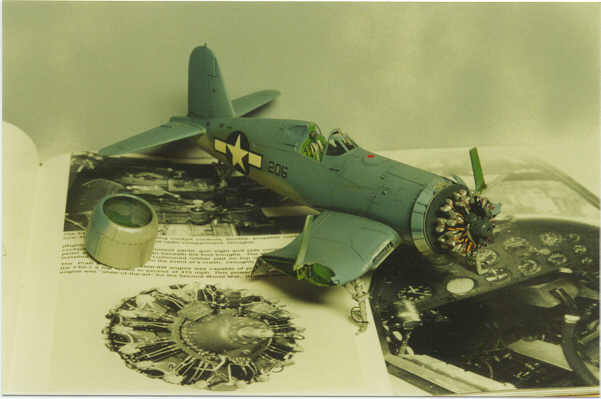 Tamiya F4U2 Corsair details. Engine wired with copper wire.
&copy David Campbell, October 2001