USN SEA CADET CORPS. MONTEREY COUNTY DIVISION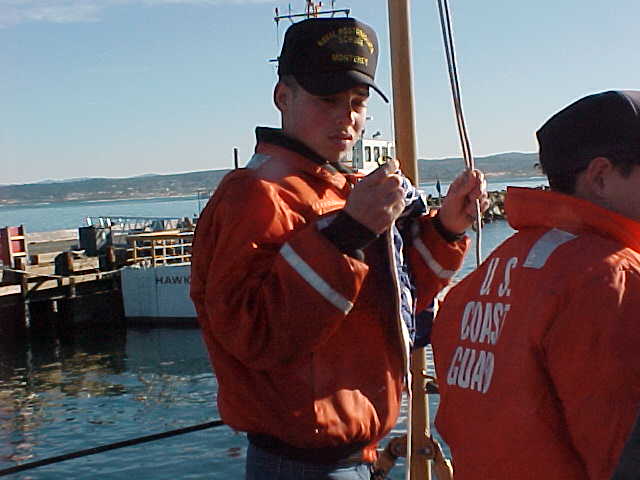 Cadet Jamie Perez strikes the colors while getting underway onboard the USCGC Point Brower.
The United States Naval Sea Cadets is a non-profit organization to educate the youth of america, about our nations sea going services. Inacted by congress, and falling under the jurisdiction of the Navy League of America. The Sea Cadet Corps instructs youth between the ages of 11-17 about the Navy, Marine Corps, and Coast Guard.
Cadets prepare for a Memorial Day Wreath Laying Ceremony.
Cadets are taught military history and customs, seamanship skills, uniform care, self respect and teamwork. Cadets are instructed by adult officers, over a variety of topics. They also take tours of Naval Ships and Air Stations. Cadets have the oportunity for advanced training which may include, staying on board Navy Ships, Coast Guard Rescue Stations, Submarine Seminars, Leadership Training, Navy Seal Instruction, Seabee (construction) School, and many others. First and foremost, new cadets are required to attend a two week boot camp before they can particapte in any advanced training.
Cadet Saucedo takes a turn at the helm of the Station Monterey's Motor Life Boat.
Monterey County and Enterprise Division Cadets march toghther in a parade in San Jose, Ca.
Monterey County drills often with the Coast Guard. Cadets are instructed in martime law enforcment, search and rescue procedures, boat handling, seamanship, and marine enviormental protection. Senior cadets are allowed to stay weekends at the Coast Guard Station and particapate in radio watches, small boat training, and patrols of Monterey Bay and the California coast line.
Cadet Glietsman helps PO3 Melancon, and SN Mullins, USCG patch holes during a flooding drill.
The division also has a color guard that perform at parades, public and private requests, and on military instillations.
Monterey County Sea Cadet Drill Team
The divsion also has a league corps for youth between the ages of 11-13. There training shadows the cadets.
Any interested youth are encouraged to come in and watch for a weekend. The unit meets once a month on the first weekend. Our office is on the naval post graduate school campus. Please email me if you are intersted and need any further information.
Cadet Greer tries to reason with an upset PO3 Barnhart during a mock boarding.
Email AJSaucedoSS@aol.com for more info
UPCOMING EVENTS FOR MONTEREY COUNTY SEA CADETS
Links to Web Sites
Angelfire - Free Home Pages
Free Web Building Help
Lycos - Search the Web
U.S. Coast Guard Homepage
Sea Cadet Homepage