Kuda's Mopar site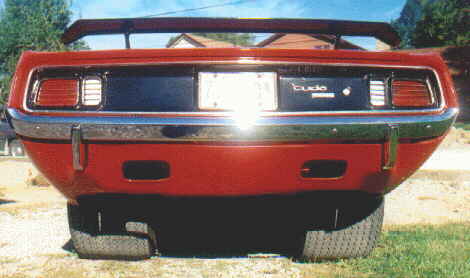 Welcome to my first attempt at a web page. As you can see my wife and I are
Mopar lovers. Our pride and joy is a 1971 Barracuda convertible. When we
first brought her home she was rough. Everything had to be replaced, but she
still had all the factory options intact. This car was ordered by a dealership
in Ont. Canada. It was ordered with some unique options for a barracuda. She
was built Sept. 9,'70. Options include front and rear spoilers, roadlamps,
body side moulding, fender signals, body color was FE5 red and some other
regular options. It has one option that is unique for a barracuda, it was
ordered with the 'cuda decklid treatment. I added the ralley hood and 'cuda
fenders to complete our 'cuda lookalike. She's come alongway from that cold
Nov. day in '89 when she came home with us. She's had a complete body, 2
paint jobs, moving up to big block power, converting to a 4 speed, and the
finishing touch, i pro-streeted her. All the work that was done to its current
looks was done in my 2 1/2 car garage with the help of my wife, who stood by
me during all my swearing, complaining, and letting me sink a small fortune
into it. Thanks honey!. She also did bodywork and all the interior work!



The picture above is the finished product. Below are pictures of her
the day she was brought home for $700 Canadian, and worth everypenny!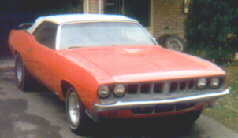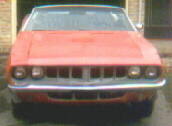 This is another one of our toys
Wanna see more pictures of the B'cuda ?, or my other cars, go here "Kuda's Page"
This page was last updated Feb 14 '98
My Favorite Links
My wife's Star Trek site
Angelfire - Easiest Free Home Page

Email: kuda@ils.net