Dorseydon's Dorsey High School Page
© 1996 Stan Cline, Nostalgia Graphics. Used by permission.
---
Welcome to Dorseydon's tribute to Dorsey High School. Within this page you'll find some interesting facts about the famous school on Farmdale Avenue in Los Angeles.
---
About our Title Graphic. I found the graphic at the top of the page from Stan Cline, Nostalgia Graphics, while searching on the web. Mr. Cline has created a large number of graphics dedicated to some of the best sites in Los Angeles. A link to his site is found at the bottom of the page.
---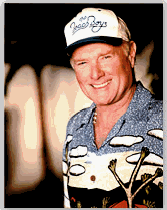 Famous Dorsey Alumni include Mike Love, lead singer and a founding member of The Beach Boys, Judge Joe Brown who delivers justice on television screens across America. The musical group Hiroshima has always included at least one Dorsey alum. Although Dorsey grads are usually very modest, we accept the fact that we are all celebrities!
---
Dorsey Alumni Association
To join the Dorsey High School Alumni Association, write to Box 56862 Los Angeles, CA. 90056. The cost is $30 for an annual membership.
---
A page about Dorsey would not be complete if if did not mention our main rival school. I forgot the name of the school but it was named after a street in Los Angeles. I think it's called 11th Avenue High School. Anyway... Despite the rivalry between the two schools, I urge all readers to support the school in its Food from the Hood program. This is a student run business which generates scholarships for high school students. Their salad dressing can't be beat and was fed to Prince Charles when he came to Los Angeles.
---
Who was Susan Miller Dorsey? Ms. Dorsey was the superintendent of the Los Angeles City Schools in the early 1920s and helped write the state School Code which later became the state Education Code. She lived to see the school named in her honor and was one of the first members of the PTA.
---
About Dorseydon. I graduated from Dorsey in 1973 and served as the editor of the Dorseygram from 1972-1973. You may have seen me photographing the "Sweetheart of the Month" for Mr. Barclay's Journalism class or audiotaping students for the documentary I created for Mrs. Watt's Mass Media class. I used to hang out at the bench at the end of the C Building.
---
You can e-mail me at: dorseydon@mail.com
Links
Stan Cline, Nostalgia Graphics
A Dorsey Alumni Page
Official Web Page for Dorsey High School
Hiroshima's home Page
Black and Jewish Home Page
Your use of this site constitutes your acceptance of and cooperation with the Terms of Use