The Late, Great Kevin Gilbert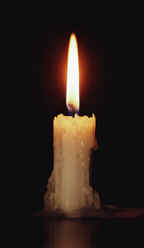 [Please forgive the broken links and graphics while I repair the site; Angelfire totally changed their graphics gallery without informing their customers, and I noticed there are a few dead links as well.]

I didn't mean this to be a dark place, but having it lit only by candlelight somehow seems quite fitting.

I really couldn't tell you on this page everything that Kevin meant to me, only that his music, his passion, and his humanity touched me deeply and will never, ever leave my heart. He was a brilliant artist and a wonderful person, and I'm grateful to have had our lives intertwine, if only briefly.

This site was created as a means for me to share my love for Kevin and his music, and to light my one small candle in his memory. Iíve posted some articles here for your enjoyment, spanning the history of his illustrious career. I've also put together a photo gallery you may want to check out; I have a few more photos to add, and the layout is a bit slapdash, but you'll find some neat stuff there. And while you're at it, be sure to visit all the other sites out there, whose webmasters (and mistress!) are doing such a fine job of keeping Kevin's music and memory alive. In particular, check out Debbie Miller's site for a fabulous photo tour of Kevin's studio, Lawnmower and Garden Supplies.....thanks, Deb! Also, the official mailing list is still going strong, so feel free to make yourself at home there.

Most importantly, some great Kevin merchandise is available: at Pop Plus One!, you can purchase a copy of the standard edition of "The Shaming of the True" (with 24-page booklet), as well as a "Shaming" T-shirt. Copies of Thud Live and the Giraffe compilation are also available for purchase there, and a beautiful limited edition lithograph is being offered by KevinGilbert.com. A digital surround sound version of Toy Matinee is also available, but be sure you have the equipment to support it! And if you're anxious to get your hot little hands on even more of Kevin's music, you may want to check out Kevkollectors, "the definitive forum for discussing and trading Kevin Gilbert bootlegs and rarities"!

Now, if all of this incredible music and heartfelt adoration has inspired in you a warm, fuzzy feeling, you may wish to make a donation to the Kevin Gilbert Memorial Fund, and help underpriviledged kids to realize their musical dreams.

If you have any thoughts or memories of Kevin to share, or if through this site you have discovered his marvelous music, then please, by all means, reach out and let me know; you can sign and read my guestbook, or email me using the link below if you'd like. I promise I'll always reply, though I may not do so very promptly! That said, I would like to offer my most profuse apologies to those whose correspondence I have been unable to answer due to their change of address. As I said, I do reply to every email and guestbook entry I receive, but, as I don't always get to them right away, ocassionally my replies are bounced back. I'm doing my best to answer my mail in a more timely manner, but if your address does happen to change before I get to you, and you'd really like a reply, by all means, please do send me the new one, and you will hear from me eventually. YOUR EMAILS MATTER TO ME!!!

Lastly, but not leastly, please take a moment to check out my acknowledgements page; not only do these folks deserve to be recognized, but youíll find little scraps of Kevin trivia scattered throughout.
Last updated 8 May 2003
Note: I've always had a policy of replying to every guestbook entry and email I got, even if it ended up being months later (which it often has). That's just not working out for me, nor is it doing justice to those kind enough to send me their feedback. So I'm revising that policy, and want to make it known ahead of time that, unless you have a question you'd like answered, or indicate that you would particularly like a response, you may not receive a reply to any feedback you offer.
I am always touched that people have cared enough to reach out to me, which is why I've always tried so hard to respond and let them know that. But as that's proving much too stressful and difficult to follow through on, I'll just let you know here that every email I receive is still greatly appreciated, and I thank anyone who takes the time to write for sharing their thoughts. Your emails matter to me.
That said, if you'd still like to get in touch, feel free to do so via the button below.