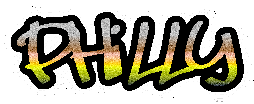 ---
The Philadelphia Eagles played at Franklin Field from 1958 through 1970. They moved to the stadium for the 1958 season after leaving Connie Mack Stadium. Franklin Field would seat over 60,000 for the Eagles whereas Connie Mack had a capacity of 39,000. According to then-Eagles president Frank L. McNamee, the Eagles did not pay rent for use of Franklin Field because Penn was a not-for-profit organization. Instead, the Eagles donated between $75,000 and $100,000 per-year to pay for maintenance and other expenses. The university collected all concessions and parking revenue.
---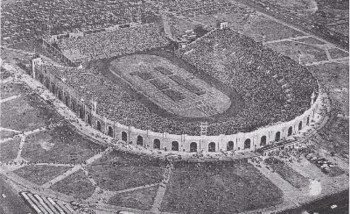 The Eagles then went to JFK Stadium....However, most of us remember the following two stadiums more significantly.
---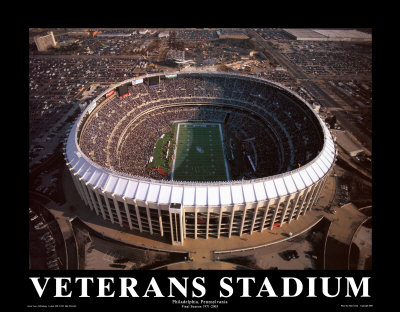 On October 2, 1967 ground was broken for a new stadium in south Philadelphia. Named Veteran Stadium, the facility was completed in just under four years. The Philadelphia Phillies (MLB) played the first game ever at Veterans Stadium on April 10, 1971. Being a multipurpose stadium, the Philadelphia Eagles played their first regular season game at Veterans Stadium on September 26, 1971 against the Dallas Cowboys. When it opened, Veterans Stadium was one of the NFL's largest stadiums with over 62,000 multicolored seats circling the Astroturf field. In order for the stadium to be converted from baseball to football, rollaway seats were used. The seats used for football, were rolled underneath the stands behind the outfield wall when the stadium was in baseball configuration. Very few changes took place at Veterans Stadium during its existence. Between 1985 and 1987, 89 luxury Penthouse suites were built atop the stadium. In the 1990s two new video boards replaced the original scoreboard and all the multicolored seats were replaced by blue seats prior to the start of the 1996 baseball season. For many years Veterans Stadium was known for its terrible Astroturf. After the 2000 NFL season, the Astroturf was removed and replaced with NexTurf, a thick plastic grass. In the late 1990s, both the Eagles and Phillies wanted new stadiums. Construction on the Eagles new stadium, Lincoln Financial Field, began in 2001. The Eagles played their last game at Veterans Stadium on January 19, 2003. Veterans Stadium closed in October 2003 and was demolished on March 21, 2004. It is now a parking lot for the sports complex.
---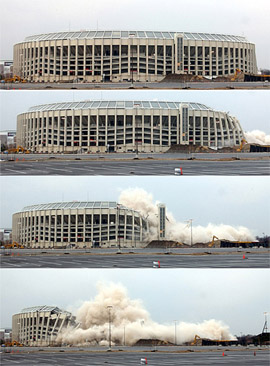 ---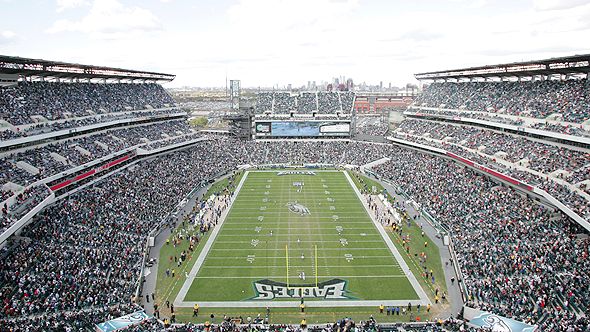 Feb. 2, 1999 The state of Pennsylvania approves their portion of the stadium funding
Oct. 5, 2000 Eagles officially unveil plans to build a new football stadium in the city of Philadelphia. Presented a rendering of the new stadium to the public
Dec. 9, 2000 The city of Philadelphia and the Eagles agree on a deal to construct a new stadium. The citys portion of the funding is approved
April 3, 2001 Existing warehouse demolition at the site of the new stadium begins
May 7, 2001 Excavation begins for a new stadium
May 30, 2001 Pile driving begins
June 7, 2001 Official groundbreaking takes place
July 16, 2001 Pouring of concrete foundations begin
Oct. 15, 2001 Structural steel erection begins
March 21, 2002 The installation of precast concrete, the forms on which seats will eventually rest, begins
June 3, 2002 Eagles announce Lincoln Financial Group as stadium naming rights partner
June 30, 2002 Structural steel is completed
July 30, 2002 Pre-cast concrete seating is completed
Aug. 15, 2002 Seat installation begins
Nov. 26, 2002 Grass field is installed
Dec. 15, 2002 Roof completed and the building is enclosed
May 19-20, 2003 With the NFL owners' spring meetings held in Philadelphia, the Eagles host owners, head coaches, and executives at Lincoln Financial Field
Aug. 3, 2003 Lincoln Financial Field hosts its first ticketed event, a soccer match between Manchester United and FC Barcelona
Aug. 22, 2003 The Eagles host the New England Patriots in the first football game at Lincoln Financial Field
Sept. 8, 2003 The Eagles and the Tampa Bay Buccaneers square off on Monday Night Football in the Inaugural Game at Lincoln Financial Field
Email: bonnie.zobel@yahoo.com