2019 Annual Fall Show & Auction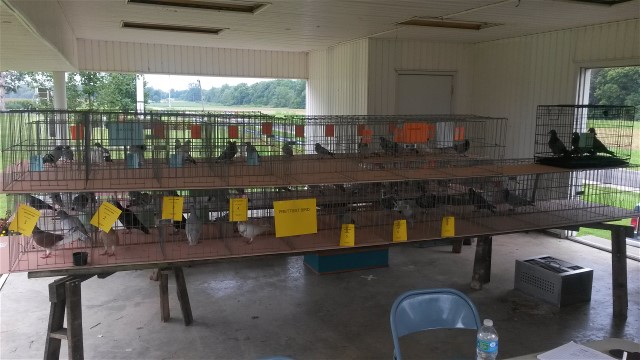 November 9, 2019
Vigo County Fairgrounds
Terre Haute, IN
A half mile south of I-70 at Exit 7, US 41!!
Easy to find, on the right hand
side of the road if going south!!
3901 South U.S. Hwy 41
Terre Haute , Indiana 47807
Entry Fee $2 per bird
Judges: Chad Compton & Vern Hopley
Judging to start at 9:00 a.m.(eastern time) until finished
All Judges Decisions are Final
Entries Accepted Starting at 8:00 a.m.(eastern time)
Auction of 17 Premier Quality birds to begin at 1:00 p.m.(eastern time)
Raffle during the show
Crossroads RPC Show Classes:
OLD BIRDS
Old Cocks 100-250 Miles
Old Hens 100-250 Miles
Old Cocks 300 & above
Old Hens 300 & above
Old Cocks Unflown
Old Hens Unflown
YOUNG BIRDS
Young Cocks 100-250 Miles
Young Hens 100-250 Miles
Young Cocks 300 & above 1st Place
Young Hens 300 & above
Young Cocks Unflown
Young Hens Unflown 1st Place
1. There are no color classes.
2. Birds of any color can be shown in any class.
3. Birds can be shown in multiple classes if they qualify.
4. Gentlemen's honor on class qualification.
Ribbons for 1st, 2nd, 3rd place of each of the above classes!!
Junior Class also With Junior Awards!! Best Junior in Show, 2nd Junior, 3rd Junior. Trophies provided!!
Cash Prizes & Trophies for the Crossroads RPC Show:
Best Opposite Sex
2019





Best Old Cock $25
Best Old Hen $25
Best Young Cock $25
Best Young Hen $25
Best Overall Cock $50
Best Overall Hen $50
Best Opposite Sex $75
Best In Show $100



Best In Show
2019


Food & Refreshments provided - $5 cover eat and drink all day
Donuts & Coffee & Milk available at 8:00 a.m.
Hot Dogs, Chips, Chili, and much more and Soda & Dessert available at 11:00 a.m.