....
Welcome to our farm....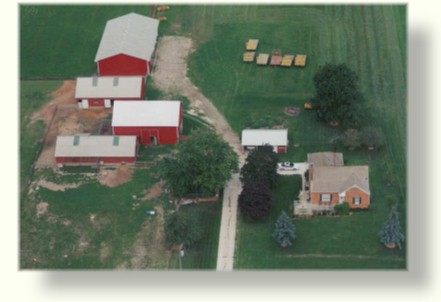 CAJUN WELCOME
There is a farm in Michigan,
Where most folk say they envy them,
A mini resort it's known by friends,
When you stop by, You'll agree with them.
Established back in '86',
With lot's of hard work, building barns and things.
It's Cajun Farm, it's quite the place,
With 40 acres that's lot's of space,
For Miniature horses to roam and play,
And eat our good hay, almost everyday.
So come and meet the Miniature horse,
There's lot's to see and our stallion of course,
His name is Ashton he's quite the one,
With Multi Championship and not just one.
Now! Truffles is our red headed mare,
Look at her coat in the sun glare.
Sylvia is a special one,
With jet black coat she's quite the one.
Bobbi words can only be describe,
As having Doris Day locked up inside.
Honey let's not forget about you,
As you strut your stuff and in the show ring too.
Keesha she's the lucky one,
But look at her now, and watch how she runs.
Tina is our friendly one,
She'll meet you in the morning sun.
Now! Foals are what, we strive for,
With hands on attention,
And quality, you'll just adore.
By…...Fay B. Killelea
..The poem above is very dear to me. Since then three of the mares have been sold but I've decided to keep the poem on this page so everyone can enjoy it. It explains my farm and my love for these little horses perfectly. Thank You for visiting and ENJOY!!!
Please visit these other pages of Cajun Farms Miniatures!
---
| | |
| --- | --- |
| ALPHONSE'S LIL' MISS "MEGHAN" | |
| | |
| --- | --- |
| | ALPHONSE'S "DIXIE" SOUTHERNBELLE |
---
Cajun Farm Miniatures
Paula & Frank Alphonse
10026 Meisner Road
Casco, Michigan - (586) 727-2720
minisrus@comcast.net
We have had visitors
since the counter was reset
on May 23, 2007.