Monday 17th June
The first car to break the law this morning drove from a petrol garage forecourt at 2.30am in Newcross, South East London. The driver continued straight through a red light towards the city and it was a police car. No sirens or speeding, just straightforward disregard for the law!
This car has been in the same position on Blackheath most of the weekend.
A UK radio station had a caller saying that he hoped he could proudly fly his England flag after the World Cup Final has finished on June 30th. Before this years Golden Jubilee and football matches he would have been branded a racist and now he hopes that we can show how proud we are of our country without this nasty so-called 'politically correct' rubbish that we put up with. Freedom is not relevant in the UK and hasn't been since racist groups such as the British Movement Party adopted the England flag and the Union Jack as their logos. My own opinion is that we should be proud of our country and support our Royal Family more than football. Many England football fans will say they are patriotic and then condemn our institution and heritage. We were in Trafalgar Square on Saturday as fans rushed into Trafalgar Square to celebrate after our 3-0 win against Denmark. It was a fantastic site watching and hearing people of all nations, colours and religions chanting and singing together. I wish it could happen more often. To see these pictures plus more follow the link to Trafalgar Square from the new 'Best of Lynda's London Photograph' page.
Road works around Charring Cross are still in full operation.
As we drove through Shaftesbury Avenue a man in a wheelchair was searching through some bags of rubbish in the bins. Another leaned against a telephone box and waved his hands in the air while growling at passers by. This has got to be the area with the strangest people in London!
'Fox watch.'
We didn't see any this morning. I did get two clear photographs last Friday of a young fox at Maze Hill train station. Pictures can be found at the 'Best of Lynda's London Photograph' page.
'Prozzy watch.'
Four girls were out at King's Cross. One of them only looked about 14 years old and skipped slowly across the road in a child-like fashion. She was oblivious to everything around her and only had her eyes aimed at a young man who was talking to another prostitute ahead of her.
Tuesday 18th June
By this time tomorrow I will be a grandmother so I am rushing this to get to the hospital where my daughter has been taken to give birth to her first baby. Please excuse any mistakes, which will be rectified later.
This morning started off hot and humid after the hottest day so far at 29c. By the time we got to Holborn lightening was cracking across the city and rain started to fall quite heavy. On the other side, at Gypsy Corner near Park Royal, the ground was dry and loading the van was not a problem. Soon we were driving back through the heavy rain into the city again. I don't know if the rain was just a band going through the city but it certainly helped point out the fact that we drive around in circles to drop off the sandwich orders. In fact Gary has measured the distance to be 70 miles around a ten-mile area. When he wore my pedometer it showed he walked for 17 minutes and burned about 100 calories.
As we approached traffic lights close to the south bound side of Blackwall Tunnel a small rodent ran to safety from the road and disappeared into a hole in the concrete kerb. It was pure chance that I was looking in that direction or I would never have noticed the small creature.
A large white cow has appeared on the Victoria Embankment in the past 24 hours. I assume it is some form of modern art.
A man used the reflection of a window as a mirror to dry his hair after walking through the rain. It was lucky that he just happened to have a large towel with him!
More photographs are at the 'Best of Lynda's London Photograph' section.
'Fox watch.'
Two foxes wandered around the Old Kent Road at 2.15am and we saw a couple in the Docklands near the River Lea. At the kitchen one ran along a sloping wall and disappeared through the hedge into a lorry park and anther ran across the road before I could get my camera out of its bag. None were close enough to take pictures of again.
More photographs are at the 'Best of Lynda's London Photograph' section.
'Prozzy watch.'
Deptford girl was out this morning. We have not seen her for a while now and today she sat opposite her usual place on a bench outside a pub. In King's Cross four girls were out and one man loitered around Shoreditch. As I waited at Euston a young woman who had been at King's Cross around 2.30am tried to gain the attention of a middle-aged man who was staggering around with a can of lager in his hand. He looked like he needed an empty bed to sleep it off.
Wednesday 19th June
My daughter was sent back home yesterday and admitted at 4am this morning. Today should be the day my granddaughter arrives.
Gary lost his temper again at the kitchen. Although the orders are kept together they often have other orders on top. After Gary does his paper work he then separates the orders so they are ready to load onto the van. One of the other drivers, and arrives at the same time as us everyday, was also loading his van and every time Gary went back into the fridge for the next load he had to take orders that are not his off again.
Although the road works have finished in Russle Square there is still a large section fenced off with piles of sand, a tractor and paving slabs. The road works at Shoreditch have now stretched through King's Cross, down the Marylebone Road up to Euston Station.
The cleaner at Victoria really is the most ignorant man anyone could meet. He doesn't smile, speak or show any form of communication other than to rudely kiss his teeth if you get in his way. This morning he just stopped and glared at tired passengers waiting to board a coach before driving his cleaning cart through where they had been standing, sitting or sleeping. If Esther Rantzen still had her show in which she gave the 'Jobs Worth' award for people who take their jobs too far then I would nominate him and expect him to win. His moterised cleaner is among the people on the left.
Several people slept in a row outside shops close to Waterloo Station.
Several cows are now scattered around the Victoria Embankment and on the pavement at the junction of Aldwich and The Strand. They are just a bit smaller than life-size and most are made from marble or similar material. I am yet to discover the purpose for them.
I think I might do a 'bad driving' watch for this journal from tomorrow because it really is a regular thing in London. First a cyclist rode through a red light in Marylebone Road, and then a white car underestimated our speed and decided to undertake us just as we were passing road works in Shoreditch. Luckily we did not collide because he just managed to scrape through. A more serious incident happened in Greenwich at 5.50am when a small 'Snaxwagon' van cut us up as the road narrowed opposite the old Greenwich District Hospital where there is enough room for only one car. This forced Gary to break and stop. Gary had right-of-way and I have his registration number. His company will be getting a telephone call from me as soon as the offices open to complain about his dangerous driving!
The River Thames looked gorgeous as the sun rose across London.
While Londoner's slept the City of London is washed and scrubbed before the workers and tourists arrive. The River Thames looked gorgeous as the sun rose across London.
More photographs are at the 'Best of Lynda's London Photograph' section.
'Fox watch.'
We didn't see any tonight.
More photographs are at the 'Best of Lynda's London Photograph' section.
'Prozzy watch.'
One girl walked around King's Cross in the centre reservation of the road and four girls were at Shoreditch. Two of the girls were getting into cars driven by men old enough to be their fathers. None of the regular girls have been around for a while so they must be busy or have gone elsewhere for trade.
Thursday 20th June
Gary brought new meaning to the words delivery man yesterday when he and Mark helped Sarah give birth to our first 5.2 half lb grandaughter, named Ella. Mum, dad, baby and grandad are all doing well. Once the screaming started I was outside. My role was to rub Sarah's back and stroke her hair until the gory bit was about to start. She asked Gary to be there when she first discovered she was pregnant because he was the one who took her to hospital and patched her bleeding cuts and grazes while she grew up. Gary is proud and honoured to be part of it all. I feel old – far too young to be called Gran. Gary is 3 years younger than me and is now Grandad – which makes me feel so much better!
The mystery of the London cows are over thanks to one of my regular readers, Bill, who sent me an email explaining that these cows are the first of 500 in London. They are also appearing in other cities and some will be sold with proceeds going to charity. We saw one at Trafalgar Square this morning and I will be on the lookout for more. Bill thinks it is a great idea and so do I, especially if you are the passenger of a vehicle stuck in traffic with nothing else to do. You can find out more about cows and the cities they are in at 'www.cowparade.net/' and there are games and fun stuff at their London page. Don't forget to click the back button to come back and if you write to them tell them that you found them here first!
A woman carrying a rucksack held the hand of a boy, I assume her son, at King's Cross at 3.20am. She might not have been aware of the prostitutes in the street on the other side of the shops as she walked along. In fact today's 'prozzy watch' may well become a whole article by the time I tell you what happened today when we tried to deliver a new order to a shop at King's Cross Station. First I will stick to the journal and our delivery experience.
Gary got a phone call last night telling him he had a new order to go to King's Cross Station. When we got to the fridge there were two. One was to a shop the same as ones we already deliver to and so he loaded it on the van and left the other in the fridge. We arrived early and looked for the shop on platform 12. After recognising the station as being the same as in the Harry Potter film, we could not see any shop by the name we wanted. Upon asking staff we were told that platform 12 existed years ago and since had been disused. (I thought perhaps it was definitely the inspiration for Harry Potter by now). The shop we wanted was a 'hut' in between platforms 11 and 13, which was there in 2000 for three months, after being set up there without approval, and then carted off when the renovations started months ago – without ever opening to the public! So we went back to the fridge and dumped the order back with a note to that effect on the invoice. I thought it was one of the creepiest places I have been to, not because of ghosts - I am actually a psychic counsellor, but because of the weirdo's, pimps and prostitutes. This is another article in itself so watch for it soon.
The idiot of the day award goes to this lorry driver who overtook us on a tight road at Trafalgar Square. He must have miss judged the length of his vehicle as it missed hitting us by an inch.
Because we were coming home so late the traffic had trebled in volume. At Creek Road Greenwich we hit traffic following an accident at the Blackwall Tunnel. It was now 7.50am and should have taken about 30 seconds to get around the one way system at the Cutty Sark when the road is clear. We got to the other side at 8.55am!
This afternoon I was contacted by a journalist writing an article for the Wall Street Journal. He wanted a numerologist/psychic to add a comment about similarities to the year 1966 when England won the World Cup. I did it for him and it showed we have a better chance on June 30th 2002 than we actually did on July 30th 1966. In fact if we had the game in July instead of June the numerology would be exactly the same as 1966. I took exclusive pictures of fans in Trafalgar Square after we won on June 15th 3-0 against Denmark. They are on my Trafalgar Square page of the 'Best photo's from Loynda's London' section. Tomorrows numerology is the same as it will be on the 30th of June and so we stand a good chance. I hope we do well tomorrow against Brazil to see if we can do it again. It would be great to win during our Golden Jubilee year!
'Fox watch.'
A fox at the side of the road close to the River Lea was sitting so still that I was looking at it without realising what it was. I could see two glowing circles and as we drove closer he ran off and into the bushes on the raised flowerbeds. There were four more along Shooters Hill road, all too fast to take pictures of. I will be waiting with my camera at the weekend to try and get some good ones and they won't escape me if I am walking around on my kind of foxhunt!
While I am on the foxhunt subject, and at the risk of upsetting some readers, I am going to have my opinion of foxhunters here on MY web site… I took a picture in the daytime while walking around Westminster and the woman smiled at me. I'm sure she was happy to let me share her protest while she thought I was a tourist giving her support. I do hope she happens to find my site and read what I think of her barbaric protest! We, that's Gary and me, think we should park the van opposite and just tell them to start running while we start up the van engine. Of course we would follow traditional hunting technique and smear their blood over us after they have run to exhaustion by the van and then been ripped apart by…err, my dog, pickles and 6 cats – they won't have too much trouble after they have been weakened by the run. After all, anyone can kill a defenceless tired animal!
The sign immediately under the inside-out umbrella says "No hunting – No foxes – No country-side – No thanks." Under that it says "Save hunting - toot your horn." Perhaps tooting a horn might work – or then again perhaps tooting country people should stay out of civilised cities!
'Prozzy watch.'
One girl walking near Baker Street Station looked like an extremely pretty geisha girl. I could just see one behind the trees at Euston and one woman staggered about the kerb at The Angel Islington Station, I think high on drugs. Only one girl stood at Shoreditch and three at King's Cross.
Later we returned to King's Cross at 7am to deliver the order I mentioned and I was more than shocked by the daylight sights. No less than eight girls were there. As we delivered around the back of the station we saw more girls arriving, all on the arm of a young black man aged from around 20 to 30 years of age. That is the men. Girls were aged between 15 and 60 as far as I could see. After arriving the girls went one way and the men walked across the road and watched from a distance. Were they there to make sure girls were protected from harm – I don't think so. It might be to see if they were actually working – so they get their cut. Or maybe they needed to know if their girls were arrested so they could go and get another one instead. I don't know but I wondered why this station was so jam packed with these people. Inside I noticed all the trains were destined for Northern towns and the two prostitutes I knew back in the 80's were both from the North. This might have been their first sight of London and the pimps could watch for girls arriving on their own and desperate for a friend. Where are the police? Where are the security guards? Anyone? If they cracked down on this activity in the area they would probably go elsewhere. Out of all the tourists, travellers to work etc. who really gives a damn? Why should they care?
Someone should care about these people arriving in London expecting a better life than the one they have run away from. We all care and raise the roof when a young girl is murdered or children are abused and yet the powers that can help do nothing about this. Every night police cars are everywhere. Girls chat to the police and only black men in expensive cars and kerb crawlers are ever seen being pulled over and questioned. Most black men in expensive cars are NOT pimps and are victimised all over London while the real ones walk here and hide. I know this because I have seen it night after night from Welling across to Acton and everywhere in between.
At King's Cross I was uncomfortable with the glares from the pimps and the prostitutes. They stared as if wondering if Gary was my pimp and if I was after their trade. If we ever need to come here again I am keeping the door of the van locked, with me inside!
I have blurred out the prostitute and her pimp to prevent recognition – for their families' sake, who might not know the whereabouts or activities of their sons and daughters not theirs!
Friday 21st June
A group of about 30 cyclists were keen for exercise. They travelled along the road over Creek Bridge Deptford at 2.20 am. We thought they might be going to Trafalgar Square in time for the football starting at 7.30am.
There is a massive screen at Trafalgar Square for today's important football match against Brazil. We travelled passed at around 5.15am and there must have been around 500 people already there.
This giant cog was in the road after we left Guy's Hospital. Perhaps someone was bored enough to roll it here or it could have fallen from a passing lorry.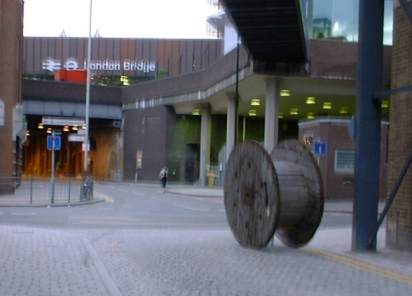 'Fox watch.'
No foxes tonight.
'Prozzy watch.'
Two very young girls stood at Euston Station. Four at King's Cross and two at shoreditch. A few more were scattered around London probably because of the people accumulating at Trafalgar Square through the night.
More photographs are at the 'Best of Lynda's London Photograph' section. Next update Friday 21st 2002
To get a live telephone psychic reading and see how your career or love life is progressing, help or advice, now from anywhere in the world please click the link below. You get 4 minutes free then you will need to add to your account with a valid credit card. You will also be asked to rate the advice given:
© Lynda Archard