London by day
by Lynda Archard
©: May 2002

Daytime London - Greenwich
Pictures taken during the day are clearer and this page was created to show you the best and worst of London in written and picture form and will be updated at least every two weeks.
Greenwich is my home town and have seen many changes over the years. There has never been more changes than in the run-up to the year 2000. Everywhere I go from Devon to Kent people tell me what a wonderful advantage the Millennium Dome is to Greenwich. Well I did the training to work at the dome and this is what really happened:
Perhaps some of you might know that in the passed couple of years a dome was built on the site of the old Greenwich gas works. For years this land was deemed as contaminated and could not be built upon. Suddenly the plan for the new Millennium Dome was underway to mark the year 2000 and tons and tons of top layer soil was removed. As a result of this event Greenwich was hailed the place to be and houses, businesses and shops were quickly snapped up by property developers and anyone hoping to make easy money when the millions of expected tourists visited. That did not happen.
The Millennium Dome on the Greenwich peninsula.
During June and July 1999 I attended workshops to gain a job at the dome as a hostess. There was to be different zones representing life in the last millennium and people will travel from all parts of the world. It IS better than a day out at Chessington adventure park!
The people brought in to organise the event were the Disney group. And it certainly was a funny situation. We were told how wonderful it would be and that it will generate money and wealth, as well as improve the area. It seemed natural to ask questions about what was to be inside. "Err, it hasn't been finalised yet, but..."
Sorry people, we are not stupid in this area! How can an event be promoted in advance when the reality was that arguments had prevented and delayed vital planning and preparation until days before the deadline?
We did not visit the dome until June and even then we went half-heartedly, with no expectations. We had a brilliant time, (pictures to be added as soon as I find them), and we went again the following month but it was too late to tell others to go - it was to end on December 31st 2000 after only one year. Why didn't they allow Greenwich residence to enter free of charge three days before they were to open as planned? Plans were changed all through and the most hyped attractions were the worst while the best attractions were often closed for repair (although not when we visited).
Meanwhile back in the main town of Greenwich major changes were taking place. Some businesses that had been here for years and probably did not make much of a profit suddenly disappeared. They were forced to sell after rents trebled over night. New regulations brought in parking restrictions along main roads so that customers shopped a few miles away in supermarkets with easy parking. Greenwich became a playground for the rich with poverty pushed to the side and forgotten and sub-districts are not mentioned at all. In fact apart from the town in SE10, the Borough of Greenwich also covers Charlton SE7, Woolwich SE18, Plumstead SE18, Abbey Wood SE2, Blackheath SE3, Kidbrook SE3, Eltham SE9, and parts of Thamesmead SE26.
Someone decided to close Greenwich District Hospital and the consequence has left the building to fall apart. Only TV crews regularly use the building while it awaits its fate and the nurses' home is waiting to be developed after being bought by a development company. Over a period of 30 years we have seen the closure of St. Nicolas, The Brook and near-by specialist units that are listed buildings (protected by law) and are now extremely expensive apartments, The Miller, Woolwich Mothers and Babies Hospitals. Meanwhile these pictures reveal the vandalism that has destroyed this lovely old building that was once the homes of trainee nurses.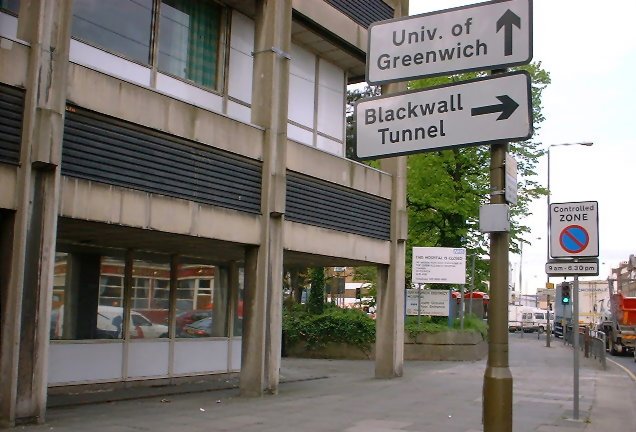 Greenwich District Hospital.
This is the back of the nursing home.
Greenwich District Hospital taken from outside the nursing home in Vanbrough Hill, SE10.
I have lots more pictures and more about London to add over the coming months. Please bookmark and return soon.
© Lynda Archard