London at night
by Lynda Archard
©: November 2002

A tribute to 3 year-old Milly
15th November 2002
I have some sad news tonight. This page is a tribute to Milly, my cat. She was killed by a speeding driver on Friday 15th November. I am not convinced it was an accident because no one saw what happened and only a few weeks before she was killed I watched a driver aim towards her and speed up. I stood in the road staring at the young driver of a pale blue car, no more than about twenty years old. His mates were laughing and they swerved at the last minute as I called her to get to the pavement. I don't know who they were. She was following me as I took my dog for a walk and decided to take a short cut across the road to beat me home. She had been lucky then and was more careful after that incident. Every night I have at least three of my cats come for a short walk with me, Milly, Tom, Bea and Jack. They have become an attraction and made lots of people laugh. I have made lots of friends when they stop and chat to me after stroking one of the cats.
I am only too aware of the hatred aimed towards cats by some people, (mainly those who do not understand them or have not got to know a cat,) but I don't know of anyone who would do such a cruel thing to an animal. Milly was one of 6 in this household. All of them have been unwanted or abandoned at some point in their lives. Milly is mentioned throughout this journal as the cat who waited for us every morning to come home from work. She often got into the van and inspected the contents of the dash board while waiting for Gary to do his paper-work. She made us laugh when she tried to jump onto the bonnet of the straight fronted van one morning and although she was the clown out of our cats she was also loving. She often leapt from the floor, climbed up my body and put her paws around my neck for a cuddle.
My other cats are behaving strangely, wanting more cuddles and following me around the house more. They miss her as much as we do.
She did not suffer, she seemed to have been killed instantly by her injuries. We only found her after a friend knocked on our door after seeing a young fox trying to drag her off for dinner. She was already dead and was certainly not killed by the fox, which was not much bigger than Milly. Foxes are often outside our house and do not take any notice of the cats or my dog. The fox sat and watched while Gary picked her up, only walking away slowly after his lucky find was gone. For those who have read my article on animal spirit guardians, I did know that something was going to happen to one of my animals when I sensed my spirit cat on thursday 14th November, I thought it was going to be one of my older cats and a more natural death. For those who have not read it, this article is a true account of a spirit cat who has always visited me before an animal death in my house and gives me peace of mind that my animals are taken care of in the spirit world.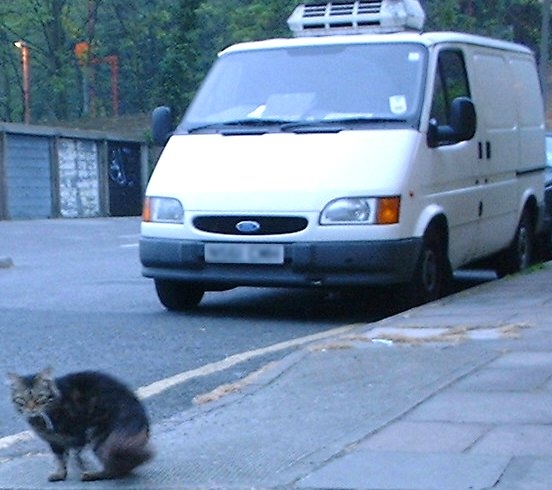 From the April 22nd file
From the June 10th file
© Lynda Archard