SEARCH & RESCUE DOG EQUIPMENT
The products listed below are designed to identify you SARDog to other searchers , hunters & the public alike.
To order any items seen below , please call (717)786 - 2119 or email "roguek9@juno.com"
SEARCH DOG ID VEST
Made by HI-TEC of Canada , this is the BEST VEST I have seen or used. Makers of quality clothing and gear , the experience shows thru in this vest. I have not been able to find a better vest or a better price.
Made of water repellent nylon , 3 adjustable straps , minimag/lightstick holder , ventilated (mesh) section
Available in orange or black
GLO-FLEX titles -- "RESCUE"(cross) , "RESCUE", "K-9" or "POLICE"
I am currently using this vest with 2 of my SARDogs -- as do many of my clients and team members.
ITEM #HT173
PRICE $35.00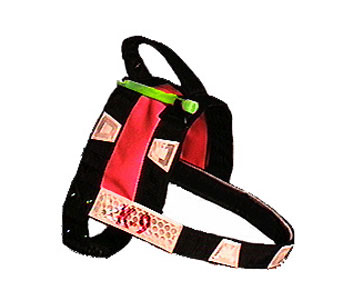 HARNESS with ID PANELS
Maximum visability to avoid accidents in urban enviroments as wellas being functional in the woods.
Heavy Duty nylon construction with rivets at tensions points
Adjustable chest & belly straps
Retractable handle on the back
2 MiniMag/chemical lightstick holders
Black or Orange insert with "POLICE" , "RESCUE" or "K-9" Glo-Flex identification panels.
ITEM #HT100
PRICE $80.00