One of the great Icons of the eighties I am now reliving my childhood by buying up all of these cards and gpk collectibles I can find. I used to own alot of these going up but what happened to them? I dont know. Maybe the gpk monster under the bed ate them? Beats me. But at long last I've gotten my collection built up with every card from series 1-15 a gpk button set, a poster set, and uncut sheets from the second, 3rd, 5th, and series.
Hey If You wanna talk Gpks Please sign My guestbook(I'm using it as a message board for now till I get one up)or email me (but please sign my guestbook anyway)I Love Hearing From other Gpk Lovers!! ALSO IF You have a Gpk site and you would like me to put in my links, or if you've found gpk things you would like me to put on the page let me know(I will Give you credit for it)just let me know.
I HAVE A For sale Place up Now where i can sell you the cards you need to complete your sets,Complete Sets,Unopened Packs,Uncut Sheets, Figures,Posters,German,U.K.,Things I Need and Much More. To go there Click on the white for sale sign to the left. Or
Everything 10% off this week only 25% $50 or more purchase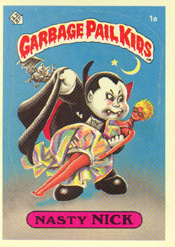 I am New at making webpages so keep coming back one day this will be one of the best gpk pages on the net!!

phonie696@aol.com
Garbage Pail Kids logos and images (TM) & Copyright (c) of The Topps Co., Inc.