NOTE
NOT ON CABLE-LESS THAN 56K MODEM
PLEASE WAIT UNTIL IMAGE BELOW
"LOADS"
THEN
"SCROLL"

<


W I N G R A D I O 1960S
W I N G R A D I O 1960S
W I N G R A D I O 1960S

THE WING STUDIOS ON FIRST STREET IN DAYTON OHIO CIRCA 1962

WING RADIO WAS NAMED ONE OF THE TOP TEN
RADIO STATIONS IN THE NATION BY BILLBOARD
MAGAZINE FOR MOST OF THE 1960S
THIS WEB PAGE IS DEDICATED TO THOSE EMPLOYEES OF WING
WHO PROVIDED THE TALENT AND DRIVE TO MAKE IT HAPPEN.

THE MAN WHO HEADED THIS GROUP OF UNUSUAL AND GIFTED TALENT WAS..

DALE MOUDY
GENERAL MANAGER

THE MAN WHO PROVIDED THE PROGRAMMING LEADERSHIP WAS


JIM SMITH (left-shown here with contest winner and announcer Bob Holliday)
It was Jim Smith who served as program director, implementing the top 40 format
that resulted in the highest rateings ever recorded in the history of Dayton radio.
SMITH ALSO WAS THE "M.C." OF DAYTON'S MOST POPULAR DANCE
SHOW, THE "COCA COLA HI FI CLUB, BROADCAST EVERY SATURDAY
THE BIG EVENT EVERY SUMMER IN THE DAYTON
AREA WAS THE Le SOURDESVILLE LAKE

"W I N G WING FLING"

JIM SMITH ROD WILLIAMS STAN SCOTT

SOME OF THE WING FAMILY TAKING A PHOTO "OP"

ROD WILLIAMS..."ON THE AIR AND IN THE AIR"



MIKE GAVIN AND LOU SWANSON
ON THE DUNKING MACHINE
G

"GENTLEMEN...START YOUR ENGINES"
FANS WITH ROD WILLIAMS,GENE BARRY AND STAN SCOTT

AND SPEAKING OF FAST CARS..........
JACK WYMER INTERVIEWS JIM SMITH AS DALE MOUDY GETS SET
TO RETURN TO THE WING STUDIOS
AND SPEAKING OF
"GREAT WHEELS"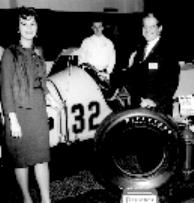 WING'S JUDY SEUBERT AT AN AD CLUB CELBRATION WHEN NOT WINNING BEAUTY CONTESTS


BOB BARRON-ROD WILLIAMS-ROD WILLIAMS-BOB BARRON
BOB BARRON"S SIGN OFF.'' the moving finger writes and having written, moves on''.
THE RADIO INTERVIEW
THAT SAVED
A
LIFE
Sewing teacher Edythe Klumpp was scheduled to be the first woman to die in
the Ohio electric chair, charged with first degree murder of a Cincinnati woman.
Newscaster Rod Williams & sound engineer Jake Yancy traveled to Klumpp's
death row cell in Marysville Ohio reformatory and Williams' exclusive inter-
view was broadcast on radio stations throughout Ohio and later broadcast on
all three major networks; NBC-ABC-CBS
Following the interview, Ohio Governor Michael Disalle joined the condemed
woman in her cell and as a result commuted her sentence avoiding the death
penalty and later resulting in her release from prison


FRONT ROW
GENE BARRY-JACK MURRAY-STAN SCOTT
BACK ROW
BOB HOLLIDAY-LOU SWANSON-BOB BARRON-ROD WILLIAMS

B


FAIR STAFF AND ENGINEERS ALONG WITH VOLUNTEERS
FFODURING A "HALLOWEEN" PROMOTION
IN(IN SUITS-LEFT TO RIGHT)
LOU SWANSON, GENE BARRY, LES BODINE, JAKE YANCEY,ROD WILLIAMS, JIM SMITH,
JOSIE DYKSTRA AND BERNIE KOVAL.S
ENGINEER JAKE YANCEY
KEPT IT "ON THE AIR"

STAN SCOTT LEADING A WING PARADE
(BELOW) LEFT TO RIGHT...ON WATER SKI'S
lou swanson-bobby harper-bob holliday-gene barry-jim smith

A PARTY WITH SOME OF THE WING STARS OF THE 1 9 6 0 ' S

LINDA MALLORY-JERRY PERISI LOU SWANSON BARBARA WILLIAMS DALE& ELLE MOUDY


WILBUR BOTTS & WIFE ROD WILLIAMS KEN WARREN


GRACEGRACE WEISS BOB HARPER WILBUR " ELVIS" BOTTS


JIM SMITH BOB MELBERTH JAKE YANCEY


ROD & BARB WILLIAMS JOHNNY SAUER STAN SCOTT


JACK WYMER "D.D." SWANSON GEORGE LENNING


AND A FEW MORE PHOTOS TO GO....

(ABOVEABOVE.....LOU SWANSON "HALF BAKED AND ON HIS ASS