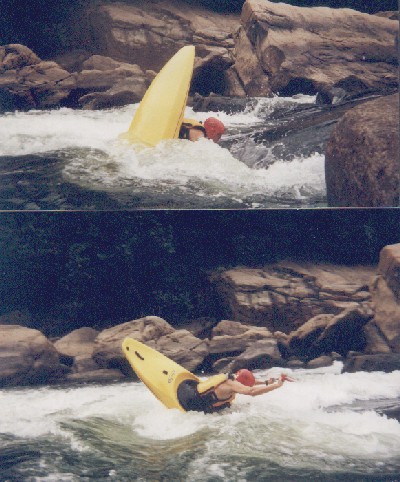 At Greyhound
howdy everybody,
i'm shane. Or moses if you have a preference for calling people by their last names. i'm 20 years old and a student at virginia tech (and highly oppose yelling WAHOO!!! as a river signal). i'm a biology major (well, okay, i'm just putting the forms through to make the switch--it's my fourth major, more or less), and dabble in political science, art, environmental science and something else i forget.
always loved water. when i was around 4 i remember sitting staring at some rapid on some little creek out in yosemite for over an hour reading the water and throwing sticks and stuff in to see if i was right. first paddled on my dad's ancient 14' grumman (which i still have). ran my first rapids (class II, tops) in an aluminum john boat while fishing on the new. took up sailing for a while, first with sunfish, then a 16' tanzer (which i hope to restore this summer). went up to maine for the summer a couple of years back and paddled all over a tidal pond with a rec kayak (saw an osprey fish--truly an awesome sight), saw some people surfing a tidal standing wave with white water boats, and said "i gotta do that."

got my first whitewater boat (new wave attitude) shortly thereafter. discovered that late fall is not a good time to start kayaking. spent that winter in the pool learning to roll. took to the rivers in the spring and leaped in probably too fast. my first river was the lower half of goshen pass on the maury (steps down), and my second was the new gorge at 3.5 about a month later. messed around a LOT at mccoy falls in between. ran the new a gazzillion times later that summer. it has been just a bit over year now since i my first experience on the maury. my last new river was watauga gorge. i think now i'll stay at or below that level for a while and try to see how many new rivers i can paddle this summer (i've paddled so few it's really quite embaressing), and hope to meet some other rbpers (other than Ben) irl.

sorry to type for so long. as the ratt said, if you have read this far....
oh, and i'm not necessarily a big fan of e.e. cummings, i'm just too lazy to use the shift key.
Good paddling and good autobiographizing,

-shane moses
-------------------------------------------------------
"Try not. Do, or do not. There is no try." -Yoda
Shane J. Moses ******************
check out my outdoor photos:
http://www.geocities.com/yosemite/gorge ******************
420 Laurel Springs Rd.
Newport, VA 24128
(540)544-7298
moses@vt.edu
http://www.vt.edu:10021/S/shmoses